Although benchtop bandsaw is not the first thing that strikes your mind while buying stationery in the power tool shop. But if you buy it, you are going to understand the versatility of the product pretty well.
People who are using it know what wonders can this simple tool make and with so much ease. There are other saws apart from band saws that can be used for cutting craft works, which can be mild and extreme.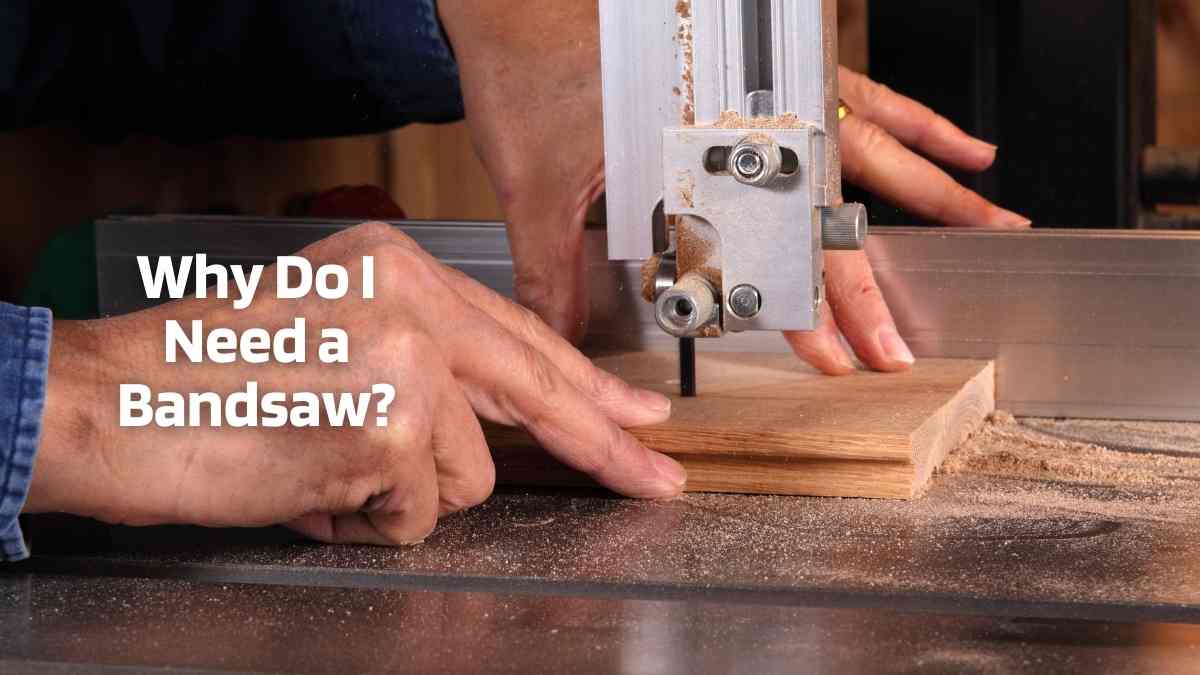 And further can be used for in-mold decoration, creative furniture and a lot more. But when it comes to the band saw, you can make an ample amount of benefit from a single power tool.
We will be discussing it further in the article in brief. Also, this can be a really smart investment for craftsmen as they make their smart move in investing in a tool that is good for everything. With the perfect amount of accuracy and power, this can make any woodworking simpler, easier, and more creative.
What exactly is the Benchtop Bandsaw?
Bandsaws are normally pair of wheels and sometimes there are 3 wheels that hold the rotating blade which is comparatively slim. It also features a table and a motor that both work for running the tool.
Bandsaws come in a variety of sizes, so as per the needs and usability or strength to hold it, you can pick the size of your choice. These range from small and extremely handy benchtop models to huge floor models too.
One of the most interesting parts about this tool is, its ability to maneuver, as it is highly portable. And this can particularly be placed on the benchtop, bolted, or even stand for that matter.
The small motor provides less horsepower and doesn't have sufficient strength to handle tough jobs, thus if you have only small projects, you can consider this one or else pick a bigger powered one.
What are the Uses of Benchtop Bandsaw?
These are some of the key usages of bandsaws-
1. Cutting Straight
One of the basic woodworks is cutting it in a straight line. The best part of this tool is it cuts in a sharp and straight line. It is also the easiest way to operate a saw, and thus you can have ease in maneuverability. You will get perfect accuracy, as you hold the saw firmly, you will realize that straight cuts are perfectly done without giving you any discomfort.
2. Relief cut
One best and most important cut to expect from your bandsaw is the relief cut. It is ideal to make curves but one issue can be blades turning a little bind while making curves cut. When you need to make curve cuts, chances of binding are possible, but with relief cuts, you can feel better secured.
Relief cuts help to free the blade, which makes it possible for you to make the curves possible with the tool without having to worry about anything that is troublesome.
3. Resaw
The most essential help you can expect from this saw is its ability to cut out broadsheets and make them into thin pieces. Yes! You heard it right and that is absolutely possible with this tool. And in fact, you can enjoy making a small piece of the broadsheet without having to think of how you can manage it.
For that, you definitely require a benchtop bandsaw of a high-power one, only that it can be able to operate it well without any consideration. It can cut off and make thin slices of larger logs in no time, this sounds mesmerizing.
4. Lamination Work
This is a process where the thin part of the woods is bent in a way that can help you prepare any desirable shape. This information might be brand new for you, but for a few, they are already using this tool to make lamination work possible and achievable in no time.
The lamination work of bending the wood can be done by the saw, and the ideal saw for this purpose is through the band saw.
5. Small Logs
The bandsaw's specialty is to make small cuts, and this can be done in a lot easier manner when you invest in a small saw. Remember, it is best to buy small ones only when you know that you will require small projects to be accomplished by it and not big ones.
Also, small ones have lesser horsepower compared to bigger ones. So always think rationally and go for those which you believe will help you in future works too.
Conclusion
For a perfect circle on the wood or a perfect curve or straight line, benchtop bandsaws will be the ideal pick to invest your money at. If you already know so much, what is stopping you from buying it? Go and buy the most versatile saws of all!