Doesn't matter if you are an amateur or a professional chef — it is vital to have something that would help to hold hot pots and pans with easy. We all know how important it is to have good quality kitchen necessities at all times because cooking isn't an easy task to deal with.
There are many options these days to choose from to deal with hot cookware. You might choose to work with a pot holder or an oven mitt or a cloth. However, when it comes to pot holder vs oven mitt vs cloth, many have questions on what should be the best choice.
If you are someone wanting to find the answer to the same question, then this is the article for you.
Pot Holder Overview
Doesn't matter if one cooks or not; we have all seen a pot holder somewhere around the kitchen in our lives. In a general sense, it is a piece of quilted fabric that makes it easier to handle hot dishes and pans.
It helps to protect the hands from the hot cookware or items that cannot be held with bare hands. It is a regular cloth but is padded to help with insulin. The pot holder ensures safety for the kitchen surface from the heat that is given off by hot pans and pots.
Tips on Using Pot Holder
It is better to hang your pot holders instead of storing them in a drawer. This is because it will be exposed to air and is likely to be less smelly after a few uses. Moreover, if you keep it ouside hanging instead of tossing it in the drawer; you can easily grab it for use in times of hurry.
Oven Mitt Overview
Oven mitts are also commonly used hold hot pans and prevent the heat from the pans to harm the skin. These are similar to the pot holders as they consist of padded clothing as well.
However, oven mitts are made with a compartment or two so that the fingers can be adjusted in while holding the hot pans. These look like gloves but are padded so they are helpfull in dealing with hot utensils. The fitting makes it much more comfortable and safer to deal with.
Tips on Using Oven Mitts
While purchasing a oven mitt, make sure to look into the padding and the sizes available.  Make sure to get one that fits you perfectly, as it might feel uncomfortable and cause clumsiness when in use.
Furthermore, getting one that is made up of leather, new silicone or cloth would be the best choice. This is because these materials can withstand high temperature and can resist the heat ensuring safety while you use it.
Cloth Overview
Often when we are in a rush, we just tend to grab whatever we find closer to us. You might have grabbed a cloth at some point while being in a hurry to hold your hot pan right? As the name suggests, it is just a normal piece of cloth that is used to hold warm pots or pans.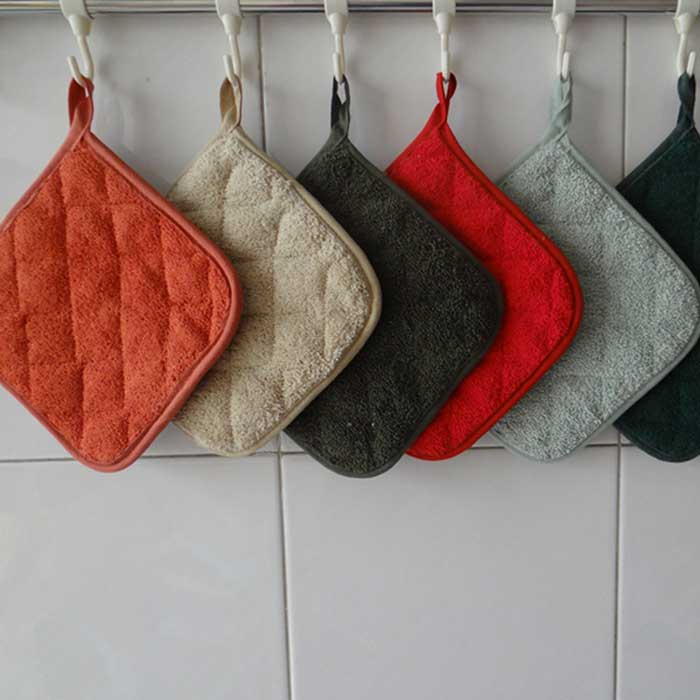 Cloths made up of different materials can be used to hold the hot pots. However, it is better to use ones that are thicker so that the heat transfer is absorbed and not passed onto the hands. Furthermore, materials that tend to be slippery in nature are not used as it might not offer good grip.
Tips on Using Cloth
It is risky to use a cloth for a longer time as it isn't heat resistant. So when you use one, make sure you don't hold onto the hot dishes using the cloth for not more than a few seconds.
Also cloth is a flammable material, hence if it accidentally falls into the burner or gets in contact with the flame; it might bring upon great risks. Hence ensure that you have a good hold of the cloth while using.
Pot Holder vs Oven Mitt vs Cloth
Pot holders and oven mitts are both made up of same materials and come with padding. You will mostly find them in the market made up of silicone or cotton which are both great to work with.
The difference between them is that pot holders comes in round or rectangular shapes whereas oven mitts are mitten-shaped for your whole hand to fit in. with the help of mitts you will be able to have a full coverage on your hand and wrists as well as the arms sometimes too.
In contrast, cloth is differs from both of them completely at doesn't come with any padding nor does it have full coverage of your hands mostly. Even though this is the one that you might have easy access to, it isn't as safe as the other ones.
Conclusion
To conclude, choosing a winner regarding pot holder vs oven mitt vs cloth totally depends on you and which one you find comfortable to work with.
If you are someone who doesn't like their hands being clustered then you can choose to go for the pot holder; however if you are someone who wants to have full safety over their hands then go for the oven mitts.
Using a cloth is fine if you can maintain it and are extremely careful while using. We hope this article has helped you with all the necessary information to decide and choose what would be the best for you.