If you want to buy something for your kitchen or just fancy cooking sometimes, you might be interested in pasta makers. Pasta is undeniably one of the most enjoyed food in the world.
However, creating pasta at home is a rigorous and repetitive process, only if using a manual pasta maker. Is the price of an electric pasta maker justified? Read this article to know a detailed comparison between Manual vs. Electric Pasta Maker.
Manual Pasta Maker
Manual pasta makers have to be operated by hand. Even though it is time-consuming, these pasta makers are favored over electric pasta makers by most people.
Restaurants also prefer manual machines because they are usually made with higher quality materials than electric ones.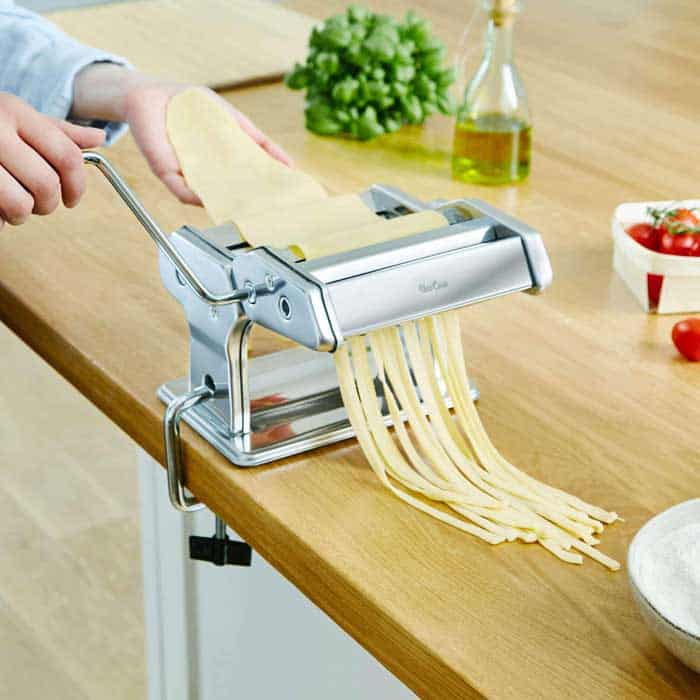 In simple words, better quality materials ensure a longer lifetime of manual pasta makers.
Electric Pasta Maker
As the name suggests, electric pasta makers are run by small motors inside them. The motors' functions are mostly automated after the machine is switched on.
Why the Manual Pasta Maker Is Better Than Electric Models
Most people rely on manual pasta makers even though pasting-making processing isn't that efficient using these machines. Here're the reasons why –
Cheaper
Manual pasta makers are relatively cheap. In fact, for too many people, the price difference with electric pasta makers is not justified.
Requires Less Repairing
It should be noted that manual models last much longer than the electric ones and save the user from common problems of the latter.
Many people face issues with electric pasta makers, such as the motor not working after a certain period of usage. It is often quite expensive to repair.
In brief, manual pasta makers are much more cost-effective and reliable as they are built rigidly.
Although the steps for creating pasta with these models are straightforward, the whole process is moderately difficult and time-consuming. But if it does not bother the user, s/he gets a longer-lasting product.
Why the Electric Pasta Maker Is Better Than Manual Models
Electric Pasta Makers are very well known too. It is commonly owned by people who are always in a rush or need to get the task done without much hassle.
Easy Pasta Making Process
The process of creating pasta with an electric pasta maker is much more straightforward than manual pasta makers; all you have to do is switch it on. The machine will take care of the raw materials way better than any manual maker.
Compatible with Lots of Accessories
Electric pasta makers are also favored because of the wide variety of accessories used with them. Pasta can be created in many different styles and methods. Furthermore, since these models work in automation, the task is completed much faster.
Takes Much Less Time
Electric pasta makers require very little time to process the same amount of dough compared to manual pasta makers.
If the user is not bothered to deal with a damaged motor, electric pasta makers are an ideal choice despite the price as it is a handy machine.
Which One Should You Get?
There are models for which you have to create the dough yourself and then put it in the pasta maker. If you look at the higher range, there are also models that do all the tasks on their own, starting from the dough to the pasta.
Even though these models are very costly, they come with a ton of features that can be used to create various kinds of pasta. As a general rule of money, things that are expensive may be expected to work well and last long. There are electric pasta makers that are absolutely worth the money.
But if you will be primarily making pasta at home, and don't want to spend much on a machine, a manual pasta maker would be the value for money pick for your needs.
Conclusion
As time changed, so did our dependence on technology. It may vary from person to person; some people love the idea of a practical piece of equipment that is hassle-free and lasts long enough. On the other hand, some people want to get their task done or get more precise results.
The statement above can be applied to pasta makers too. It eventually boils down to your requirement or purpose. Do you really need to buy an electric pasta maker? Now that you know in detail about manual vs. electric pasta makers, it is up to you to decide which one best suits your needs.