Do you want to watch movies with your friends and family? A projector can greatly help in this respect. To watch tv on a bigger screen, you can connect a projector to a TV antenna easily. Before knowing the mechanism of connecting the projector to a TV antenna, you must know what a projector is, its types and how exactly it works.
What is a Projector?
A projector is an optical device that can display a picture or video on a smartboard or a white screen. You can also use it to watch broadcasted TV channels for free. Some projectors produce an image by passing a light ray through the lens. In contrast, some modern projectors project directly by lasers. They are known as laser projectors. These are safer and can't harm your eyes. Some other types of projectors are:
DLP (digital light processing)
LCD (liquid crystal display)
LCOS (liquid crystal on silicon)
CRT (cathode ray tube)
Connect a Projector to TV Antenna
You can use projectors to watch movies or seasons in your home by connecting them to your TV antenna. For this purpose, you will need the following things.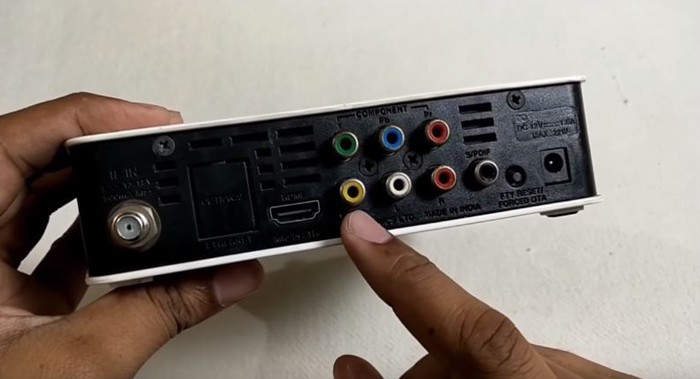 ATSC tuner box (it allows your TV to receive Digital Television signals from local TV stations)
Antenna (receive the broadcast over-the-air TV channels)
HDMI cable (can plug into the converter box and display TV channels after scanning)
Steps to Connect a Projector to TV Antenna
You need to follow the steps mentioned ahead to achieve the connection:
Connect the ATSC TV tuner box (with the right input required for your projector) to the TV through the HDMI cable.
Now connect the antenna with the TV.
After that, scan for the TV signals that are available in your region.
Enjoy your favorite shows on a big screen!
Problems to Connect a Projector to TV Antenna
There are many problems that users face while connecting the projector to a TV. Most of these problems arise in the case of an old TV. Some of these problems are:
No HDMI Cable Port. Only modern TVs contain an HDMI cable port, but old TV models like CRT TVs doesn't contain an HDMI cable port. Instead, they contain VGA or RCA ports. But don't worry, you can still connect the TV to the projector because some projectors contain VGA (Video Graphic Array) and RCA (Radio Corporation of America) connector ports.
No Signal. Sometimes, when you try to connect your projector to the TV, no signals are showing on the projector even though your TV is still on the air. In this case, repeatedly press the source button on your projector. It will make your projector cycle through the available sources.
HDMI Cable Not Working. This is a very common problem and is caused by a bad connection. To resolve this problem, plug out the HDMI cable from the TV and projector and then plug it back to both devices. After trying several times or luckily the first time, it will start working.
If this plug-out and plug-in solution does not work, try checking the connection from both sides and see if the cable plug is damaged or not. In most cases, the problem is with the cable while people think that there is a problem with the projector or TV.
Important Points for Projector and TV Antenna Connection
It would be best if you use a modern version of TV.
Don't use any set-top antenna that looks like a satellite dish and promises to pull in hundreds of channels within its range with no charges using 'RF Technology'!
Conclusion
You can easily connect a projector to a TV antenna by following the steps mentioned earlier.