The cookware selection for your kitchen is very important as it is not just a piece of utensil. It has far more effects, such as it is a key factor determining your hygiene and health. The difference between hard anodized and ceramic cookware depends upon the type of material in which it is made.
The cookware you select depends on your choice of specific materials. However, we must mention here that material characteristics largely influence the quality of food you are cooking. Let us know the detail of hard anodized and ceramic cookware along with their pros and cons to see what they offer and which is better.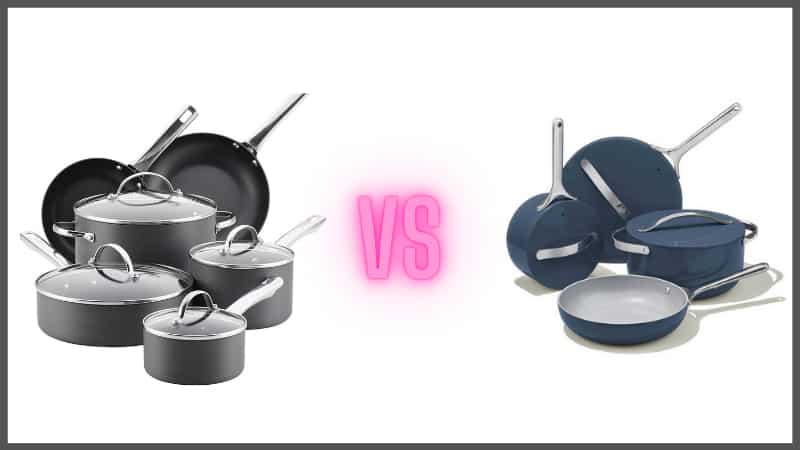 Ceramic Cookware
While searching for a replacement for Teflon or nonstick cookware, we come across ceramic cookware. Ceramic cookware can be either 100% ceramic or ceramic coated. The one with 100% ceramic is the healthier option. It is safer and more durable. Ceramic-coated cookware is not 100% ceramic, and it contains toxic materials which may leach into the food.
Ceramic is PFOA, lead, and cadmium-free material; thus, ceramic-coated cookware is a healthier option. Moreover, it is reliable for everyday use and easy to clean. Its thick coating supports good thermal conductivity and also retains a large amount of heat. The outer coating of the cookware is nonstick, thus highly durable.
The ceramic cookware is compatible with gas, oven, electric stove, and induction cooktops. But use temperature-resistant pots in the oven, which can provide resistance up to 430° F. It would be best if you opt for nonstick ceramic cookware.
Care for Ceramic Cookware
You can take care of ceramic cookware by following simple steps:
For longer durability of the set; If your ceramic cookware is not nonstick, use high-quality oil like avocado oil.
Do not put under high heat directly. Instead, first, apply low heat, then you can increase the flame.
It would be best if you do not put hot cookware directly under cold water as sudden temperature change can result in cracks.
Do not use rough sponges to clean the cookware.
To protect the surface of cookware from scratches, use silicon utensils because steel or plastic can damage your utensils' coating.
It is a healthier option.
In 100% ceramic cookware, the leakage of lead is prevented.
It has a high heat retention capacity.
It is a durable product.
It comes with beautiful and fine finishing.
You can wash it in the dishwasher as it is dishwasher safe.
You can use it as oven cookware too.
It is heavyweight, so not easy to handle.
It requires proper care; otherwise, it will be damaged easily.
Hard-Anodized Cookware
The anodized cookware has a primary composition of aluminum. Aluminum is not a safe metal, and excess aluminum can become a toxin. While simple aluminum is harmful, the anodized aluminum is safe. To make anodized aluminum, it is first dipped in chemical, and thus it is prepared for electric charge. Then this charge is passed through the metal, and the oxide layer around the metal thickens.
Hence it makes the metal strong and hard, and the strength of anodized cookware depends upon the anodizing process. Generally, anodizing is two times harder than alloy and is stronger than stainless steel. Anodized cookware is made up of nonstick aluminum. The smooth surface of cookware is due to the compact packing of particles in it.
This compact packing prevents the metals under the anodized coating from leaking out and getting mixed in the food. The heat transmission in anodized cookware is very even and uniform. So, while cooking, all the food particles get even heat cooking the food at the same pace. Moreover, it has a large resistance to heat as compared to normal aluminum.
Care for Hard Anodized Cookware
Sufficient care will help your anodized cookware last long; otherwise, it may destroy before time. Read on the following steps:
Do not use rough or abrasive things to wash the surface while dealing with nonstick items to scratch the surface. As a result, the metals under the coating get exposed, and your food gets contaminated with lead and other toxins.
Do not use metal or plastic utensils like a spoon in anodized cookware.
Do not wash it in the dishwasher; rather, prefer washing it manually.
You can use anodized cookware on gas and electric stoves. But it does not work on induction cooktops.
It is a very lightweight item.
It is hard, strong, and has a smooth surface.
You will find it highly durable.
It has a high heat retention capacity.
The compact structure does not allow the metals to get mixed with food.
It makes it a hygienic choice for you.
As we know, aluminum is a lightweight metal due to which is preferred in crockery. So anodized cookware is easy to handle.
If it gets scratched, harmful elements will get mixed with your food.
It is not dishwasher friendly so wash it manually.
Conclusion
In a nutshell, both ceramic and hard anodized came up as healthier choices than other metal utensils. Both have their pros and cons that are mentioned above. Read the article carefully and choose one of the two depending upon your need and choice. Remember that both these utensils require care and precautions. However, it is a hygienic addition to your kitchen top, which is durable as well.