The way to the heart is through the stomach. And to cook good food, a well-equipped, organized kitchen is essential. And to clean up after it, you need a sink that can take care of all your dishes.
You can find all kinds of sinks in the market these days. Here, we will review the 10 best undermount kitchen sinks for granite countertops that you can get in 2020. The most common two types are drop-in sinks and undermount sinks.
Undermounts are a bit more modern and seamless. They also go well with granite countertops. Unlike the traditional drop-ins, undermounts attach to the underside of the counter. This feature makes brushing off crumbs and liquids off the counter easier.
---
---
10 Best Undermount Kitchen Sinks for Granite Countertops Reviews:
You might be looking for an affordable stainless-steel sink or a more expensive granite one. Maybe you're looking for one that doesn't make a lot of noise or one that's big. Whatever your needs, there's one here for you.
1. Blanco 440064 Perfoma Cascade Silgranit Undermount Kitchen Sink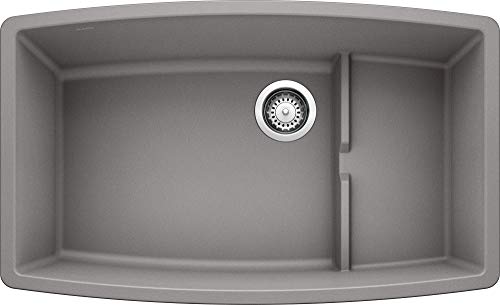 If you're passionate about cooking, you probably toss hot utensils in the sink all the time. Not all kitchen sinks can handle high temperatures or heavy use that well. Fortunately, the 32″ by 19.5″ Perfoma can handle it all.
Blanco has made this model with 80% granite. Yes, it will look great with your granite countertop. The other great thing about granite sinks is, they can endure high heat. This unit can handle up to 536°F, easily its best feature.
Apart from withstanding heat, this product can also resist stains well. Granite is a non-porous material. So it doesn't let liquids inside the surface, which is the usual culprit behind stains. Removing stains is very easy anyway, don't worry.
Furthermore, the product does not chip or crack, no matter how you use it. You can throw your dishes in this big sink without any worries. It's perfect for rough use.
This dual-basin system provides a versatility of use. One side is better suited for washing big dishes while the other is for drying. The divider doesn't reach the entire height of the sink, preventing overflow onto the counter.
This product also uses a patented Hygienic Plus formula to prevent bacteria and mold growth on the surface. It's also very easy to clean, thanks to the rounded corners inside.
Can handle high temperatures
Doesn't stain easily
Big size
Less likely to crack or dent
Easy to clean
2. Ruvati RVH8300 Workstation Ledge Undermount Stainless Steel Kitchen Sink
Cooking for a family is no easy job. It gets messy, and you need all the counter surface you can get. Luckily, the RVH8300 is not just a sink. It's a whole workstation!
This Ruvati workstation does a lot of things. It has overhanging lips on the front and back, letting you slide accessories in and out. The product comes with a chopping board, a stainless steel colander, and a rollable drying rack.
You can easily chop up vegetables, wash them, dry dishes, and much more. It also saves space and makes your work quicker. The versatility is the best thing about it. This company has built this sink to last.
Made out of 16 Gauge stainless steel, this unit is resistant to rust and stain. It has a brushed finish, which hides scratches well. The inside corners are very sharp as well, giving it a modern look.
Noise is often a concern with steel sinks, but you don't have to worry. This Ruvati comes with rubber padding and sound guard undercoating that minimizes noise. The insulation also significantly reduces condensation.
You should keep in mind that this is a relatively big sink. From the exterior, this 32″ by 19″ sink is 10″ deep. While it reduces space in the cabinet underneath, it can fit more dishes.
Multi-functional
Scratch-resistant
Absorbs noise well
Spacious in size
Has a modern look
Corners retain stains
On the expensive side
3. Kraus Standard PRO KHU102-33 Undermount 50/50 Double Bowl Stainless Steel Kitchen Sink
A kitchen is a busy place. The more you can do simultaneously, the quicker you can be done with it. This is where a high-quality, big, double-bowl kitchen sink is useful. And Kraus brings you just what you need.
Kraus's KHU102-33 is an expertly designed undermount. It has two bowls, 50/50. So you can defrost chicken on one side and wash your potatoes on the other. You decide what to do; the bowls are there for you.
These bowls have a sloped bottom optimally designed to drain liquid completely. The angle is precise, so your glassware won't lose balance either. It's easy to clean every corner of this sink, thanks to the rounded edges.
Rust isn't something you'll have to worry about either. This product has premium stainless steel that is 1.5mm thick all over. A consistent 16-gauge build provides for a durable kitchen apparatus you won't have to replace soon.
Despite having a steel build, this is one of the quieter ones you can find. This 33″ by 19″ by 10″ sink has an 80% extra-thick pad covering and a SoundGuard undercoating. The padding deafens noise and controls condensate build-up, keeping it mold-free.
It also goes without saying, this undermount looks great with its satin finish. With the boxy design and sleek look, it instantly fits in with any kitchen. And it can do more work at once, its best feature.
Has two bowls
Consistent thickness
Cleaning is easy
Not likely to rust
Minimizes noise
Small bowls
Collects scratches
4. Zuhne Modena Single Bowl Undermount Kitchen Sink Set
This one is for aspiring chefs or anyone wanting a professional-grade kitchen sink at home. It's a reliable, all-rounder stainless steel undermount that goes the extra mile. If you want the best value, this is the one to get.
First of all, this product comes with everything you need. There's a 2pc colander set, protector grate, sponge caddy, and a drain strainer included in-the-box. These are all professional-grade food-safe accessories you might need.
The Modena is a 30″ by 18″ sink with 10″ depth, built with stainless steel that's uniform top to bottom. This material provides a sturdy build that's resistant to dents and damage with 40% more steel.
On top of that, the stainless steel comes with a premium brushed finish that goes well with any decor. The corners are tight and sleek but also rounded for ease of cleaning. With a sloped bottom, drainage is easy too.
It doesn't stop there. This unit is the quietest sink on the market. Its noise and thermal insulation are 2.5x better than any of its competitors right now. That means fewer distractions and lesser condensates.
Coming at a very competitive price, this is an all-around deal. This stainless steel sink has every feature and does it well. It's great value at a great price with minimal compromises.
A great overall deal
Best noise management
High-quality stainless steel
Low condensation
Can endure rough use
Cannot be cleaned with bleach
Prone to leaks
5. Mensarjor Undermount Single Bowl 16-Gauge Stainless Steel Kitchen Sink
A kitchen is not just for cooking. For the modern home, looks matter. Having a seamlessly designed, simple, yet fully-functional sink is more than just a novelty. It adds to the kitchen experience and makes you want to cook more often.
The Mensarjor is a sleek, squared-off design with brushed stainless steel that will make any kitchen look amazing. It's built with T304 premium stainless steel and is dent-resistant. This is truly a durable and beautiful sink.
Artisans make this handcrafted product to give you a big size, great drainage, and easy cleaning. The dimensions of it are 32″ (width), 19″ (length), and 10″ (depth), giving you room for all your dishes. Its corners are smooth for ease of cleaning as well.
X Grooves' bottom design makes drainage happen in an instant. The drain size is 3.5″, suitable with most disposal systems. It can clean well and fast, and that's what a good sink is supposed to do.
The 16-gauge steel on this product is 1.5mm thick, making it consistently solid. Its thick rubber padding also does a decent job of muffling noises and controlling condensation. This proves effective in making sure there's no mold growth.
Honestly, this Mensarjor is the perfect example of what an undermount sink should look like. Linear, seamless, and modern. It goes great with most granite countertops and can make your kitchen a gastro-pub.
Sleek design
More than enough space
Decent noise cancellation
Quick drainage
Competitive pricing
Needs regular cleaning
Rusts quickly
6. Elkay Quartz Classic ELGU2522WH0 Single Bowl Undermount Sink
Okay, this one is a little different than the ones we've reviewed above. It's better, as you'd expect a quartz sink to be. It's elegant, it's quiet, it's durable, and it's surprisingly within your budget. The Elkay Quartz is a great product at a great price.
First of all, let's talk about size. This undermount is 24.6″ by 18.5″ by 9.5″ in its dimensions. Clearly, it's not a huge footprint. But it's a big enough size for most daily kitchen use. The drain size is 3.5″, which fits with almost any disposal system.
Quartz is one of the best materials for a reliable build. It's extremely durable, making it almost impossible to crack. It can endure extreme heat. The surface is non-porous as well. This means that no liquid will be absorbed as well as no stains or odor.
Apart from the sink's tendency to stay clean on its own, cleaning it is yourself is also pretty easy. It responds to most surface cleaners and requires little scrubbing. However, there might be long-term staining, which is easy to get rid of too.
Due to the density of the material, the body absorbs the dullest sounds. When you drop dishes into it, it's not loud. It's also visually appealing since quartz goes well with granite countertops.
There are several different colors to choose from. You can coordinate the decor as you like with a good quartz utility like this, the real estate value of your home increases.
Heat resistant
Stain-proof
Sound absorbent
Cleaning is simple
Various colors available
7. Swanstone QZ03322LS.077 Granite Dual Mount Single-Bowl Kitchen Sink
A kitchen sink is something you shouldn't need to think about too much. From installation to using it, it should be simple. Swanstone brings you a lightweight, easy to install, and strong addition. It's an average sink for average use.
You can install this unit as an undermount or drop-in, whichever works for you. If you're renovating the kitchen or looking for a new sink, this is a good option. You can install it yourself if you're feeling confident.
Its build is also dependable. Made out of 80% granite, the Swanstone is one of the more solid options in the market. This 33″ by 22″ size has a variable depth for the two dent-resistant bowls. It isn't likely to chip or break either.
The shallow depth of the bowl makes it easy to function and reach the bottom. On one side, it's 10″ deep and 7″ on the other. The divider is also low, preventing overflow of water. The design is intuitive and hassle-free.
Apart from the specs, this is a standard size and fits with most normal cabinets. It also leaves room underneath for storage. The design is simple, too, making maintenance easy. It's a nice fit for your kitchen.
Last but not least, this dual-mount build is very light, coming at just 30 pounds. Considering its granite build, that is impressive. It's super easy to adjust on your own. And it puts less pressure on the caulk or adhesive, keeping it in place. This design is less likely to leak.
Dual-mount
Lightweight
Easy to install yourself
Variable bowl depth
Not likely to leak
Oversized lips
Easily scratched
8. Kraus KCA-1200 Ellis Undermount Kitchen Sink
Whether you're entertaining guests or cooking for a family, sometimes you need a big sink with power. This double bowl has space, functionality, and great design. It might be the one for you.
Being 33″ wide, 18″ long, and 8.5″ deep, this allotment has two equal bowls for great multitasking. You can wash on one side and dry on the other side. Or whatever works for you. The smart low divider manages space seamlessly and keeps overflow in check.
This Ellis model comes with 16-gauge stainless steel, which is of TRU16 grade. That means this steel is hard and consistently thick. So you won't have to worry about damage. It has a satin finish, which is great at hiding scratches and doesn't stain easily.
Kraus has engineered the bottom slope for optimal draining, keeping your glassware steady. The inside corners are round for simple cleaning and less water spill. The design also looks great with granite kitchen counters: modern and effortless.
One complaint with steel sinks is noise. You can forget about that too because this product is insulated with extra-thick pads underneath. They absorb vibrations and noise effectively. Condensation is also drastically reduced, which stops mold growth in the cabinet.
This unit comes with a commercial pull-down faucet, a bottom grid, and everything essential. It's a great addition to your kitchen that can handle all your workload. If you're in the market for a sink that will last you years, this one's for you.
Generous space
High-quality stainless steel
Can handle heavy work
Optimal drainage
Good sound absorption
Needs regular rust cleaning
Requires extra adhesive for installation
9. Ruvati RVH8350 Double Bowl Undermount Sink
Ruvati has come up with another all-inclusive workstation, and you will not be disappointed. This one is just as good, but bigger and with two bowls. That means better workload management with all the exclusive features.
The RVH8350 is a 33-inch design with two 50/50 bowls. It's a big sink, leaving you enough room on both sides for all kinds of washing. Each bowl is 15″ by 16″ that is 10″ deep, and there's a perfectly sized divider in the middle.
It has an overhanging front and back lip for you to slide in all the accessories for instant use. The modular design lets you remove them easily, and clean-up happens in a snap.
The material contains premium 18:10 chromium/nickel 16-gauge stainless steel that will not dent or chip in years. The zEdge design provides sharp 90° corners that lend a new-age aesthetic too. Tight corners mean a better adjustment for the included accessories.
A professional brush finish keeps scratches away and stains hard to come by. Ruvati's noise DEFEND rubber padding and sound GUARD undercoating make sure your kitchen is a quiet place too. And it also makes sure there's minimal condensation, even if you dump the ice.
This sink comes with a cutting board, basket strainer drain, colander, roll-up rack, and much more. All of these fit perfectly with the measurements of its square edges. And they give you an integrated experience out of the box.
Great functionality
Two bowls
Spacious design
Reduced noise and condensation
Less scratching
Drainage is slow
Corners are hard to clean
10. Zuhne Modena Undermount Stainless Steel Bar and RV Sink
While a big sink can be useful, it's not the best choice for smaller counters. In a bar or a recreational vehicle, you might want a more compact form-factor. For a tight fit, Zuhne brings you a smaller version of their best-in-class products.
This Zuhne model, like their other unit we've reviewed before, has an indestructible build. With 40% more steel top to bottom, it has a uniform thickness all around. Its build has T304 grade stainless steel with a brushed finish, which resists dents and scratches.
The dimensions of this unit are 15 x 17 x 10 inches, which is perfect for most bars and RVs. Its design is optimal for quick drainage. The inside corners are sharp but rounded. That means cleaning is easy, but looks are clean.
Furthermore, Modena has the quietest option in the market. Zuhne has incorporated 2.5x better thermal and noise insulation with its high-quality steel. The material makes for a calm kitchen as well as a dry cabinet. Condensation is not an issue.
This Chef Grade quality is certified the safest in the US and Canada with a lead-free build. It includes necessary food-safe accessories like a drain strainer, scratch protector grate, and a sponge caddy. And you can use this sink for years.
As expected, it provides an amazing value at a really low price. Its quality is commercial, and the price is competitive. If you need a smaller undermount, this is a perfect choice.
Low price
Superior build quality
Compact size
Best-in-class insulation
Fast drainage
Possible leakage
Not suitable for bleach cleaning
What to Look for Before Buying the Best Undermount Kitchen Sink For Granite Countertop?
Investing in a kitchen sink is worthwhile when it fits in beautifully and improves your kitchen's overall functionality. It's an important decision. There are a handful of things you need to consider before buying a brand new one.
From the build material to its size to what type it is, you have to be sure you're choosing wisely. How much you actually use it is also a factor. These are what you'll need to look for before buying.
Consider the Material
Kitchen sinks can be stainless steel, granite, quartz, and other kinds of material. Depending on how often you actually want to use yours and whether you want to clean regularly, different material might be good for you.
Most kitchen sinks are stainless steel, and it's usually the more affordable choice. Steel can be durable, and it isn't easily stained. However, it's also prone to rust and makes a lot of noise. If you're ready for maintenance, this can be well-suited to you.
Kitchen sinks made of quartz are very affordable and durable as well. Quartz is a really hard, non-porous substance. It keeps liquids out, which is the usual cause of stains. This material is scratch, stain, and dent resistant. Long-terms stains are easy to clean as well.
The best material for sinks is granite, hands down. It is extremely hard, virtually unbreakable, neither does it stain or scratch. This substance can tolerate high heat without an issue. If you can pay extra for the premium granite option, get one.
Choose the Right Size
Kitchen sinks can vary widely in size. While quality is not directly proportionate to size, functionality can be. If you need to wash very big dishes or just a lot at once, a bigger size comes in handy. If you don't, a smaller one works fine.
Since bigger means more expensive, consider all the factors. Does it look proportional to your kitchen? Is there enough space left on the counter? Once you've thought about that, decide between single-bowl or double.
Having an uninterrupted space for washing can be useful for many people. Not everyone likes the divider in the middle. You can also fit bigger dishes and pots in a single bowl. But this is tough for multitasking.
While each bowl is relatively smaller, having two can increase the amount of work you can do simultaneously. The divider in the middle keeps your dirty dishes separate from the fruits you're rinsing.
Drop-in or Undermount?
Depending on how installation works, kitchen sinks can be of several types. The traditional drop-ins simply fit into the cutout onto the counter. On the other hand, undermounts attach to the bottom, leaving the sink cutout clean.
Drop-ins have been a norm for a long time; they're easy. But they have their own problems. The lips that hang on to the counter retain dirt and water, which need cleaning. These are cheaper, however.
These are the more modern kitchen sinks. Undermounts attach to the bottom and lead the counter seamlessly into the bowl. This fit makes cleaning much easier and gives a polished look to the room. It can also increase the resale value of your house.
Drop-ins are admittedly easy on the pockets. Though they are a little more expensive, undermounts are definitely worth it. It depends on your taste.
Keep Your Budget in Mind
While it can be tempting to get the squeakiest, most high-end sink you see, you might not actually need it. Decide your budget based on what you need. If you need a big one with tons of features, go for it.
But you can probably find the right one that suits your needs best within a mid-range budget as well. There are a lot of options in the market now, each with a different set of features. Find the functionality and aesthetic you need within what you can afford.
However, you might find a design perfect for you that's slightly over budget. A kitchen sink is an investment that makes life easier and can even increase your house's resale value. It can be a good idea to go the extra mile.
Features of the Sink
One last thing to remember is that some kitchen sinks come with cool accessories, some have pull-down faucets, and some have integrated workstations. Before you choose which one to buy, ask yourself why. The philosophy of "can vs. should" applies here.
Sure, you can spend your budget on neat little features. It's fun. But if you're never going to use them, it's a lost investment. Get what you pay for. Maybe you could use the leftover budget to install your new undermount sink professionally.
Final Words
At the day's end, the goal is to wash and clean your kitchen supplies easily and well. The sink you're going to buy should be a great way of making sure you do it efficiently. We're here to help you choose.
This review of the 10 best undermount kitchen sinks for granite countertops in 2020 can help you pick the one that's for you. Let's get cooking!
As you are looking for an authentic kitchen sink to give your kitchen more luxurious look, we recommend you to read our best blender for frozen fruit reviews along with the awesome looking dishwasher safe knife set and blocks.

Plus, you should invest in healthy cookware made of stainless steel as well.