Notching tubes has always been a difficult job. But to your relief, it would be safe to mention that tube notchers make notching way easier. Several types of tube notchers in the market would suit both your significant professional works and small personal projects.
Different notchers come with different durability, power capacities, heights, longevities, lengths, and many other things.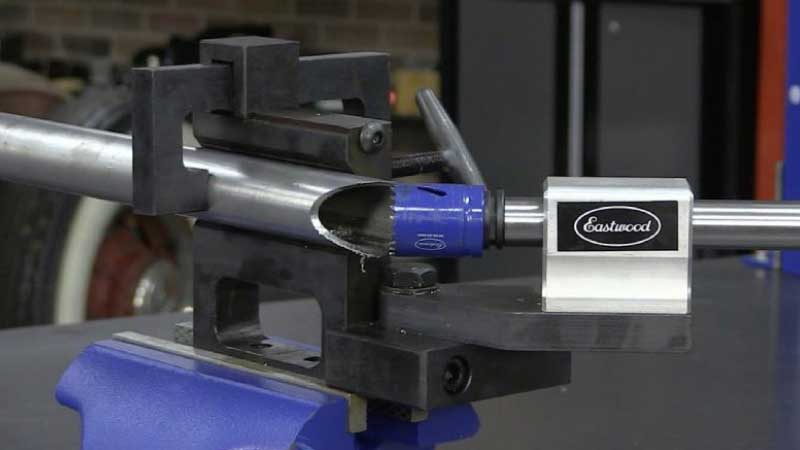 To make your notching experience smoother, a tube notcher is a must-have. But seeing all these options can often get very overwhelming. So, to help you, we have talked all about it. Keep on reading to find out the best tube notchers in the market.
---
---
Our 10 Best Tube Notcher Picks:
Tube notchers can be a difficult purchase due to their various features and qualities. Thus, we have picked out and discussed the top 10 products in the market so that you can buy your very own tube notcher without any worries.
1. Baileigh TN-250 Tube Notcher
For an expert, an inexpensive tube notcher wouldn't suffice. Baileigh's most admirable feature is its pinpoint accuracy, making tube notching just a wee-bit easier than it actually is.
This tube notcher can notch from ½ inch to 2½ inches and is as solid as a rock when it's strength is taken into consideration. The 0.75-inch steel plate backbone adds a rather stiff platform to the device, and the interconnected parts keep the vibration to a minimum, making it easier to handle.
Furthermore, the Baileigh Tube notcher comes with a self-centering vise, which makes cutting much easier than it usually is. This feature enables users to create flawless centered holes every time they use it, making the whole process less complex.
Also, the Baileigh Tube Notcher consists of a large engraved dial that helps you find the ideal angles in a more precise manner.
The carriage is also able to pivot up to 220 degrees in both left and right directions so that it's easier to move from any angle. However, as mentioned earlier, it is pretty expensive, but it will most definitely pay off in the long run.
The Baileigh Industrial Tube Notcher also requires a grinder for cutting thicker tubes, which might increase the cost by a small amount, but its precision will always make it worth the price in the long run. 
Self-centering vise
Can notch from ½ inch to 2½ inches
Large engraved dials
Carriage can pivot up to 220 degrees
Durable and nice angle adjustment system
Highest quality output with less effort
Expensive
Needs grinder to finish cutting thicker tubes
2. Eastwood Tube and Pipe Notcher
The Eastwood Tube notcher is one of the more convenient ones out there. Not only is the quality above mediocre, but the pipe notcher itself is easy to use as opposed to the other ones.
The pipe tube notcher also specializes in being accurate when cutting, which makes the whole process less time-consuming. Secondly, it is pretty versatile as it can operate with any hole saw.
This might just decrease unnecessary expenses as users will be able to use the hole saws that they already have at home. It will also allow them to work with any material. Moreover, it works on both rectangular and round tubes.
Additionally, it is able to create any angle of saddle, which will be less complicated for users to handle if they are just starting out as it will not put any stress on their hands and won't make the experience uncomfortable overall as they'll be able to make multiple cuts at the same time.
The Eastwood pipe notcher is also pretty affordable compared to the other notchers and can be used with any handheld drill.
However, on the other hand, it might have a hard time notching 3 inch diameter tubes, and tuning might be required from time to time, but it is quite a reasonable deal for its price and the versatility that it puts on the table for the users.
Easy to use
Operates with any hole saw
Able to create any angle of saddle
Works on both rectangular and round tubes
Can be used with any hand drill
Can't notch 3-inch diameter tubes
Tuning required sometimes
3. Woodward Fab (HECSPPIPENOTCH) 2" Pipe and Tube Hole Saw Notcher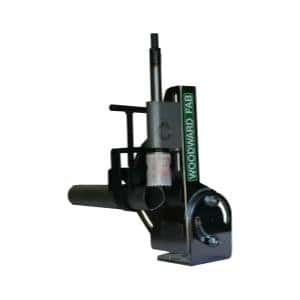 Woodward Fab notcher is a specialist when it comes to being extremely efficient and fast. It is also considered to be one of the less time-consuming notchers out there.
This is extremely flexible, giving the users a certain amount of freedom when using it. It is also completely adjustable, enabling the users to create remarkable saddle notches in quick successions.

In addition, the Woodward Fab Tube notcher is also one of the lighter notchers, which will make the process of cutting more effortless for the users and allow them to create smooth welds throughout the structures.
It can also be used on handheld drills, enabling more accurate cuts to be made into the material. Furthermore, this notcher is built to keep up with tubes or pipes up to 40-degree angles. It is definitely, one of the more convenient devices.

Also, Woodward Fab Tube notcher is able to cut 2 diameter holes in any sort of pipe, ensuring a decent, perpetual junction point right where it's required. It can be used regularly, even in an industrial environment, and will allow accurate and consistent notches to be made every time it's used.
Can be used on handheld models
Completely adjustable
Professional tube notcher works great
Lightweight
Welds effectively
Doesn't always stay fixed in place
Not so precise at higher angles
4. Heck Pipe and Tube Notcher
Another great product on our list is the Heck tube notcher. This tubing notcher is one of the rare ones that work on the tubing of a diameter of 3 inches. Yes, this notcher works from ¾ inch to 3 inches tubing.
It can be used with any ½ inch chuck hand drill; using this is going to be very easy and convenient for you.
If you are looking to do some heavy-duty work, then you are looking at the right product. This notcher is designed for heavyweight construction.
To support such a heavy workload, it is made from ¾ inch plate to stop it from flexing during operation. It is very efficient and sturdy and will help you cover your professional work really well.
The product will come with a smooth precision needle bearing that firmly supports the hardened cutter spindle. However, it will not come with hole saw blades; you will have to get them separately.
This product has an easily readable angle scale and can measure up to 50 degrees. You can use it by mounting it to a benchtop or by clamping it on a bench vise.
Works with 3 inches tubing
You can mount easily
Good for heavy-duty work
Has a good precision
Easy to use and great angle adjustments
Difficult to adjust to the center
Doesn't come with hole saw blades
5. Kaka PN-1/2A Aluminium Frame Pipe and Tube Notcher
If you are looking for a robust and long-lasting product, you might want to look at this. Kaka's tube notcher will allow you to make the perfect joints in your pipes and tubing.
Leading you to create clean and smooth welds that will make your welds not only stronger but also make it look visually pleasing. The device itself has a very strong built because of the aluminum frames.
This innovative design model will allow you to fix it to any work surface, but it will work best if it is mounted to a drill press. To have a good looking and functional tube notcher, you just need to add the product to a vise.
As it is so adaptable to any sort of work surface, it is very easy to use. Not only that, but this product is also designed to have impeccable precision.
Furthermore, any shape and size of the tube can be cut with it, and you can cut at any angle ranging from 0 to 60 degrees. It also has compound angle adjustment up to 45 degrees in 1-degree increments.
With having the capacity to work on 2 inch round tubes and having the ability to adopt 1/2" and 5/8" threaded arbor hole saws, it is great to make roll cages and mini bike frames. Altogether it is a great buy.
Strong aluminum frame
Has high precision
Easy to use
Can be adjusted smoothly
It is stable
Not for professional use
Quality is not the best
6. Industrial Professional Pipe and Tube Notcher 3/4" – 3"
Most tube notchers work on tubes that are up to the diameter of 2 inches. But this tube notcher, as the name suggests, can create notches on a broader range of sizes.
It creates the notches in tubing starting from the size of 3/4 inches to 3 inches. Definitely, a device to consider buying if you have a 3-inch diameter tubing as most notchers will only provide support up to 2 inches.
This industrial tube notcher will not only give you a size benefit. It will also let you work on a variety of angles. This device can be adjusted up to 50 degrees just by loosening the bolt.
The Professional Tubing Notcher is also designed with the professional maker in mind to make precise "fishmouth" notches within a wide variety of angles from 90 to 150 degrees in tubes up to 3 inches in diameter using a 1/2 inches hand drill.
It will not come with a hole saw, but you can easily find a hole saw in the market. To make things easier, it accepts any standard hole saw, so you do not have to go looking around to find the perfect size to fit.
Finally, it will suitably work with any electric ½ inch drill and can be used with a vise or as a top mount bench tool.
Easily adjustable
Heavy duty frame
Handles 3-inch tubing
Can create fish mouth notches
Supports a wide range of angles
Works with any standard hole saw
No hole saw included
Can't perform offset notches
7. Pipe and Tube Notcher, Hole Saw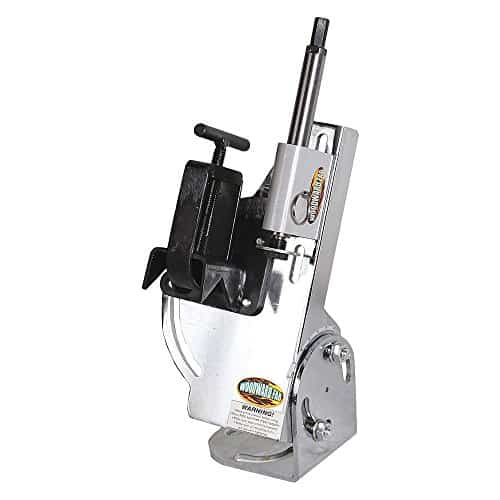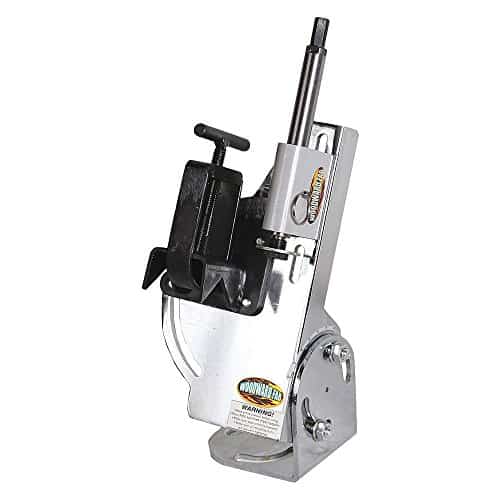 Some people always look for a versatile, easy-going tool, and that is why we have this amazing product by Heck on our list. This notcher will help you in various ways, but mainly, it will help you get your job done in a very short time.
You can make this device work any way you want as it is adjustable and fits well with any hand press, motor press, and drill press. It will definitely provide you a wide range of services.
Another great feature of this product is that it is both a notcher and a cutter. You can notch with it and additionally cut pipes with it if you need. This will come with a hole saw that would allow you to cut 2 inches thick tubes.
Great to have both versatility and flexibility in work, right? It is also capable of working a maximum of 40 hours.
Moreover, it also helps you achieve a professional finish while working, and it helps you make saddle notches at various angles. This device has a great performance record, and it will make your work more efficient.
Therefore, your overall working time will reduce significantly. Last but not least, it is sturdy and will definitely give you solid notches.
Very versatile
Gives a professional finish
Provides efficiency
Long-lasting
Adjustable and flexible
Works manually
Not for 3" tubes
8. Tube & Pipe Notcher 60 Degree Notch And 12 Pc Bi-Metal Hole Saw W/2 Drills kit
The next product on our list is this pipe notcher tool by VKRP enterprises. It consists of a long-lasting and robust steel frame that helps hold workpieces firmly during operation.
This tube notcher has a name for its precision. Round cuts can be made in tubes of different shapes at any angle from 0-60 degrees using this device. It is the perfect device for 2 inches or less tubing.
Furthermore, it has an adjustable base that can be set to any work table. However, it is best suited to be mounted on drill press tables. You can easily rotate and swivel the base; the adjustable holder makes cutting compound angles very stress-free.
Another good quality of this is that it can work with any standard drill press and work with various hole saws and round cutters.
Moreover, it comes with a ¾ to 2 ½ bi hole saw set, which puts in some extra benefits. The set helps cut precise holes in various types of materials such as wood, aluminum, steel alloys, plastic, and even stainless steel. This set is made with alloy steel bodies that make it super strong and long-lasting.
It has a variable tooth set that reduces vibrations so that the and it doesn't move during heavy-duty work. The bi-hole saw set also has an enamel finish that doesn't let it rust.
Sturdy and durable
Adapts to a large variety of hole saws
Easy to handle and maintain precision
The rigid platform is adjustable
Cutting compound angles are easy
Difficult to center the tube
Not for professionals
9. Tube & Pipe Notcher 60 Degree Notcher
We have another VKRP Enterprises product on our list, and if you are looking for a super affordable notcher, then we can assure you that this is the one. It is an excellent device with unique features that make it flexible to use. Be it big or small, this notcher can easily help you do your job.
Moreover, the notcher is constructed with a solid and sustainable steel frame. The tubes and the notcher are firmly held together during work due to their steel frames.
You can use the drill to make better fitting, stronger, and tighter joints before welding. This product welds very smoothly and works with pipes that have a thickness of 2 inches or less.
You can work on different angles with this tube notcher. Adjustments from 0 to 60 degrees can be made, and you can cut round edges from any angle with this device.
Also, it will accept ½ inch and 5/8 inch bimetal hole saws, but unfortunately, it does not come with a hole saw blades. You will have to get the blades separately if you do not have them from before.
Last but not least, you can use this with a drill press or any ½ inch drill and adapt to a few different types of worktables.
Flexible to use and great notching capacity
Adjustable mounting bracket
Easily helps you to notch
Makes fitting welds
Affordable metal tube notcher
No blades with the product
Can't work on tubes more than 2"
10. Precision Pipe and Tubing Notcher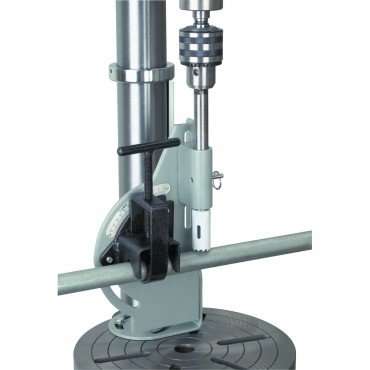 The final product on our list is this Precision Tube Notcher by Central Machinery. This device falls under more on the affordable price. Not only does it have an attractive price, but it also looks pretty attractive.
It has a full chrome-plated frame, and it is completely made of steel, which makes it look very aesthetically pleasing.
Furthermore, the all-steel body makes it very strong and sturdy. This will allow it to support your work without any obstacles. The pipe holder and the base of this notcher are adjustable; it can easily be adjusted to any workplace. So, cutting compound notch angles is very easy with this notcher.
Moreover, you can make this notcher work with a large range of hole saws, round cutters, and milling bits. To make things more convenient, this notcher works with both electric drill and drill press.
You can make round cuts in tubes of various shapes at angles up to 60 degrees and in 1-degree increments. Also, it accepts threaded arbor hole saws in sizes ½ inch and 5/8 inch and can be used with any ½ inch chuck to be more specific.
Affordable
Adjustable base
Convenient to use
Able to withstand pressure
Can be used with electric drills
Not for heavy usage
Can't be used for 3" tubing
What to Look for Before Buying the Best Tube Notcher?
Let's be honest; the sheer variety of styles and quality of tube notchers available in the market can put you into a buyer's dilemma. Therefore, to get rid of any confusion, we have laid down some considerations that you should take into account before buying a good tube notcher.
The Brand
You will find several brands in the market, and most products will give similar features. However, some brands will always provide some extra functions that will probably help with your work.
Another thing to be noted is that different brands will have different price points. So it is important to do some research before buying.
Once you look up the different brands, compare each and every one of them. Choose the one that tailors your needs. One thing to keep in mind is that more famous brands are more likely to provide a better quality product and a better service altogether.
Purpose
Tube notcher is not a single purpose tool. Thus, you should align the pipe notcher tool you are getting with your requirements. You may want to use the tube notcher for different purposes. It can be either professional or for personal projects.
If you are using it for professional purposes that include cutting into metal or even harder materials such as granite or porcelain, then you should get a notcher with diamond grit blades.
But if you are working with materials such as PVC, then you can get a small, handy notcher with small blades. You don't have to spend extra money to get super long blades for working with such materials.
Usage Frequency
It is important to figure out how often or how frequently you will be using the tube notchers. If you need one to finish small projects at home or do some personal work, you will not be spending too much time working with it.
For situations like that, you can get a small handy tube notcher that will just do the job, and you will not need to spend too much on it.
But if you need the pipe notcher tool for professional purposes and plan on doing some heavy-duty work with it. Then it would be best to spend some extra money and get a good tube notcher with long-lasting power.
Steel or Aluminum
Before getting the notcher, it is important to decide which type of notcher you want to get. Do you want to get a mild steel one or an aluminum one, or may a stainless steel metal tubing notcher? Do you want a lighter one or a stronger one? The answer lies in the requirements of your work.
If your work is associated with heavy usage and really hard materials, it would be best to get a steel tubing notcher. Steel notchers are generally stronger and do not distort under pressure.
However, if you need a lighter and easily portable notcher, you should definitely get an aluminum one. Both these notchers are durable and manageable.
Durability
No matter what you are buying, it is a necessity for it to be durable. For the case of tube notchers, it is important to have a durable construction. It is a product that is likely to deal with very hard objects, so if the notcher is not hard-wearing, it will break very easily.
Therefore, the construction and built is an important decision factor while choosing your tube notcher.
Most tube notchers are likely to be made from steel, metal, and chrome-plated frames. The durability mostly depends on the quality of these materials; however, steel tube notchers are often classified as the most durable ones.
A durable notcher will give you long-lasting support, so do check the product's durability before buying.
Shape of Tubing
Generally, most people work with round tubing. But there are times where people need to work with rectangular tubing. So before getting a tube notcher, you first need to figure out what type of tubing you will use.
Most notchers are designed to work with round tubing as that is the most common form. However, there are tube notchers that work with rectangular tubing too.
If you are entirely sure that round tubing is the only kind of tubing you will ever work with, then you should get a tube notcher that works explicitly with round tubing only.
But if you think that you might need to work with the rectangular form, you should make sure that you are getting a tube notcher with the feature to deal with the rectangular tubing.
Angle Degrees
For notching, the angle is a very important factor. The angle at which notches are cut is supposed to be very specific. These devices will differ significantly in the angle degrees that they can support. Therefore, it is essential to get a notcher that has your required angle settings.
The most common angles you will need to cut are generally below 45 degrees, so you will find that this angle will be the top limit of most entry-level notchers.
More skilled staff, though, can learn that they come across several angles requiring a different setting. Thus, they will need a professional device with a wide range of angle settings. You will be able to max out at 60 degrees with these advanced standard units.
Size of the Tube
The tube notcher is likely to limit you to a specific diameter and size of tubes and pipes. Thus, it is essential to make sure that the notcher you are getting will operate on the size of the tube used by you the most frequently. The majority of these devices work on two inches tubing or less.
But if you do need to work on a larger diameter, you do not need to worry. Some notchers will work on bigger sizes. All you need to do is search for the tube notcher that has the capacity to do so, and you'll be good to go.
Final Words
Now you are caught up with all that you need to know about tube notchers. Consequently, you can now buy the best tube notchers in the market by keeping all these pointers in mind.
Related Articles You May Like: