We use so many utensils in our kitchen every single day. If you ask us to make a list of the most used utensil in our daily lives, would you be surprised if "knives" were at the top of it? We know you would not.
Knives are an integral part of our kitchen. Nowadays, you can find a massive variation of knives in the local market. Some of those out of the top of our heads would be the chef's knife, bread knife, tomato knife, etc.
Let us talk about the best tomato knife available in the market. We made it our mission to narrow down the list to the very best ones for your convenience.
---
---
Our 10 Best Tomato Knives Reviews:
The word "best" may be subjective, but we will share the top 10 with you that we believe will serve you best.
1. WÜSTHOF CLASSIC IKON Precision Forged Tomato Knife
Starting from the beginning, we have this fine piece from WÜSTHOF CLASSIC IKON SERIES with a double bolster and a fine-looking black handle. You can see balance, beauty, and sophistication all over this equipment.
There are serrated edges on the blade of this knife. This thing will let you slice through those delicate and juicy tomatoes easily. Its blade is made of stainless steel components with a very high amount of carbon elements. It means no damages will happen inside the fruit.
You can use the forked tip to pick up the beautifully sliced produces, which you can add to your meals. This sleek-looking fine piece of cutlery's design and build quality will keep your new equipment away from any corrosion or dullness.
You will not be regretting after making this purchase because of the 200 years of experience of knife crafting of a single-family extended over seven generations. WÜSTHOF maintains the strictest of quality standards for crafting their products to serve you with the finest.
The Precision Edge Technology (PEtec) provides this blade with an additional 20% sharpness at increased edge retention. This item will keep your new favorite knife sharp even when the other ones in your kitchen have lost their initial integrity.
Reliable crafting experience
Full tang design for superior grip
Triple-riveted for precise control
Stainless steel blade
Lightweight design
Works well with slicing other fruits too
Too pricey for its purpose
Plastic handle with generic looks
2. Rada Cutlery Tomato Slicer with Aluminum Handle
This item comes entirely handcrafted from the USA. It comes with a very comfortable and sturdy built design with a solid cast aluminum handle, made by keeping your cutlery needs in mind.
Whenever you would like to whip up some quick recipes like gourmet burgers or some tasty and good looking salad, you can pick it up and use it to get some perfect looking tomato slices every time.
This USA made knife by RADA cutlery is specially designed and created with dual serrations for your own convenience. It will help you to keep every single cut off those soft and juicy tomatoes perfectly straight and even.
And it also comes with bonus features for all those who are left-handed as well. Its design helps you slice and dice all kinds of tomatoes with utter perfection no matter which hand you are using.
The blade has a hollow ground design with a concave surface on the blade, which will provide you with an increased duration for edge retention. You will also not be disappointed with the sharpness as its design makes it last longer than the other tomato knives found in the market.
Brushed aluminum handle provides comfort during usage
5-inch dual serrated blade can cut other fruits too
Fully metal build
Designed to last longer
Perfect cuts with every slice
Hand wash and dry after usage to prevent discoloration
The aluminum handle needs extra care for longevity
3. WÜSTHOF Gourmet Five Inch Tomato Knife With Serrated Edge
Here we have another typical tomato knife made by WÜSTHOF, which was founded in the city of Solingen, Germany. The city of Solingen is not "called the city of blades" for nothing.
All the best blacksmiths in history came from this city, along the centuries worth of experience from this place led WÜSTHOF to make such superior quality and designed knives, including this tomato knife.
This one is a gourmet series knife. It comes with a 5-inch blade, which is large enough to help you slice through all sorts of tomatoes and most other fruits that you have lying around in your kitchen with utter perfection.
The high carbon stainless steel blade is designed with the latest state of the art technology so that you can enjoy even the most mundane tasks of slicing tomatoes like melted butter. Its form factor is made, keeping your comfort and safety in mind.
You will also get a serrated edge with this one and a fork tip for picking up the sliced tomatoes or fruits and put them in a bowl. We suggest you to not be surprised if you happen to get confused with whether you begin to enjoy all the slicing more than the meals you prepare.
Serrated edge for picking up slices
Slices other small fruits and vegetables well
Strictest standards for best quality knives
Anti-corrosion and dulling materials
Extremely versatile in design
Care needed for use in dishwasher
Handle must be dried immediately to prevent stains
4. RADA Cutlery Stainless Steel Resin Tomato Slicing Knife
Here we have yet another American made cutlery knife for your tomato slicing purposes. Use it at your own free will to not only cut through those juicy tomatoes in your kitchen but veggies and other fruits as well.
Designed with surgical-grade duel serrated steel blade made of high carbon will provide you with the extra sharpness you always wanted. No matter what your skill level in the kitchen is, one thing we can promise you is that you will love playing with this.
The right amount of thickness that you will get with this design will provide you with superior comfort and increase your cutting and dicing performance. Although it prefers to be hand-washed, this one comes with a handle that is entirely dishwasher safe.
Its ergonomic handle is built with resin with an eye-catching black finish. The stainless steel body is durable, long-lasting, and prevents corrosions from forming. This beauty talks the talk and walks the extra mile that you may need at any time of the day.
We know you do not want to run to the market to buy a new tomato knife regularly as soon as your current one gets dull. You will stay fully satisfied after purchasing this item because of Rada Cutlery's top-notch quality and experience.
Black resin handle
Dual serrated steel blade for perfect slices
Can be used for multiple purposes
Best value for the price
Dishwasher safe knife can cut tomatoes with ease
Tiny handle for bigger hands
Not a sturdy build
5. Juie Red 2 Piece Tomato Slicer and Stainless Steel Knife Set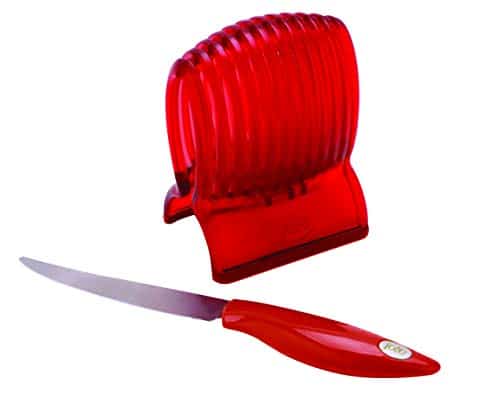 This unique-looking tomato knife set pretty much stands out from the others. Its red color body may be appealing to a lot of kitchen maestros out there. The body of this one is made of BPA-free components promoting health and safety for you and your family.
Unlike the other ones in this article, this one stands out because it comes with a separate slicer and a knife. You have to put your tomato or any other fruit of your choosing inside the slicer and slice with the knife for perfectly equal pieces.
Not only does it help you with evenness, but it helps keep your fingers safe from the extreme sharpness of the blade. It is easy for amateurs to use and get perfect slices as well.
Besides tomatoes, it also works well with onions, potatoes, and other items. Truly quite versatile at its purpose. However, you have to keep in mind the plastic part, which is prone to melt if you bring it near any high heat source.
You can safely throw them in the dishwasher for a quick clean-up and expect a very clean outcome without worrying about any damages. All this because of the dishwasher safety features integrated with it.
Unique looking red colored design
Comes as a set of knife and slicer
Dishwasher safe tomato knife
Can cut other fruits and vegetables
Perfect slices every time
Can slice only one ingredient at a time
Hard to work with big tomatoes
6. Messermeister Handcrafted Red Tomato Knife with Sheath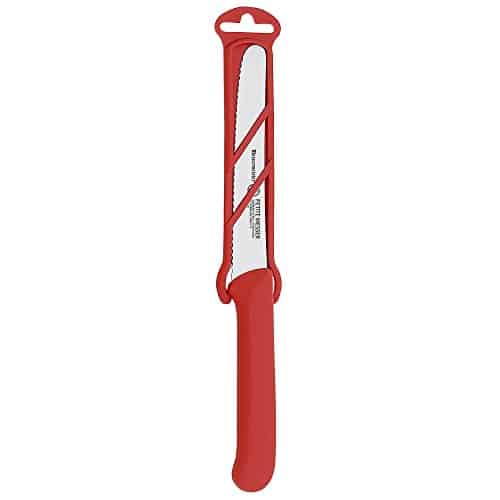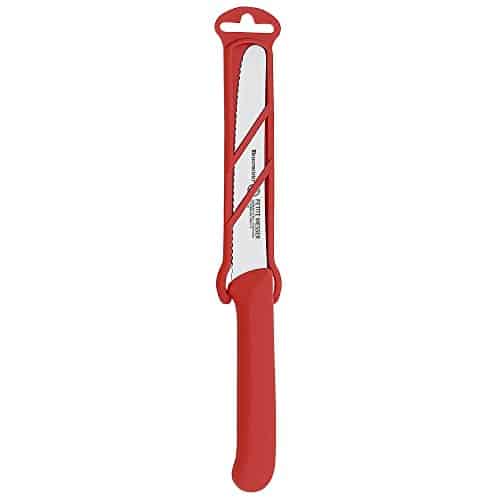 This knife comes from a famous German-owned cutlery and kitchen accessory company. Messermeister comes with decades of experience when making kitchen utensils. Their award-winning culinary tools are unmatched when it comes to tomato knives.
They do not only aim to serve you with the best knives, but they also keep your safety in mind. With its beautiful red accent, this knife comes with a matching sheath, which will let you carry it if need be.
Made in Portugal, this stainless steel blade will help you seamlessly cut through tomatoes and most other fruits and vegetables.
The serrated blade ensures perfection with every slice, and its small form factor helps people with smaller hands to work with these at ease. You can slice through food with a more rigid shell and a softer core without ruining the shape of the cuts very quickly.
Moreover, its lightweight design is perfect for providing you with the balance and stability that you need to work with when it comes to knives. Its rounded shape allows you to maneuver this seamlessly.
The sheath that comes along with this one also has a hook at the top, which will let you hang it to something in your kitchen. Make sure you take extra care while washing this razor-sharp knife and keep it dry.
Comes with a sheath for protection
Lightweight external structure
Excellent for cutting small fruits and vegetables
Comfortable grip for working with ease
Red accent stands out from other
Razor sharp knife can separate tomato skin
Plastic handle needs care
Keeping it wet will lose its integrity
7. Pure Komachi 2 Series Tomato/Cheese Knife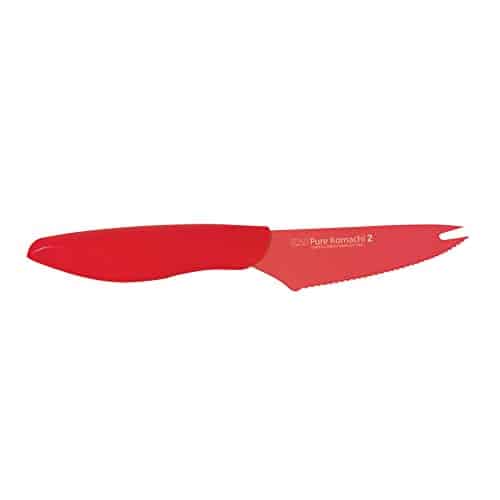 Kai Housewares is one of the most renowned Japanese brands that make kitchen cutleries and kitchen appliances. This company creates this particular one from the Seki city of Japan.
Seki city is famously known as the knife-making capital. This alone puts a lot of weight and reputation on the brand and quality of this knife. You will surely be happy knowing about the rich history and origin of the next kitchen item you are planning to purchase.
For more than a century, Kai Housewares has been manufacturing and serving customers worldwide with their superior quality beautiful looking cutleries and accessories such as the Pure Komachi 2 series.
This resin-molded razor-sharp blade is perfect for cutting through tomatoes or cheese at ease. Its red colored design and the 4-inch blade will make your life more comfortable than you might think.
You can pick up sliced up pieces using its prolonged tip without damaging the fine slices you prepared using this knife effortlessly. Its monochromatic color will bring up the color to your life inside your kitchen.
The blades come in different colors, which can help you color code which blade you used for which items and prevent cross-contamination. Even if you decide to cut through meat, this will serve you well to its purpose.
Lightweight at 2.4 ounces only
Color-coded designs for multiple usages
Extremely versatile for its purpose
Unique looks
Easy maintenance
Harder to cut bigger fruits
Less sharp at the middle than the tip
8. Mercer Culinary Renaissance Forged Tomato Knife
For more than three decades, Mercer has provided high-quality cutlery items for both home and professional usage. This 5-inch stainless steel blade will be a perfect addition to your kitchen.
Its body is entirely resistant to rusting and comes with anti-corrosion features. This will provide you with a quality knife that will last for longer than you will expect or need. Its triple-riveted and ergonomic single-piece design are made with extreme precision for your slicing needs.
This blade's materials and build quality will also prevent it from getting discolored. Its full tang design that goes through the whole thing will provide you with excellent balance. The bolster size is also short enough so that you can sharpen this one entirely to the base if need be.
Moreover, the ground edge of its cutting side is tapered to provide you with the level of stability that you desire for. The extra sharpness in this thin blade will keep you going for a long time without you have to worry about it.
It is natural if you begin to worry about whether it will last long enough for you or not. The NSF certification that you will be getting along with this knife will provide you with one less thing to worry about.
Precision-forged German steel
Ergonomically designed Delrin handle
Tapered ground for stability
Extremely versatile
NSF certified
Loses sharpness quite fast
Extra care needed for retaining quality
9. Cestari Kitchen Best Serrated Tomato Knife
If you have been looking for some premium and good-looking knives, you can conclude your search right here. Let us introduce you to this advanced ceramic blade knife by Cestari kitchen, which also comes with a safety sheath.
Safety should always be our concern when using incredibly sharp tools such as kitchen knives, but Cestari also keeps your safety as their concern as well. But that does not mean that they focus less on the functionality.
Would you believe if we say that this thin blade with the advanced ceramic design will never lose its sharpness? Well, I guess it is time for you to believe it. This premium-looking utility knife comes to you in a luxury gift box right out of the store.
This knife guarantees that you are getting paper-thin slices every single time you pick it up for usage. It also comes along with a professional level serrated blade, which will serve you at your every need.
The rubberized comfortable handle grip will keep your hand firmly attached to it whenever you use this item. This single piece of hardware comes with an eye-catching black satin finish and a sheath for your safety, making it the right tool to cut tomatoes and soft fruits.
Comes with custom molded knife cover
BPA free knife's handle prevents germs or bacteria
Cuts most fruits, vegetables, and cheese
Ceramic blade never loses sharpness
Perfectly balanced and lightweight
Not ideal for cutting through bones
Cannot perform cuts requiring twists and bends
10. Hammer Stahl German Forged 5-inch Steel Serrated Knife
Hammer Stahl is another German top-quality cutlery company that makes blades based on the great German knife makers. This sleek and fancy looking knife is made of forged steel, which provides incredible strength and long-lasting capability.
You will get a speared serving tip at the edge of this item for picking up thin slides from the fresh produce that you just chopped off for your next meal. The pakkawood handle that comes along with it will provide you with superior quality and durability.
The sloped bolster that comes with it will help you provide a proper and comfortable grip. Its unique looking quad tang handle design creates a perfect balance and blends with its wood handle, which is incredibly beautiful and comfortable.
Talking about the body of this item, you will see that it has cut-outs in different places. This utensil will help you with your chopping needs as it reduces the surface area and helps you prevent food from sticking to it.
This razor-sharp blade comes with a finely serrated edge, which will help you cut through tomatoes and other delicate fruits. It will serve you with clean sliding of tomatoes and even hard cheese. One can even slice through cured meats without facing any resistance.
Sleek looking design
Cut out in blades prevents food from sticking
Quad tang design provides incredible balance
Made from high carbon stainless steel, provides longevity
German made knife is durable
Handle is too small
Pakkawood is not dishwasher friendly
What to Look for Before You Buy the Best Tomato Knife?
It can possibly be a very daunting task when you decide on buying a tomato slicer. Since you already have in mind a purpose for the next knife that you purchase, choosing from among all the available products in the market is quite difficult. And that is why we prepared this article for you to make your life a little easier.
Read Also: Best Shrimp Deveiner for the Money
Durability
Many factors come to play when you decide to buy a good tomato knife. Starting from the design, you need to make sure that it is durable enough to use for a significant amount of duration.
If it breaks before that time, or if its parts become loose or flimsy after a little while of usage, you will not be happy spending your money on it. A sturdy built is extremely necessary for that.
Related: Top Rated Knife Bag to Carry Essential Knives
Sharpness
Sharpness is a very crucial factor to consider. If your new favorite kitchen cutlery item becomes dull after a few weeks or months of usage, you will not be happy.
We believe that you do not want to run to the store soon again to purchase honing steel. The last thing we believe that you want is to keep on sharpening it every other week or so. Based on its design, it might be tough for you to sharpen it since you might not be used to such things.
People often find it difficult to sharpen serrated blades. So, learn the sharpening techniques before you go with serrated blades to cut tomatoes. A straight blade is better for sharpening purposes as anyone can sharpen these things. However, serrated blades stay sharp for long periods while a straight blade is prone to getting dull often.
Niche
Whether you want a blade for all-purpose or just some specific items play an essential role as well. A knife used for all purposes may be pretty great for cutting some food, though not as great with others.
They are also less likely to last long. So choosing a blade based on its purpose, such as cutting tomatoes, is encouraged. However, you do need to make sure of the fact that it will last long enough, given its usage for only a handful of purposes. Or else it will not be worth your money and time.
Popular Brands
Brands do not just get famous overnight. And it does not just happen for no reason as well. It is very much encouraged to purchase products from popular brands. But you should also consider the level of experience and expertise that comes with each of them.
We know that you want a sharp blade that lasts long enough to serve its purpose. You do not want one that blunts away fast and needs sharpening frequently. It has a lot to do with the expertise available only with famous brands and their high-quality products.
Final Words
We need knives for many purposes in our daily lives. The purpose may differ, but the need for slicing and dicing is never-ending. Keeping your best interest in mind, we hope this helps you buy the best tomato knife. Happy slicing!
Read Also: Best Oven Mitts For Cast Iron Cookware