One of the easiest ways to cut something is by using a table saw. That way, you can get the perfect cuts and don't have to carry the item's weight. You more or less know which saws to get, but what about the stand? It is just as important as the blade because you will get very bad results without a good one.
Plus, you might end up wasting a lot of valuable material too if you are not careful. So, here is a review of the best table saw stands. That way, you can pick the best one out there and cut without worrying about messing anything up.
All of these tables are perfect for daily usage, and you will get fantastic sturdiness from them. Well, why wait anymore?
---
---
Our 7 Best Table Saw Stand Picks:
There are countless of these products available out there, but not all of them are good. Picking a good one is like finding a needle in a haystack. Well, we are here to help you out. Here is a review of the 7 best ones available for you.
1. Rousseau 2780 Table Saw Stand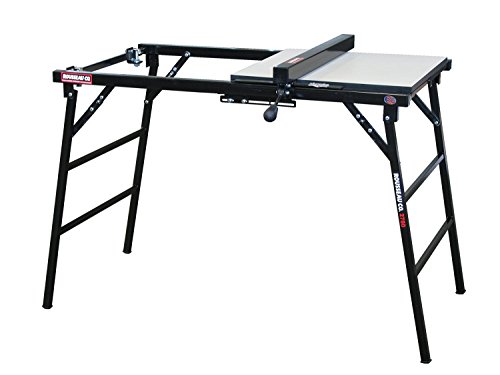 Versatility is a big factor when using a table like this because you might have to fit different saws. So, if it can fit various sizes, then it is a pretty big plus point. Plus, the table must fit large materials too, without any problems.
For that convenience, you can consider getting the one by Rousseau. It is the most versatile option out there because not only can it fit your average saws but also small ones. Other than that, you get plenty of other features too, which makes it a great option.
It will increase the rip capacity to 27″, which is a lot. That way, you can tackle larger workloads and can finish everything much quicker. Plus, more space for working more precisely. The adjustability is also amazing on this one. You can quickly adjust your preferred saw.
That helps you make accurate cuts anytime you want. This product makes the whole experience much easier, and it is also effortless to control everything. You can have outstanding control over what you are cutting. The size is compact too.
That is great when you want to place your table somewhere else. It is fairly lightweight but pretty sturdy. No matter the workload, it will not shake around and make you uncomfortable. The steel build quality has a powder coating, which makes it great for long term usage.
All of the features are great, and you can use whatever saw you want with it. That way, you get the last call. It will not limit you to only specific options. If you have smaller saws, then this one will be the best option for you. It has everything that you need.
Durable build quality can provide support to heavy saws
Great versatility with quick setup feature
Fairly lightweight but great stability
Compact design
Quickly adjustable feet
Does not have wheels
Bad quality control
2. Makita 194093-8 Adjustable Portable Table Saw Stand
Having the stand fixed somewhere can get inconvenient because you never know what you might be working with sometimes. Plus, if it'll become a big hassle moving it when you have to. That's why when you have different types of materials to cut often, try to look for something with easy portability.
For that, you can check out the one by Makita. This brand is extremely popular for various machines, tools, or accessories because of its sheer quality. Everything about it speaks premium, and it does not disappoint you.
You get two durable rubber wheels, which come in pretty handy when you have to move around a lot. Plus, it does not go flat. That way, you'll not have to worry when it ever goes over anything sharp. That's great for industrial usage. The thick steel frame is perfect for rough usage.
Don't worry because the Makita stand will not wear out easily. For professional work, it is more than durable enough. Plus, this product has no bad blood with other manufacturers. Not only does it supports all the saws by its manufacturer but also other competitive ones too.
That way, you can choose whatever product you want and don't have to worry about it fitting. You get pressure assisted cylinders on both sides, which is great for dealing with heavy objects. It will not rattle and make any annoying squeaky noises because of the great suspension.
For the price, it's a great option. If you are an industrial worker or work in a large shop, you will greatly appreciate this one. Not only is it has a build like a tank but also perfect for carrying around too.
Outstanding build quality
Has durable rubber wheels
Great for industrial work
Affordable price range
Good versatility with easy storage
Not lightweight
Assembly can be difficult
3. BOSCH TS2100 Gravity-Rise Table Saw Stand
Setting up a table saw stand is never an easy thing. Some people struggle a lot with it and for good reasons. Why go through the nightmare and not pick one that has an easy installation process? Well, you are not wrong, only if most manufacturers heard our complaints and did something about it.
Well, one of them did, and that's Bosch. The product they sell is not only perfect for heavy workload but effortless to set up too. It has the Gravity-Rise stand, which makes setting up your saw and making assembly a breeze. This one is also very easy to use too.
You can make quick adjustments, which is perfect when working on something that requires absolute precision. For serious jobs, this one will be perfect for you. The build is extremely durable because it has a heavy-duty construction.
Plus, you can also travel around with this rolling table saw stand comfortably because of its durable 8-inch rubber wheels. They are pretty strong and will not flat out easily. So, if you want something that will make traveling in a huge place easy, this is the one for you.
The working height is ideal for everyone, and you can easily adjust it too. No matter the load, it will not quiver or break down. That's why you can do a lot of complicated jobs on this one. For professional users, this option will be great. The reliability is fantastic, and you can expect a long lifespan.
The Bosch Table Saw Stand has a decent amount of holes, which will help you set up different saws. That way, you can pick the one you like and set it up. There is no restriction, and the overall adjustability gives you plenty of freedom to unleash your creativity.
Easy to assemble rolling stand
Amazing adjustable stand
Stable on every surface
Heavy-duty build quality
Good enough versatility
Easy transport with the folding design and large wheels
Not lightweight
Large footprint
4. DEWALT Portable Jobsite Table Saw Stand
It can be pretty annoying when the table saw stand is moving around too much. That can easily ruin the project. The best thing about a portable stand is that you can use it in various places, but not every surface is smooth. You will end up getting an unsteady table and also have to say goodbye to precise cutting.
Not only does this table stand have durable rubber wheels, but the rubber feet are far apart to give you a better grip on the surface. It is also very lightweight, weighing only 33lbs, which is the average weight of a big turkey these days. Then again, it's not like we are celebrating Thanksgiving in this review.
The Dewalt stand model has quick-connect stand brackets, which help you remove the stands for loading or unloading. You can also fold the legs and make the size much more compact when you have to travel. That's pretty great for traveling. It has durable stands, which are perfect for literally heavy workloads.
For a professional, this universal stand will be amazing because you can work on anything out there. It is easy to use. Whenever you are in your workplace, time becomes money. So, this one will save both for you. You might want to keep something like this around for a long time. That's why the manufacturers gave it damn good build quality. That way, you'll never have to worry too much about it ever breaking or wearing out. Sadly, you will have to pay a premium for this, but it is worthy of the price tag.
Like many other Dewalt products, this one also makes your job easier by including important features like mounting holes, rear offset legs, solid steel plates, and many more.
Built like a tank, great for jobsite table saws
Perfect for traveling with folding legs
Excellent stability with great weight capacity
Gives support for material feed control
Effortless to use in job site for all the features
Pretty expensive
Not too versatile
5. POWERTEC MT4009 Rolling Foldable Table Saw Stand
Size is essential for a stand like this, and manufacturers know that. However, creating a balance between size, weight, and build quality is pretty darn difficult. That's what creates various issues or most of the time, and you end up with something really heavy.
If you prefer or have to work on the go many times, then carrying too much weight will get tiring. Loading and unloading the saw, the stand, and various accessories seem really difficult. Well, you are not wrong, and that's why you should check out the Powertec option.
This universal stand is suitable for all the sad people who are tiring themselves out. Firstly let's talk about the body of it. You get a lightweight build that is around 40lbs. Just because the weight is low does not mean that it is flimsy. It is more than capable enough to handle anything that you throw at it.
For traveling, this great stand will be the perfect option for you. Yes, you can find lighter options, but unlike this great table saw stand, they can not carry a whopping 330lbs load. There is an automatic locking pin, which allows you to fold the whole thing much more neatly.
The extra holes are perfect for using any saws that you prefer. So, versatility will not be an issue. The build feels very premium, but the tires could be better. It is an 8-inch tire, but the quality seems off. That's why you might want to keep an eye on it.
Other than that, everything else is more than good enough for daily use. You will be paying a premium, but that will be fine when you don't have to carry so much weight every few days.
Right stand for outdoor use
Premium build quality
Best stand for carrying heavy loads
Perfect size for traveling
Easily adjustable steel table to fit with table surface
Cost might be problematic for some
Tires are not high-quality
6. SKILSAW SPTA70WT-ST Table Saw Stand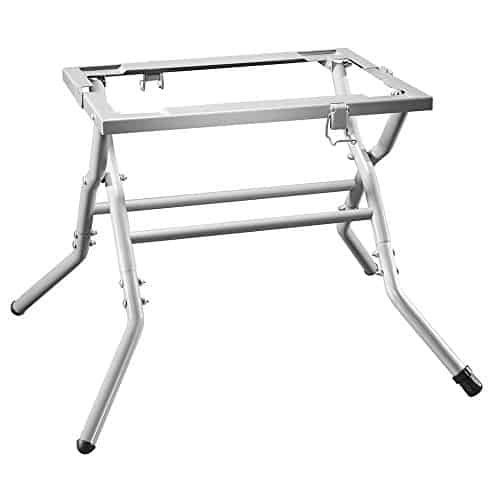 When you're a beginner, there's no point in you buying something too expensive. Well, newbies are not the only ones who search for affordable options. Why spend so much on something when a cheaper option more or less gives you the same results?
You are not wrong, and manufacturers know that too. Sadly, to make a product cheaper affordable, you have to cut a lot of corners. That way, most of the time, you end with a subpar product. Thankfully, that is not the problem with the one by Skilsaw.
This fixed stand is a sturdy product with all the good features too. Since it is a cheap option, you might be wondering about the downsides. If you can sacrifice tires and versatility with various saws, you will love this product. The build quality is solid, and you get a fantastic lightweight chassis.
You will not need a tool to fold the thing, and it is very easy to do. Coming at only 14lbs, this is by far the perfect option to carry around. However, if you are a heavy worker, you might have to look for something else, since it is not suitable for rough usage.
That does not mean it is a flimsy product because it will be more than good enough for daily usage. For someone new to using a table saw, this one will be the perfect option because you can learn the ropes and know your preferences. Plus, your pockets won't feel light either.
When you are looking for something that is a good bang for the buck option, you can choose this one with your eyes closed. The value is great, and it will be difficult for you to get these features in this price range.
Great build quality in an amazing price range
Suitable for beginners
Very easy to use
Compact build aids overall stability
Sports an easily foldable design
Does not support different saws
Stand fixed table has no wheel for maneuverability
7. DEWALT Table Saw Stand for Jobsite
When it comes to making premium products, Dewalt is the first thing that comes to your mind. Well, for good reasons too. They are popular for their high-quality machinery and accessories. However, that is only for a certain number of people. How do you appeal to the mass?
The answer is simple; you create a damn good one that's easy to use and doesn't bleed out people's pockets. If you're interested in a table saw stand like that, then you will love this one. It is perfect for a quick workload, but heavy loads are fine too.
It sports a heavy-duty steel construction, which is strong enough to deal with even the heaviest products. The size is pretty compact and lets you easily carry it around in various workplaces. Sadly, the versatility is not great.
Because of the size, you will not be able to fit other saws from different manufacturers. So, you will have to stick with a few specific ones. Well, it does not mean that these are bad, but versatility would have been nice. This one is suitable for carrying around.
That's why you also don't get to see wheels here. There are upper bar holes for quick fastening. That way, you will get a good fit, and you have to deal with instability. When talking about stability, this product is perfect for various surfaces. Whatever surface you are working on, it will not shake.
For precise and custom work, this stand will be perfect for you. Now, not only will you have to dry out your pockets but also get a high-quality product. If you have to go to various job sites very often, you will be more than happy with this one.
Lightweight design choice
Easily foldable
Excellent stability
Perfect size with solid construction
Great longevity due to steel tubular body
Does not have wheels, so stand fixed table
Restricted compatibility with power tools
Best Table Saw Stand Buying Guide
Now you know which products to get, but there is still some stuff left for you to know. If you have proper knowledge about all of them, you will never have to be confused about it inside the market.
Plus, it'll help you figure out your preferences too.
Portability
Not everyone has to work in one specific place all the time. Moving around becomes necessary for plenty of people. If you're one of them, then getting a portable table saw stand is really necessary.
Sometimes you will have to go to various job sites and work on something. When the stand is too heavy, then carrying it there will be pretty difficult. Plus, when you finish working and are very tired, carrying everything back will become more problematic.
This is the reason why you should always look for something durable but also lightweight. It will save you a lot of trouble.
The height of the portable stands is also an important factor that you will have to consider. When it is too big, then storing it can become problematic. Plus, a big stand might not fit well inside your vehicle too.
Try to look for a product that is also easily foldable. You can easily fold it and store it somewhere. Plus, making adjustments are important to fit your ideal size.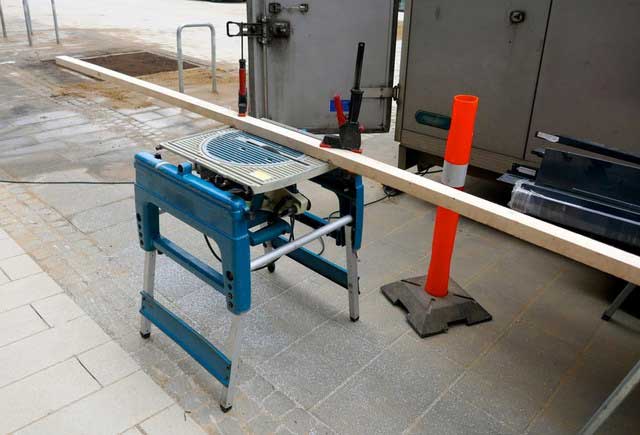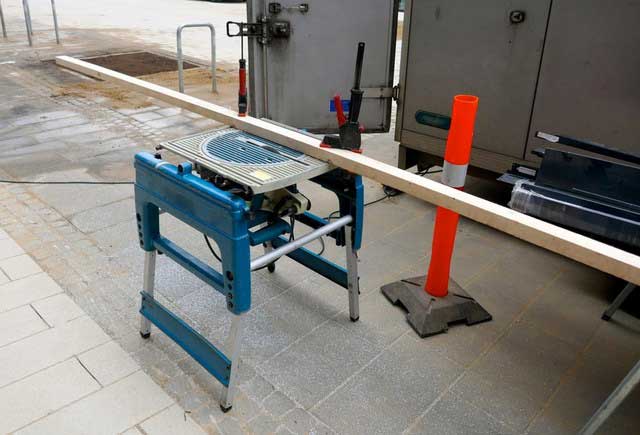 Some stands even come with wheels. These options are usually heavier, but they are perfect for industrial usage. When you have heavy materials or a saw on board, then a wheel comes in pretty handy.
That way, you can easily take the whole thing from one place to another. So, when you have to work outside a lot, try to go for something lightweight and compact. Now, you will not have to worry about portability.
Unless you are restricted in a tight budget or you are not going to move the saw once installed, you should avoid fixed stands. Go with folding stand, it will pay back with great comfort.
Build Quality
Since you will be using the stand roughly, you must go for something with a durable build quality. That'll help you in the long run. High quality steel construction can go a long way.
You can expect a great life expectancy, and you will never have to worry about it. Always try to choose one between an aluminum or steel build quality. It might cost a bit more, but they are great for the long term.
In most cases, these stands easily catch rust. Well, we all know about a thing or two about rust, and we also know that once you start seeing it, it's game over. It will start eating away the whole thing, and you might have to get a tetanus shot if you keep using it.
You are better off spending some more now and get a premium quality stand than dealing with various issues later down the line.
Stability
There is no point in getting a stand when it is not stable. It will keep shaking whenever you use it, and the chances are that it might ruin your project. Stability is a huge issue, especially for people who have to work outside.
You might have an idea about what we are referring to here — uneven surface. Different job sites will have different surfaces, and you will have to deal with it. However, you can greatly reduce the chances when the stand has good stability.
That way, you will never have to worry about it every messing up your work. Plus, you can always make very precise cuts with it, which is great for custom work.
Versatility
Now, let's talk about the biggest thing, and it is versatility. If the stand you have limits you to only specific saws, then the chances are that you will not get what you want.
It would be wise if you got something that is versatile. That way, you can use whatever table saw that you want. Thankfully, most manufacturers know about this and consider it. That's why you see various pre-made holes in these stands.
Since different saws have different sizes, you might need different screw holes to fit them. Also, try to go for a stand that can also attach various types of accessories. That way, you will get better control over what you are doing.
Frequently Asked Questions
1. Are universal saw stands worth it?
Yes, they are absolutely worth it. These stands can fit whatever table saw you have. You can choose from a large number of these. That way, you can pick something that suits your taste. It is always better to have control over these because you can get the best one for yourself.
2. Can I carry around any of these stands?
Not really, no. Most of the products are not suitable for portability. For outside usage, look for something that is lightweight and has a compact build quality. That way, it'll be much easier to carry them around.
3. Are stands by popular companies good?
Most of the time, they are of good quality. There are various reasons these manufacturers are popular and have to supply good quality products to ensure that. Plus, you will get better customer service and reliability with these products. It is much better than getting something from an unknown company and dealing with a bad customer experience.
4. Are wheels necessary?
Yes, but it mainly depends on your usage. Suppose you have to work in a large industry. In that case, wheels come in pretty handy because you can easily walk around with the stand and carry everything along with it. Plus, it is much better than lifting heavy materials.
5. What is the perfect material for these stands?
Stainless steel will be amazing for these stands. Steel is lightweight but also really durable. That way, you're killing two birds with only one stone. You will get a feathery but extremely sturdy stand. Plus, you can expect amazing long-term usage from it too.
Final Words
Table saw stands are just as important as the table saws. Because if you have a low-quality stand, it will greatly affect your overall performance. Out of countless products in the market, you can consider this review to get the best table saw stands.
All of these products are of high-quality, and you'll get great use out of them. There is no more reason to make work much more difficult than it has to be, so get one of these stands right now.
As you are interested in cutting jobs, you may find our 14-inch chainsaw reviews useful. Plus, a woodworking lathe for the beginners along with shop vacuum recommendations will help you in finding the correct product to do your job.