What's better than a beautiful cookware set that complements your kitchen? A cookware set that is both beautiful and poses no health hazards, of course.
While stainless steel kitchen items are decently popular, many people are worried that Aluminium surfaces can be harmful. The need to stay safe and healthy is important, but you 'don't have to compromise the performance of your pots and pans either.
Truth be told, the best stainless steel cookware without aluminum surfaces can match the performance and quality of other sets as well as being safe to use. So you can enjoy the best of both worlds when picking from our list.
---
---
10 Best Stainless Steel Cookware without Aluminium Surface Picks:
With so many options available in the market, it was difficult to sure. The 10 we picked for this list, we feel they stand above their competition.
1. All-Clad 60090 Copper Core 5-Ply Bonded Dishwasher Safe Cookware Set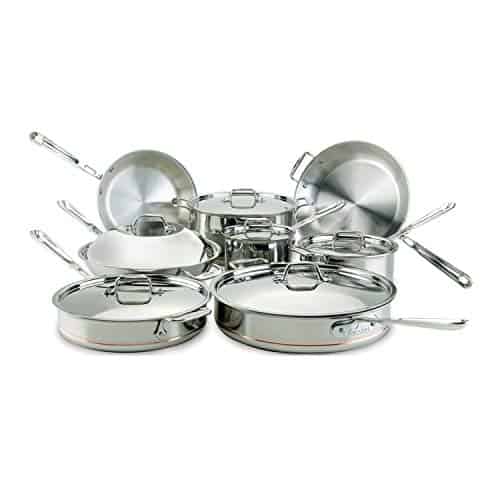 The first pick is an American made cookware set from All-Clad. This is a 14 piece cookware set that includes: 4 fry pans (10 inch and 12 inches), 4 saucepans (2 and 3 quarts with lids), 4 sauté pans (2 and 3 quarts with lids), 1 stockpot (8 quarts with lid) and 1 chef pan (12 inches with lid).
This cookware set has all the essentials in the most common sizes. The high-quality item features 5 plies bonded construction.
At heart is the copper core, which is encased by aluminum and finally a stainless steel surface. Copper is a great material for the core because of its high resistance to stress and good heat-conducting abilities.
Due to the construction, high thermal efficiency is ensured with this unit. You can cook your meals quickly and easily. Stainless steel is also good as it has very high corrosion resistance and lasts a long time. The surface is made to ensure there is no contamination of your food.
Highly polished 18/10 stainless steel also makes sure food and oils 'don't stick to the surface. So maintaining these items is quite easy. The premium cookware set is also broiler and oven safe for high temperatures up to 600° Fahrenheit.
To summarize, this is a very high-quality item and expensive too. However, having this cookware set will vastly improve the look and feel of your kitchen.
The construction allows for fast cooking.
Very durable cookware set and is corrosion resistant.
Prevents contamination of food.
Easy to maintain due to superior stick resistance.
Frequent washing can tarnish copper.
2. Viking Professional 5-Ply Stainless Steel Cookware Set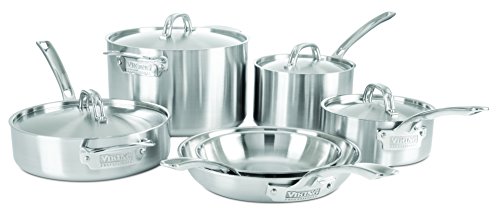 Here we have another cookware set featuring 5-ply bonded construction. The Viking professional cookware set is simply oozing with quality. It is a 10 piece set that comes with saucepans (2 and 3 quarts), fry pans (8 inches, 10 inches, and 12 inches), stock pots (6 and 8 quarts), and sautés pans (3.4 and 6.4 quarts).
One great feature of this collection is that the cooktops have magnetic strips. This makes it easier to place and hold the lid. You no longer have to worry about misplaced lids causing heat to escape.
The 5- ply construction is great for efficient heat transfer. Not only does it reduce energy usage, but the base is designed to allow for even spread of heat. Viking professional offers superior cooking performance.
Magnetic stainless steel is used in the exterior. Stainless steel is corrosion resistant and non-reactive. It ensures that your food 'won't be contaminated and is also easy to wash.
Viking handles are also noteworthy. They are permanently attached via stainless steel rivets, which do not corrode, so you can use them for a long time.
The handles are designed to make holding the cookware as easy and comfortable as possible. A degree of heat resistance is also present, so the handle 'doesn't get too hot.
This is a very impressive cookware set. It is designed to be very functional and efficient. However, this is a very expensive pick, so keep that in mind.
Solid construction that enables efficient heat transfer.
Magnetic strips ensure the lid is held in place.
Oven, broiler and grill are safe for temperatures up to 600 degrees Fahrenheit.
It is compatible with all cooktops, including induction cookers.
This item is very expensive.
3. Chantal Induction 21 Steel 9 Piece Cookware Set
The Chantal Induction 21 is a cookware set made from strong Japanese steel with a copper interior. A 10-inch fry pan, 8-quart stockpot, 5 quarts sauté pan, 3.5 and 2.5-quart sauce pan with tempered glass lids is included in the set.
Apart from that, a Copper interior is featured, which is a great conductor of heat. The surfaces heat up quickly, and even heat distribution is ensured on electric ranges. To ensure durability, titanium is also added to the construction. All these pieces are very strong and last a long time.
No nickel is included in the steel to ensure healthy cooking. So you 'don't have to worry about allergic reactions.
You can use the items in ovens and broilers at temperatures up to 500 degrees Fahrenheit. As the name suggests, it works very well with induction stovetops.    
Glass lids are tempered, so they are strong. You can monitor your cooking with them, and the handles have heat resistance. So you won't have to worry about suffering a burn while taking off the lid.
Handles are connected via steel rivets. They are comfortable and well balanced so cooking in them is very enjoyable. All in all, this is a very affordable pick and can prove useful for many chefs.
Copper interior ensures high thermal efficiency.
Handles don't heat up, so no accidental burns.
No nickel present in steel, so no danger of allergic reactions.
The rim is designed to reduce spillage along the body.
Tempered glass lids are extremely durable
The stainless steel is lower grade, so the items 'don't last as long.
4. Cooks Standard 10 Piece Multi-Ply Clad Cookware Set
This option on our list is a great budget pick. The contents include- 2 saucepans (1.5 and 3 Quarts), 1 steamer basket, a deep sauté pan that is 11 inches and an 8 Quart stockpot. All these items come with their respective lids.
The construction is multi-ply clad metal. Also, 18/10 stainless steel is used in the exterior and the core is made out of aluminum. This design ensures proper heat transfer and eliminates hot spots. Magnetic stainless steel exterior makes these items usable with induction cooktops.
All of these are light yet very durable. The handle is riveted with an open V-section that allows for good airflow. This keeps the handle cool making it easier to hold and take it off from the stove.
Lids are designed to be a tight fit. They are very secure and trap heat for better cooking. The cookware set works on ceramic, gas and electric tops. You can safely use the items in the oven at temperatures up to 500 degrees Fahrenheit, but the lids have a limit of 425 degrees Fahrenheit.
A nonstick finish is present. You don't have to worry about food sticking or getting contaminated. It also makes the items very easy to maintain.
For its affordable price, this nonstick cookware set stands out in terms of quality. It has all the good qualities you want from stainless steel cookware. If you have a tight budget, this model is worth looking into.
Aluminum core ensures even distribution of heat.
Usable with many different stovetops.
Comfortable handle that 'doesn't heat up.
The non-stick coating makes cleaning it easy.
The handle of the lids can heat up, so be careful of that.
5. Magma A10-360L-IND Cookware – 10 PC Set
Although a bit different from the other cookware sets, the Magma A10-360L-IND is still a very reliable choice for both daily kitchen needs and outdoor settings.
The main draw of this cookware set is that it is very easy to store and saves space. You can detach the handles and nest all the items on top of each other. A bungee cord is included to tie it up after nesting.
Items included in this cooking set are- 3 saucepans (1 ½, 2 and 3 Quarts) with an interchangeable lid, a stockpot (5 Quart) and a frying pan (9 ½ inch diameter) with interchangeable lids. Due to the nesting feature, you can store all that in ½ cubic feet of space. Carrying all that is easy.
An aluminum core is used in the construction, along with a stainless steel bottom. This combination ensures efficient heat transfer and even heat distribution. Hot spots are eliminated, and your food will be properly cooked.
No aluminum is present in the cooking surface marine-grade stainless steel is used in the exterior. There is no risk of contaminating your food and the interior has very high stick resistance.
Since the construction is so durable, it is perfect for outdoor use. The set is oven safe, and both the lids and handles stay cool so you 'won't burn your hands.
No hot spots are present when using this cooking set.
This item is a massive space saver and easy to store.
The handle is very comfortable to grip and hold.
It is perfectly safe to use and there is no risk of contamination.
Aluminum-free cookware surface
The lids 'aren't clear, so you 'can't monitor food during cooking.
6. Farberware Millennium Stainless Steel Cookware Pots and Pans Set
Farberware Millennium is a set 'that's aimed at professionals and dishes that take long preparation hours. This cooking set contains two saucepans (1 and 2 Quarts) with lids, an 8 Quart stockpot with a lid, 2 frying pans (8 and 10 inches) and a 3 Quart sauté pan with a lid.
Highly polished stainless steel is used to construct all the items in this set. The steel is of very high quality, which makes the pans and pot durable. There is no worry of corrosion, and they are all dishwasher safe. No aluminum surface is present, so there is no risk of your food being contaminated.
The high-quality construction is also very functional as it ensures proper heat distribution. To help make sure there is no loss of heat during long preparation, a tight glass lid is featured. Not only does it allow you to monitor the food without having to open the lid, but they are also a tight fit and very durable.
Stainless steel is also used in making the handles that are riveted onto the pot and pans. The handles themselves are very comfortable to hold and are nicely balanced. However, they can get hot during cooking, so be careful of that.
If you have a passion for cooking and like to try your hand at a variety of dishes, you will enjoy using this set.
All the items are oven safe and induction compatible.
Usable for preparing a variety of dishes.
Glass lids allow you to monitor progress without releasing heat.
The interior allows for great heat distribution.
The handles can get quite hot after use.
7. Cuisinart 77-17N 17 Piece Chef's Classic Set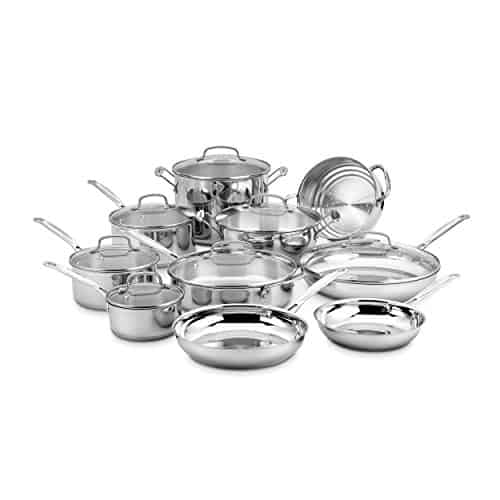 This set is quite big with it having 17 pieces -3 saucepans (1, 2 and 3 Quart) with glass lids; a 3.5 Quart sauté pan with a glass cover and helper handle, 4 Quart Dutch oven, 8 Quart stockpot, 3 skillets (8, 10 and 12 inches)- all with glass covers and a 20 cm streamer insert
A large variety of items are included in this set, and all of them have great performance and construction. The bases are aluminum encapsulated, which heats up and eliminates hot spots. Said bases are compatible with induction stovetops.
Mirrored stainless steel exterior is featured in all of these items, which results in great durability. The set looks extremely good and classy. It does not corrode and is oven and broiler safe for temperatures up to 500 degrees Fahrenheit.
The excellent finish is maintained even after cleaning it with a dishwasher. Stainless steel stick handles are riveted to the pots and pans. These are comfortable to hold and have a good deal of heat resistance. Each saucepan also has convenient markings on it for easier measurement.
If you want a cookware set with a large variety of items in different sizes, then 'you've found the one. The construction and functionality are all top tier.
A large variety of items is included in this set.
Compatible with many different cooking surfaces.
Well-designed base and interior ensure that there are no hot spots.
Saucepans have convenient marks on them for measuring.
Storage space can be an issue with all these items.
8. Duxtop Professional Stainless Steel Pots and Pans Set
Here's another set coming with 17 amazingly crafted pieces. The items included are: 2 fry pans (8 and 9.5 inches), 2 saucepans (1.6 and 2.5 Quart), 8.6 Quart stockpot, 4.2 Quart casserole, 5.5 Quart sauté pan, 9.5-inch pasta, and steam basket. Additional items present are lids, spoon, spatula, skewer, and handle helper.
18/10 commercial grade stainless steel is primarily used in the construction of these units. An encapsulated aluminum bottom is present, which allows it to heat evenly.
Impact- bonding technology is used in the construction, which means there are no harmful adhesives present in the items, so no worries of contamination.
The induction cookware features straight sides and a drip-free pouring design. No more dripping oil ruining your cookware. You can use these with almost all types of stovetops like gas, electric, or induction.
Comfortable handles are present in the design. They are riveted and 'don't heat up easily. Although for long hours, it is recommended to have oven mittens on when taking them out. Glass lids are included so you can track the progress.
None of the pieces undergoes discoloration when cleaned with a dishwasher. Seasoning your stainless steel pans before use will make them very easy to keep clean in the long run.
Very long-lasting cookware due to the construction.
Usable with many different cooktops.
Includes many items that are helpful to have in a kitchen.
No harmful adhesives are present.
Sides are not clad, so heat distribution is not the best.
9. Calphalon Classic Stainless Steel Pots And Pans Set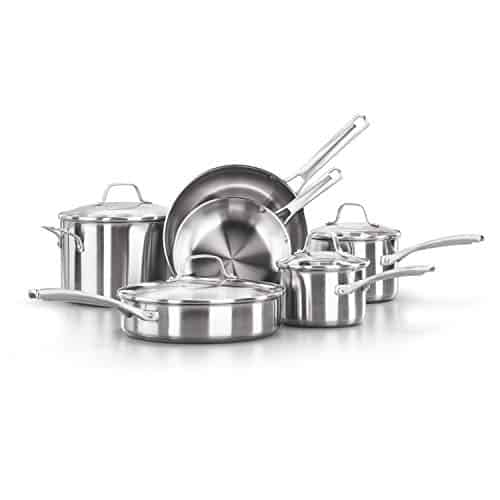 The Calphalon Classic is aimed at mostly daily kitchen use. It is a 10 piece set that contains: 2 fry pans (8 and 10 inches), 2 saucepans with cover (1.5 and 2.5 Quart), sauté pan (3 Quart), and stockpot (6 Quart) with lids.
Beautiful craftsmanship is featured in this cookware set. The high-grade stainless steel is very stunning to look at while also being sturdy. Your 'kitchen's look will improve just by having this set.
The bases of the pots are made out of aluminum. This is great as it ensures fast heating and even distribution of heat in the base. They are made using impact-bonding technology, so there is no harmful adhesives present that can ruin your cooking. Browning and sautéing are very easy with these.
These are all suitable for different cooktops. The cookware is oven and broiler safe up to 450 degrees Fahrenheit. Handles are double riveted with stainless steel rivets and stay cool when on the stovetop.
There are measuring marks in the interior for easier use. One complaint about this cookware is that the stick resistance isn't as high as some others. While it is dishwasher safe, thorough maintenance is required.
Compatible with many different stovetops.
Impact-bonded aluminum base allows for high thermal efficiency.
All the pieces are dishwasher and oven safe.
The premium stainless steel is very polished and resistant to corrosion.
Some foods can end up sticking to the surface.
10. World's Finest 7-Ply Steam Controlled Cookware 17pc T304
Here we have a family size set with 2 sauce pans (2 and 4 Quart), 4 Quart sauté pans, 8 Quart stockpot, all with lids, and 2 skillets (8 and 10 inches).
This is one of the most durable picks on our list and is designed to withstand the stress of daily kitchen use. Corrosive resistant T304 surgical stainless steel is used in the construction, which doesn't get damaged by the acids in vegetables and milk. The cookware set will retain its shine for years to come.
A 7 ply base is employed. The base is made to ensure it heats up quickly and heat is distributed evenly. No hotspots arise when using this set, and cooking is fast and efficient.
One of the main draws of this item is that it utilizes steam control valves on the top of the lids. This allows for a great degree of control when cooking your meal. Professional chefs will find this to be a great deal when making healthy waterless dishes.
The handles are very nicely designed and feel relaxing to hold. They are heat resistant and stay cool when used with a stovetop. Like the rest of the design, the handles are riveted, so you 'don't have to worry about health hazards from welding.
One problem we found is that the units 'don't work well with an induction stovetop. They are compatible with other stovetops, so keep this in mind if you plan to purchase them.
7 ply base ensures it will heat evenly and quickly.
Steam control valves make cooking easier.
Handles are comfortable to grip and heat resistant.
The surgical steel used is very high quality and long-lasting.
Doesn't work well with induction stovetops.
Things to Consider Before Buying the Best Stainless Steel Cookware Without Aluminum Surface
If you want to get the finest stainless steel cookware for your everyday cooking needs, you need to be very careful about your selection.
Many people often skip over some important things and rush to buy their cookware, and end up less than satisfied. To avoid that, here are some things to keep in mind before every purchase.
Heating Core
If you want a cooking pot that heats up fast, you will want to look out for copper or aluminum cores. These are very good conductors of heat, and many tops of the line pans or pots make use of these cores in conjunction with other metals.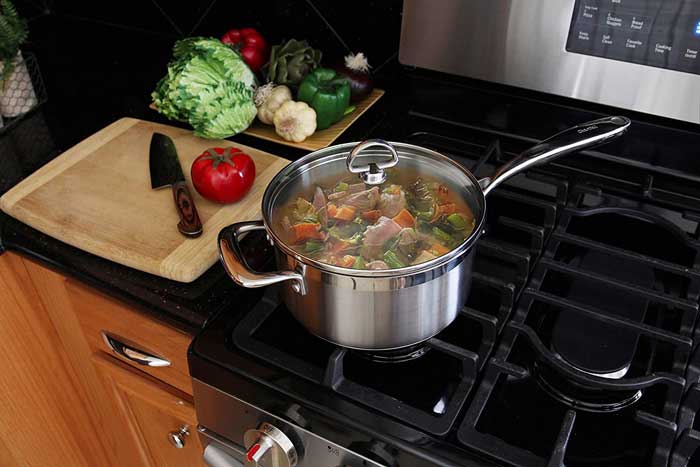 They ensure fast heat exchange, and you 'won't end up taking longer to preheat the stainless steel pot or cook your food. A good heating core can save you a lot on your gas or electric bills in the long run.
Stainless Steel Grade
Just because piece cookware is made out of stainless steel doesn't mean it's good quality. Low-grade stainless steel is not as rust or corrosion resistant as higher grades one. After some use, the pots will begin to degrade, and 'you'll have to throw them away.
The best standard is 18/10, or a safer option is 18/8. Also, the trace amounts of nickel help vastly improve the corrosion resistance and non-stick property of the steel. High-grade steel can last a long time and ensure a superior cooking experience. They also improve the look of your kitchen.
Some grades of stainless steel contain chromium, which is a good alternative if you happen to have an allergic reaction to nickel. These are also corrosion resistant and have good non-stick properties. They also have a very brilliant shine, so the cookware looks polished and professional.
Heat Retention
When cooking for long hours, not all cookware retains the same level of heat. This can lead to a decrease in thermal efficiency and take longer to cook food. There are several ways cookware improves heat retention.
Pure stainless steel cookware sets often do not have the best heat retention. To circumvent this, manufacturers make use of encapsulated aluminum in conjunction to prevent heat loss from the pot while cooking. This makes it easier to reach the desired temperature and stay at that high temperature.
Another thing to consider is the lids in cookware. Loose lids often lead to heat being lost to the air and a decrease in thermal efficiency. Make sure the lids are proper and secure. Many professionals prefer glass lids because they can track the progress of their food without taking the lid off and losing heat. So, those tempered glass lids are optimal for high heat retention.
Heat Distribution
Did you encounter an issue where the chicken you were cooking 'wasn't evenly cooked? Some cookware has hot or cold spots where the temperature is not evenly distributed. This can lead to improperly cooked food or more time spent heating.
Once again, encapsulated aluminum bases are very helpful. They ensure even heat distribution. If you're using larger pots, this is very important as they suffer more from uneven heating.
Multi-ply constructed cookware is another great pick for this. They are constructed to make sure they heat up quickly and make the heat distribution as even as possible. To have perfect and even heating, get a set with at least triple ply construction
Durability
Cookware is expensive, and most people 'don't want to replace them frequently. When searching for stainless steel cookware, make sure it is of durable construction. Pans and pots that get dents or scratches easily are probably made of weaker materials or made poorly.
Some manufacturers add titanium into the construction to make their products more durable. This can vastly improve the lifespan of your cookware. Good grade stainless steel cookware can last a long time with little maintenance.
Handle
For stainless steel pans, a comfortable, heat resistant handle is a must-have. Light handles that are riveted are the best as they feel great to use and 'don't come off. Stainless steel rivets are recommended as they 'don't corrode or rust.
When cooking for a long time, handles can heat up, and carelessly touching them can result in a burn. Sometimes they get hot enough that you can feel the heat through oven mittens. A heat resistant handle helps you avoid accidental burns and can save you from a lot of pain.
Final Words
We hope that you enjoyed this list of options for the best stainless steel cookware without aluminum. If you're still confused about which one to get, we recommend the All-Clad 60090 due to its durability and thermal efficiency. 'It's a reliable choice, and many chefs enjoyed using it.
As you are pretty health conscious, we recommend you to have a look at some of the top notch products that may make your life healthier, such as- Best Ice Crushing Blenders For Frozen Fruit, Top Rated Food Processor Machine For Nut Butter, and Electric Pasta Maker for Homemade Pasta.

And Don't forget a quality set of chef knives!