Shrimps are quite popular throughout the world as a dish, and rightfully so. They are versatile for anything ranging from appetizers to main dishes, and they are surprisingly delicious.
However, deveining shrimps (although it's not a vein) is something we all find tedious. Nevertheless, a deveiner can help you with it. These tools devein your shrimp while peeling the shell off without a hassle.
As you can understand, they are fantastic time savers. Well then, which one is the best shrimp deveiner? We are glad that you asked. In this review, you can find a compilation of the best deveiners out there.
---
| | | | |
| --- | --- | --- | --- |
| | | | |
| | | | |
| | | | |
| | | | |
| | | | |
| | | | |
---
5 Best Shrimp Deveiner Reviews
Deveining a shrimp is not just an aesthetic choice. Especially if you are eating raw shrimp, we recommend that you do so. Here are the products we think provide superb results.
1. SCI Cuisine Shrimp Deveiner
There is often a misconception among many users that deveiners made out of plastic do not work and the ones made of stainless steel. Well, the users of our next pick would probably like to disagree.
As mentioned earlier, this is a plastic-built tool with a relatively simple but effective design. It has a thin curved edge that follows the curves of a shrimp's body and gives you a clean and waste-free cut.
The usage of plastic also makes it a suitable choice for a lot of beginners, as the edges are not too sharp. However, some professionals might not like this, as they are quicker with a sharper blade.
Nevertheless, it does a decent job quite consistently. And something that makes this performance even more worth it is its price. You can get it for a reasonable price when compared to most deveiners.
When it comes to shape and comfort, it features a unibody shape. The part where you hold it has a nice dent-like portion to ensure a firm grip with your fingers and avoid slipping.
However, this 28 cm product has a slight learning curve. But when you learn to do it right, you can achieve consistent results, avoid wasting any of the shrimp and reduce the required time.
Ergonomic design and handle
Affordable price tag
Saves your precious time
Works on most sizes of shrimp
Plastic body lasts a long time
Requires hand washing
Getting the tail off can be tricky
2. Oxo Shrimp Cleaner
When manufacturing a plastic deveiner, there are a few design tricks that can make the users' tasks much more straightforward — like a handle that will not slip, an edge that can comfortably peel off shells. The next product impressed us in that regard.
First of all, the handle uses the manufacturer's Good Grips feature. This grip has a soft-touch rubber build that will not slip out of your hands. Moreover, the quality of the grip does not deteriorate even if it is entirely wet.
And as for the overall design, it is ergonomically shaped to fit your hands comfortably and put less tension on them. Therefore, you can work for an extended period without facing fatigue.
As for the edge, this product has a bunch of sharp teeth at the top end. These help ensure that the vein of the shrimp is grabbed and pulled out along with the deveiner. Moreover, it has a series of ridges right below the teeth.
What these ridges allow you to do is get through the process without necessitating the exertion of too much force. These, along with the teeth, helps this tool achieve its two-in-one mechanism, as in peeling the shell off and taking the vein out together.
Lastly, its total height is around 8 inches, which is decent. Thus, this deveiner should be able to provide you with consistent results for both large and comparatively smaller shrimps. However, shrimps that are too small might not be ideal for deveining with this product.
Effectively peels the shell and deveins the shrimp
Inexpensive when compared to most products
Firm grip with rubber handle
Teeth and ridges speed things up
Ergonomic design
Somewhat difficult to use at first
Not safe for dishwashers
3. Frogmore Shrimp Cleaner
Not only do deveiners get the 'veins' out of the shrimps, but they also need to peel the shells off them as well. Therefore, your tool should be useful at that part too. Our first pick is an all-rounder in that sense.
First, let's talk about this tool's design. Toadfish, the manufacturer, uses their patented butterfly blades that are unique and efficient. They have a stainless steel spine that quickly cleans the shrimp up.
Moreover, you might often need to put in a lot of strength while deveining. The design of this blade allows you to project more force without any fatigue. And the full tang construction ensures that the blades last longer.
Another side that deserves our praise is the handle. Unlike many other products, this one will not slip out of your hands, thanks to the ergonomic design. It provides you with maximum safety and efficiency.
Furthermore, the handle is not just easy to use; it uses completely recycled plastic. The responsibly-sourced materials used in this product make it environment friendly.
Not just that, with every purchase, the manufacturer plants 10 square feet of oyster-reef habitat. All in all, this tool is excellent at cleaning up your shrimp while being responsible for the environment.
Handle is made of recycled plastic
Makes the cleaning process short
Uses efficient point blade butterflies
Stainless steel blade
Ergonomic handle
Not as efficient on smaller shrimps
Might have a steep learning curve
4. Lamson Shrimp Deveiner
Here, we have an affordable product from Lamson for you. While it works amazingly for the price, the most eye-catching part about it is its walnut handle.
It uses a riveted walnut handle. And as you might know, walnut is a hardwood that is used in high-quality products and offers superb durability. Moreover, it gives the product an exotic look.
In terms of ergonomics, this handle provides a decent experience as well. Let's get to the blade now. This product has a 3-inch long curved blade and some teeth at the edge (more on that later).
The blade's curve allows you to push it through the shrimp effortlessly, as it follows the natural curves of shrimps. And this design also allows you to get off the shell without requiring too much effort.
As for the teeth, they play a crucial role in the deveining process. They grab the vein with their sharp edges. And as you go through the process, they ensure that the vein is being removed along with the shell.
The steel is of superb quality, as well. This product uses high-carbon stainless steel, which is hardened and tempered to provide you with a fantastic experience while staying rust-free.
Tempered and hardened stainless steel
Walnut handle
Quite affordable
Teeth of the blade make cleaning easier
Features dual cutting edges
Needs to be handled with care
Requires sharpening of both edges over time
5. Norpro Shrimp Deveiner
As our last pick of the list, we have a scissor-styled product that allows you to cut through shells and clean the shrimps effortlessly. First of all, the price it comes in is fantastic for the quality materials that you get with it.
The primary material for the scissor is stainless steel. Norpro used quality stainless steel to ensure that this product stays sharp for an extended period and leave you free of worries. Moreover, sharpening it is much easier if need be.
In terms of ease of usage, this product is excellent. That is because while knives are much harder to control and take some time to learn to use, scissors are much straightforward in contrast. Therefore, this tool is superb for beginners and professionals alike.
Although if you are already used to a deveining knife, you might find that using a knife is faster for you. Nevertheless, this tool also provides improved safety when compared to knives, especially due to the comfortable handle.
The handle it uses is plastic-built and is designed for both left and right-handed people to use effortlessly. And even with extended use, your hands will not feel exhausted.
Furthermore, unlike a lot of the blades, this tool does not butterfly your shrimp. If you do not want his/her shrimp butterflied in the deveining process, this is a great choice.
Rust-free stainless steel
Cleanly deveins the shrimp without butterflying it
Less wastage compared to knives
Beginner-friendly
Comfortable handling
Somewhat slower than knives for many people
Build quality could be better
Things to Consider Before Buying Best Shrimp Deveiner
However simple buying a deveiner may sound, there are a few things you need to keep in mind before choosing one.
The Why and How
Knowing these is crucial when buying a deveiner, as they can affect your decision on which product you want. Firstly, contrary to what the term might get you to believe, you are not actually deveining the shrimp, as it is not a vein.
It is the digestive tract of a shrimp. And if you do not remove it, it is not necessarily going to harm you (although if you eat it raw, it is what we recommend). You might get an awkward taste, however rare.
Furthermore, it is not something pleasing to look at. Most cooks (and the people eating them) do not like shrimps that have not been deveined due to their aesthetic preferences. And the bigger the shrimp, the more unappealing it usually gets.
So, what these tools do is allow you to strategically cut the shrimp in a way in which you can quickly get it out of the shrimp. As you now have an answer to the age-old question, to devein or not to devein — let's move on.
Related: Top Quality Pan Cake Makers Reviewed
Types of Deveiners
Generally, you can categorize these tools into two types — the first ones are the knives/blades, and the second being the scissors.
These usually use a curved blade, which you slide in from the opposite end of a shrimp's tail. Once you have done that, you only need to push the shrimp forward until you reach the end.
This process will get the shell and vein off and get your shrimps butterflied (hence, you will also see the term butterfly frequently) and ready for cooking. But then, if you do not want butterflied shrimp, you might not like them.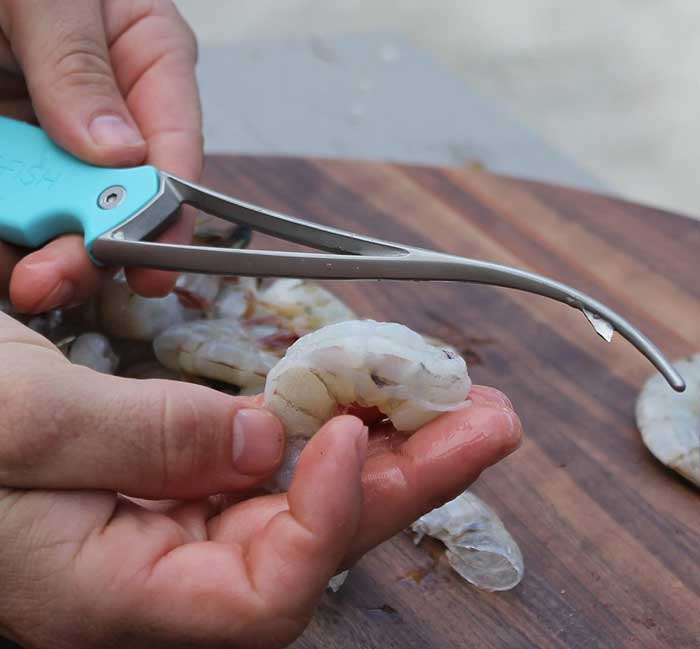 And you may also find that these are somewhat difficult to use at first, meaning you might not end up with the intended results. Moreover, if you are just starting with these tools, there is a chance of increased wastage, especially with smaller shrimps.
Many people even get injured when using these at first, so be wary. Although, once you get the rhythm, things become much more comfortable, and you waste less food while reducing the risks of any injuries.
Read More: Best Rated Chicken Pluckers For the Money
These are quite popular as well. As the name suggests, these are essentially curved scissors — you cut the shrimp along the top, removing the shell and the vein in the process.
Although, you might often realize that the vein does not come off along with the shell as effortlessly as you might want it to. That is because of the scissor's mechanism, to some extent. But they are not as likely to ruin smaller shrimps as the blades.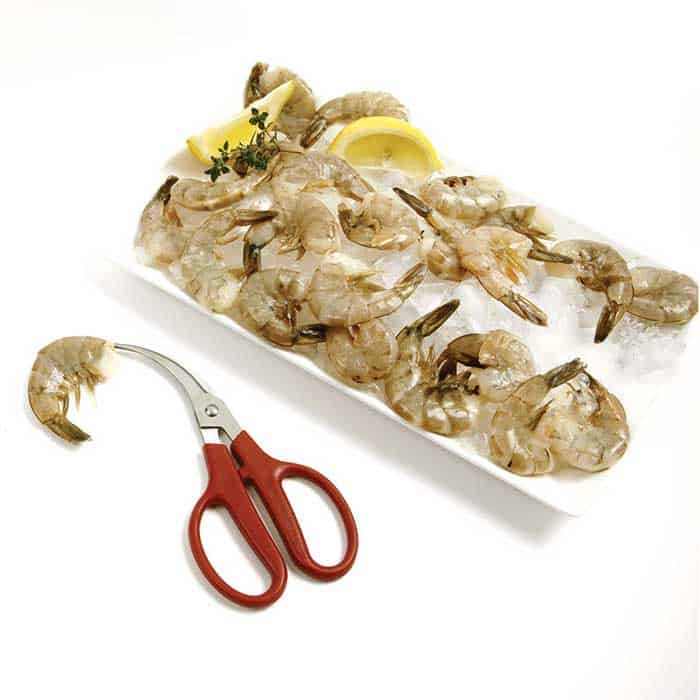 That is because these are much easier to control in juxtaposition to knife-styled deveiners. In turn, that makes these more suitable for beginners while reducing the amount of waste and injuries.
Of course, as with any tools, getting the hang of these can make you much better at deveining and provide much more consistent results.
Deveiners vs. Paring Knives
It is totally rational if you ask why you should not follow the old school way. Well, the biggest reason you should go for deveiners is due to the difference in time and efficiency.
Deveiners require much less time when compared to paring knives. Moreover, if you are a beginner and have to choose between a paring knife and a scissor deveiner, the latter is always the safest.
Materials
The scissors mostly use metal, so make sure that you are getting something that will not corrode. Something like stainless steel does an excellent job and lasts for a long time.
In terms of the knife-styled products, you can get them made with plastic and stainless steel. As usual, stainless steel does a fantastic job and ensures longevity.
The plastic ones work pretty well, too, so do not think they are inferior. They can also offer impressive performance, along with a much more affordable price.
Final Words
If you wanted something that can get those shrimps cleaned and ready to be cooked fast, you should now be able to opt for the best shrimp deveiner from our picks above. Always remember to maintain your safety while using them, and then — enjoy your delicious meal.
Read Also: Best Knife to Cut Tomato Efficiently