Contrary to what one may think, most of us do not use or require a giant chainsaw to cut down trees or branches. The idea of cutting a few stems with a chainsaw or a felling ax does not bode too well either.
All we require are smaller, compact saws that allow us to cut a few branches. So, let's say you are trying to find the best saw for cutting tree branches. What now?
You have one thing standing in your way — the options are overwhelming. There are hand saws, chainsaws, bow saws, and the list keeps going on. Well, we are here to help find you the saw you need.
---
---
Our 10 Best Saw for Cutting Tree Branches:
Buying a saw necessitates understanding a few things like the material, sharpness, or ease of usage. Here are the saws that we think provide a well-rounded performance for their price.
1. Fiskars Extendable Pole Saw
If you are trying to prune the branches of a tall tree, you know how inconvenient it can be. Climbing up with a ladder would be unsafe, to say the least. Hence, a pole saw is a worthy choice for this purpose.
This saw is simply a hand saw that has a pole attached to it. You can reach higher branches depending on how tall the bar is. Amazingly, this versatile tool can go from 7 feet to 16 feet.
The customizable length comes in very handy, as it allows you to adjust things according to your needs. In terms of the materials, it uses quality precision-ground steel that is around 1¼ inch in thickness.
When using a pole saw as long as this, flexing is an irritating issue. This product uses oval-shaped fiberglass to avoid that. As you know, fiberglass is very resilient; hence the flex is almost non-existent, and you can cut branches with significantly better control. Along with that, it boasts a 15-inch hooked WoodZig saw, which allows you to cut more extensive and thicker branches effortlessly. Lastly, the double locking system that Fiskars uses to keep the pole locked in place is a treat to work with.
Reduced flex with fiberglass
Adjustable length
Chain-drive design allows more power
It has a WoodZig saw
Unique locking system
The aluminum and plastic could be better
Joint along the cutter is relatively weak
2. Silky Arborist Hand Saw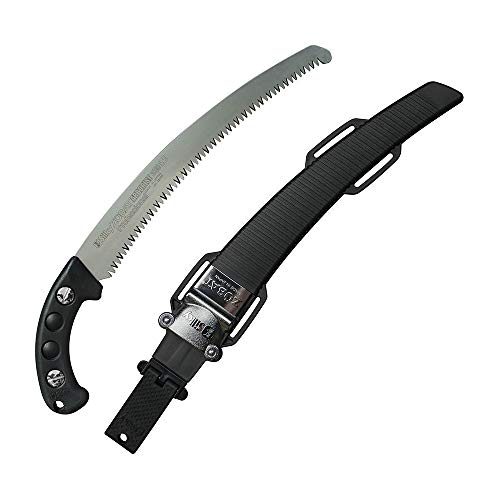 Here, we have a product for people who do not require a long saw to get their job done. The first thing we would like to talk about this tool is the build quality, as it is something that deserves our praise.
In terms of the steel, its blade uses high-grade Japanese steel — which is sturdy and durable. The blade's length is 13 inches (330 millimeters). Moreover, it is 1.5 millimeters thick to ensure that there is minimal flex.
Along with the proprietary Japanese steel, it boasts full tang blades. What makes this a noteworthy feature is that these blades are more stable when cutting branches, reducing the time and sweat required to cut them.
But of course, ensuring that the product is resilient and durable is not all you need. It has to be lightweight to allow its user to operate it with ease. Thankfully, the operating weight for this one is only 0.65 lb. — nothing short of amazing.
Another thing that we would like to appreciate is its professional-grade scabbard. It uses a dual-roller entry system so that you can safely insert the saw back into the product. The loops that it has for leg straps can also come in handy if you want to carry it around.
Full tang blades
Uses quality Japanese steel
Comfortable weight for better results
Significant results with a coarse blade
Improved safety with the dual-roller entry system
Not great for taller trees
Slightly costlier than some of the competitions
3. BLACK+DECKER Electric Hand Saw
If your workload requires something more potent than a typical hand-operated saw, you could do well with an electric one. Our third product solely relies on electricity to cover that end of the spectrum.
Let us talk about its blade first. It is essential that the blade used in your tool is of admirable quality. This saw comes with a high-capacity metal blade with high teeth per inch count for higher efficiency. Changing the blades on it is just as straightforward.
As this tool runs on electricity, the number of SPM (Strokes Per Minute) is crucial as well. A higher number allows the blade to provide you a clean cut in a shorter amount of time.
To provide you with just that, this one uses a powerful 3.4-amp motor that operates at an impressive 4600 strokes per minute. Along with the help from its fine teeth, your tasks will be done and dusted before you know it.
A concern that comes with corded electric tools is whether you will be able to move around with them effortlessly. And this product does a decent job in this area, too — you get a 6 feet cord. Moreover, its compact and light body makes the whole thing even better. Rest assured that it is capable of heavy-duty pruning.
Nice storage bag
Exceptional portability with lightweight design
Metal cutting blade is suitable for both outdoors and indoors
Powerful motor that operates at 4600 SPM
Changing the blades is straightforward
The vibration can be rather annoying
Straight teeth need some getting used to
4. Sun Joe Electric Pole Chainsaw for Pruning Trees
The next product on our list is somewhat overwhelming with all the functionalities it comes with. Firstly, it is a pole saw, which means that reaching those branches up there will not be difficult at all.
Moreover, you can adjust the length (it goes up to 15 feet) of this tool to suit your requirements. With a long pole, the risks of having sawdust or branches falling around you is minimal, boosting your safety.
Now, for the electric part — the motor used in this electric pole saw is a 6.5 amp one that can go up to 6000 RPM (Rotations Per Minute). As you can imagine, this motor would allow you to get clean cuts without requiring too much time.
Another remarkable feature that this saw boasts is its automatic chain lubrication system. What on earth is that, you ask? Well, it has two Fl. Oz oil tank built in that automatically keeps the chain lubricated. This feature can make a huge difference in your experience.
The electric chainsaw makes sure that the sharp blade is always working smoothly without catching any rust. Furthermore, there is a built-in switch that prevents the saw from accidentally starting up. And the build is quite compact as well.
Self-lubricating system ensures efficient cutting
Telescoping pole goes up to 15 feet
Built-in switch prevents accidental power on
Reasonably priced
6000 RPM allows clean cuts even when cutting thick branches
Slightly heavier than most saws
You'll probably need an extension cord
5. Fiskars Folding Tree Pruning Saw
It is unlikely that most people require one of those super-powerful electric saws, so let us get back to the more affordable hand saws, once again. This time, we will be talking about another saw from Fiskars.
At first, we need to talk about its teeth. The teeth are arguably the most crucial part of a saw, and it has to be sharp and rigid to keep up with you. To our pleasure, Fiskars used triple-ground teeth that are very sharp and durable.
Thanks to that, you can get your job done much quickly and efficiently when cutting through wood. This is crucial for a tool that requires muscle power to work, as we want to get the most out of it with the least energy wasted.
Another essential part is the comfort that a tool offers you, as it can affect the efficiency and speed when you are cutting wood. Thanks to Fiskars, this tool comes with a non-slip grip to improve your control over it.
Lastly, let us talk about its portability. The length of the pruning blade is around 7 inches, and the total dimensions are 11 x 1 x 3 inches — making it easier to store and carry. Moreover, it weighs 0.45 pounds, which adds so much to the portability.
Triple-ground teeth
Finer teeth count helps cut wood quickly
Highly compact and portable
Improved control with non-slip grip
Affordable price tag
The plastic handle is not as durable
Not ideal for a lot of pressure
6. Corona Tree Pruning Saw
Moving along the line of affordable products with decent value, we have a pruning saw from Corona. This is a product for people who only need to cut moderately thick branches and not reach higher portions.
First and foremost, this saw provides you with a remarkably comfortable experience. Part of the credit goes to the ergonomic co-molded handle that allows you to control the tool easily — all while making it very pleasing to work with.
When it comes to the blade, this saw features a 10″ extremely sharp blade. This blade features high-quality steel that cuts through wood efficiently. Moreover, its three-sided teeth are impulse hardened, meaning that the durability will be just as outstanding.
As we have discussed, the teeth per inch (TPI) count is essential in determining a saw's efficiency. Traditional wood-cutting saws do not require a very high TPI count; this one goes up to 6 TPI, which is decent for its intended workload.
Furthermore, the curved design of the blade allows you to cut wood even faster. This saw can easily cut branches that are up to 5 – 6 inches in diameter. And you can latch the blade quickly, ensuring your safety when it is not in use.
Ergonomic and comfortable design
Switching blades is simple
Three-sided razor teeth
Its price is affordable
Does not weigh too much
Curved blade aids in trimming tree branches
The steel might rust if not cared for
Blade becomes duller somewhat faster
7. Travol Saw For Pruning Brances and Trees
Here, we have got a pruning saw with a massive blade that is 14 inches in length. You might be asking why one would consider a product that is this huge at the expense of their convenience?
Well, a longer blade means that you do not have to go back and forth as frequently as a shorter one. Moreover, this allows you to go at a higher speed as well. But that certainly is not all you require to provide a quality experience.
The sturdy blade has a TPI count of 7, which is around the sweet spot for cutting wood. Thanks to this combination, you can cut branches that go up to eight inches in thickness, which is noteworthy.
Furthermore, to ensure that you reach the blade's full potential, an intelligently designed handle is vital. Hence, this product boasts a pistol style grip cushioned handle to provide you with a firm grip.
As a result of all these superb features, this tool is a suitable choice for any sorts of pruning workloads. Nonetheless, the area we thought can use some improvement is removing the saw out of the sheath.
Sports a cushioned pistol-style ergonomic handle
Suitable for pruning any kind of trees and plants
It can cut up to eight inches thick branches
Seven teeth per inch blade
Good value for your money
Removing it from the sheath can be problematic
Sheath's build quality can be better
8. Flora Guard Hand Saw
In the case you are looking for the most affordable saw that your money can buy, which still proves worthy of smaller tasks — you are in the right portion of this article. This here is one of the most inexpensive products on the list.
Let's talk about the star of the show first. This tool's blade comes with triple cut hardened razor teeth, which are quite sharp and durable. That, in turn, means that you will be able to achieve a decent speed without a headache.
In terms of dimensions, this hardened stainless steel blade is around 7.7 inches in length. Along with the fact that it is foldable, this length makes the aspect of portability so much better.
The whole thing's dimensions are only 10.6 x 2.91 x 0.8 inches, to give you an idea. As you can imagine, moving around and storing this product is remarkably convenient. This bit makes it an excellent choice for pruning smaller trees and plants as well.
Moreover, to give you a comfortable grip, this saw comes with an ergonomic soft-grip that will not slip out of your hands. Add that with its secure locking button, and you have got a product that gives you extraordinary safety measures.
Soft non-slip grip, best for cutting tree limbs
Its design is compact and lightweight
7.7-inch hardened stainless-steel blade
Ideal for medium workloads
Two-stage safety lock
Not suitable for thicker wood
The blade is a bit too flexible
9. Home Planet Gear Hand Saw
Accidents caused by saws is something that is far from being uncommon. Manufacturers have tried to come up with several solutions to avoid that from happening. This unit from Home Planet Gear does particularly well in this department.
For one, this cutting tool has a unique gear lock that keeps the blade in its place when wholly opened. This mechanism prevents any slip-ups while cutting with it. As for the safety mechanisms, the blade completely fits into the handle with no teeth out when it is folded.
When it comes to rigidity and toughness, this blade uses an SK5 carbon steel blade that is eight inches in length. The length of this triple cut saw is optimal for cutting trees or branches with diameters of around 4 inches, which is quite decent.
Moreover, carbon steel does not rust easily, making it a trustworthy product. When extended, the length is around seventeen inches — only 9.5″ when closed. Along with the comfortable 10 ounces of weight, it is pretty compact.
As we have already talked about, being able to handle the saw firmly is paramount. The brand has used a design that fits well into your hands by using thermoplastic rubber as the handle's material.
You can utilize its razor sharp saw blade for cutting tree branches, limbs and trimming trees.
Easy to carry around
The blade is adjustable
Gear style lock improves security
Sports a thermoplastic non-slip rubber handle
Versatile enough for various purposes
Slightly heavy
Sometimes makes a rattling noise when folded
10. Tabor Tools Hand Saw for Cutting Tree Branches
For the last tool on this list, we have another hand-operated saw. This one is an excellent option for anyone on the lookout for a portable, easy-to-use tool that does its job efficiently.
Speaking of portability, it weighs a mere 0.71 pounds, making it easy to carry around. Not just that, the total length is only 18.5″, even though it is not foldable. Moreover, it comes with a decent holster/scabbard.
This scabbard adds to the portability of the product while increasing its safety. When you consider the fact that you can attach the sheath with your belt for carrying purposes, it becomes an even better option. The good things do not end there, though.
The blade that comes with this tool is made with chrome-plated steel. Therefore, it does well when it comes to outstanding toughness and a longer lifespan. Moreover, it is resistant to corrosion and sap build-up even after prolonged usage periods. All these facts ensure that you can use this saw both outdoors and indoors without a worry. Now comes the ever so important factor of comfort. This product uses a handle with an efficient design to ensure a good grip along with improved speed.
Rust-resistant blade
Comes with a decent scabbard
Resilient and lasting chrome-plated blade
Ensures a proper firm grip
Suitable for carrying around
The blade could be slightly thicker
Doesn't suit branches with higher diameter
How to Choose the Best Saw for Cutting Tree Branches
When trying to buy a saw, you will often find a lot of options out there. They will have various mechanisms, materials, and rigidity. Here are the fundamentals to help you wade through them much efficiently.
The Sharp Teeth
Since we are talking about saws, their teeth are essential. One might think that since a lot of these saws require muscle energy, they are tiring. However, that does not have to be the case.
The first thing to look out for is the TPI, as in the teeth per inch. How smoothly you can cut through those dead branches heavily relies on how fine the blade is and how small its teeth are.
For instance, if you only need to cut through softer materials, a blade with coarse teeth and a lower TPI count should do fine. However, when you try to cut through more challenging materials, these are far from ideal.
As you come down to blades with a higher TPI count, you can achieve a smoother cut and the ability to cut through more rigid objects with comparative ease.
Here is an idea to get you in the ballpark — medium blades usually have 10-20 teeth per inch; coarser ones have lower and cut softer objects, while finer ones with 20-30 teeth per inch provide a precise cut even with rigid materials.
Types of Saws
The most vital distinctions between saws are whether they require electricity, whether the length is adjustable, etc. Let's talk about the major ones.
These saws are some of the most popular ones when it comes to cutting or pruning, as the name suggests, tree branches. Pruning saws do not rely on any external power source (other than your hands, that is).
It is crucial to get the right teeth per inch count to ensure a smooth experience as it relies on sheer muscle energy. If you need to prune or trim fresh and softwood, opt for a coarser one.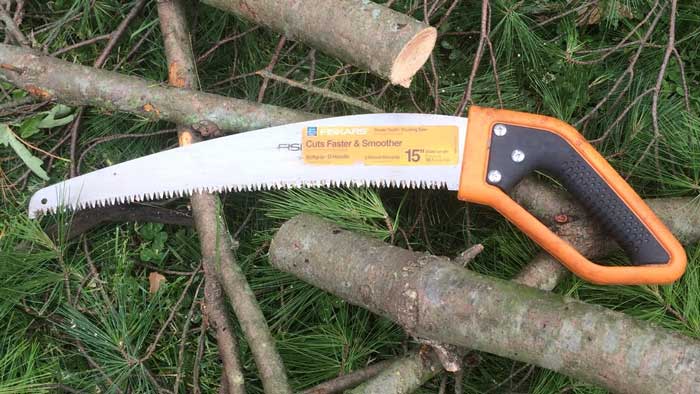 However, if you need to work with hardwood, a blade with more than ten teeth per inch would do well. Now, there is another type of pruning saw that is slightly unconventional. We will cover that too.
A folding hand saw is one kind of a pruning saw, too, by definition. The most significant distinction is that you can fold these blades into a compact and convenient shape if need be.
These saws are a practical option to cut tree branches too, and you can find them with various counts of TPI. That allows you to choose one that will be able to cut the stems you need to cut with the highest efficiency.
In Layman's terms, a pole saw is the taller brother of a pruning saw. You get a pole saw if you connect a stick to a pruning saw, which works well for cutting things farther away from you.
Pole saws can be manual, electric-powered, or gas-powered. Although purposes such as cutting tree branches do not require the overpowered versions of this tool, it would be overkill.
You can find poles of several lengths to suit your purposes better. Some of them even have loppers attached, which are basically a more powerful variant of a pruner.
These are another kind of hand-operated saws. A bow saw has a single blade from one side to another connecting with a bowed handle. These blades can be easily switched and are available in numerous TPI counts.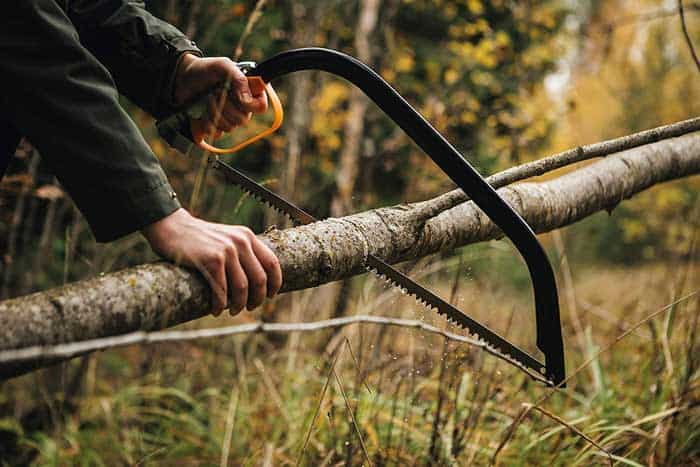 Usually, you can cut through branches quickly with one of these when compared to a pruning saw. However, it is not always the pragmatic choice due to their inconvenience around tighter spots.
Length of the Saw
The length of your saw is paramount as well. For example, if you need to cut the taller tree branches, getting a pole saw is the logical choice. The length of these saws can often be adjusted, giving you the necessary options.
However, if reaching a distance with your saw is not compulsory for you, you can choose between anything ranging from a conventional hand saw or something like a bow saw.
Comfort and Portability
It is wise to make sure that the saw you are buying allows you to get through the workload without much hassle in terms of comfort. A comfortable grip that will not slip or tire your hands adds to the comfort.
Moreover, the saw's weight and balance play a substantial role in deciding how comfortable a saw is. You cannot use it for a long time or control it effortlessly if it is too heavy. Lastly, we need to discuss portability.
Many people might be okay if their saws are not very portable — they might only use it at home and keep it nearby. Nevertheless, if your workload requires your saw to be mobile, make sure to look out for that.
Final Words
Regardless of your purpose, getting a convenient and efficient saw is paramount when looking for the best saw for cutting tree branches. Hopefully, you will now be able to choose the right one from our aforementioned choices.
Since you have ended up reading this hand saw guide, you should be able to pick and utilize the tool pretty well. In case you are looking for a saw to cut big trees, a chainsaw is what we recommend for you.

And to transform the tree into a piece of usable furniture, you must have a quality table saw with a solid table saw stand. Plus, don't forget the dust collecting vacuum cleaner as it will save you from unwanted illness.