With all the different kinds of stoves and the limited information available for the compatible kitchenware, people tend to use the wrong types of products. Whether you recently got an electric stove or simply want to buy new pots and pans for your old one, you need to know which cookware material is best for your stove.
In this article, we will provide you with the details regarding the least toxic substances for cookware and suggest to you the best pots and pans for electric stoves. If you follow our buying guide at the end of the review, you will be able to choose the best possible option for yourself!
---
---
10 Best Pots and Pans for Electric Stove Picks:
Let's get right into the details of the top pots and pans that can be used on electric stoves. You can make your decisions based on these detailed descriptions.
1. Circulon Symmetry Hard Anodized Nonstick Cookware Pots and Pans Set
We commence our review section by naming the best pots and pans set from an overall perspective. If you don't have any specific requirements, this is the one you should get.
Now, if you choose to get this, you will find 10 pieces in this set, ranging from saute pans and stockpots to French skillets. With the pans included in the set, you can follow any style of cooking and prepare any type of food with ease.
These are built of high grade hard anodized aluminum and all parts feature a complete nonstick composition of circles and triple layers. Due to its non-stick coating, it guarantees the long-lasting usage and quick washing. You may also opt to scrub these cookware parts with a dishwasher.
Besides, these pans have strong, thick rubber cast stainless steel handles and large rims, making them easy to maneuver. They also have fracture-resistant glass lids with substantial stainless steel rims to lock heat and texture in.
Not only are these pieces robust, but they are also quite stylish. This specific set includes chocolate-colored pots and pans, but you can get similar ones in two other colors- black and merlot.
Moreover, this set can be used with other cooktops, such as glass top stoves and induction cooktop. So, although this has been recommended as the top pots and pans set for electric stoves, this is, in fact, a versatile one too.
While this is the best from a general viewpoint, you should look at the other choices to find out which one is ideal for your needs.
Built to perfection with its hard anodized aluminum construction
Will last a long time
Ensures advanced nonstick performance
Allows for easier cleaning and maintenance
Can be used with other styles of stoves
Doesn't seem to have any major drawback
2. Cuisinart TPS-10 10 Piece Tri-ply Stainless Steel Cookware Set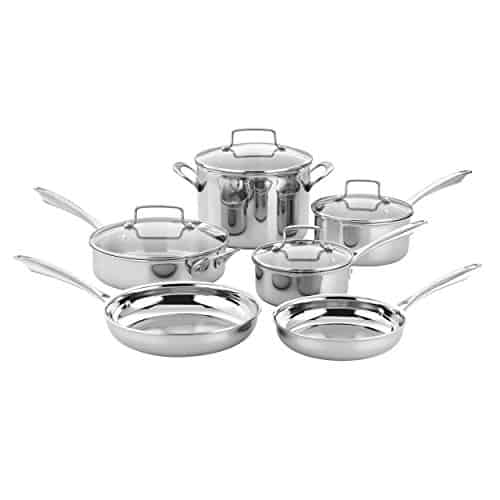 Now, we have another extraordinary set that not only looks amazing from the outside but also provides an equal level of performance.
Much like the previous option, this one comes with 10 pieces; they are the pots and pans that you will need to make daily meals. But you can use them to try out different recipes from different cuisines.
Each of these utensils has a coated stainless steel surface with molded stainless steel handles and shatter-proof glass top stoves.
Owing to their tri-ply stainless steel construction and tempered glass cooktops, they are highly sturdy and, therefore, will not crack or ruin easily. And they're going to last you for a very long time.
Besides, these kitchen utensils have a beautiful silver finish that makes them look extremely elegant. So, if you're into aesthetics, you will love them.
However, the pieces included in the set are a little heavier than most kitchen utensils. But that is understandable, considering it is made with layered premium quality metal. So, even though they are not as lightweight as other flimsy pots and pans, they are still very convenient to use and maintain.
In fact, they are compatible with dishwashers. So, you don't have to hand clean them one by one and save yourself a lot of time and effort.
You shouldn't worry much about the weight; its pros outweigh its cons by a magnitude.
Looks great from the outside due to its sleek, silver design
Extremely sturdy and ensures longevity
Has polished stainless steel handles and tempered glass lids to resist fracture
Includes all the necessary parts to make all kinds of food
Weighs a little more than flimsy pots and pans
3. Duxtop Professional Stainless Steel Pots and Pans Set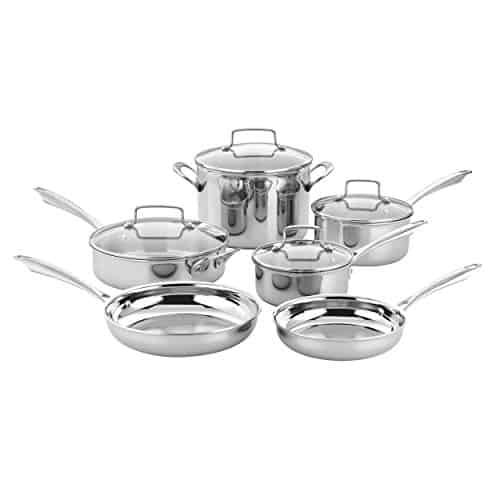 If you're interested in getting a bigger set and value quantity over quality when it comes to kitchenware, this is a great option for you. But fear not, it is still of superior quality to most sets you will find on the market.
This is the perfect set for a home chef or a cooking enthusiast. You will find many different sizes of pots, pans, strainers, and more in this set. Using just these pieces, you can try out all kinds of cuisine from all over the world. You don't need extra kitchenwares. And that's why it is recommended for people who cook food regularly.
As for the quality, each of these pieces is constructed from top-grade stainless steel. Besides, the pots have tempered glass for lids. All these make for a tight and secure finish and help maintain heat and flavor.
On top of that, these pots and pans have a hard bottom with impact-bound technology. And due to that, they're super tough, and they're going to function for quite a long time.
So, you shouldn't worry about the performance. These are exceptionally reliable pieces of cookware.
All the parts included in the set are oven and dishwasher safe. This means, apart from different cooktops like gas, electric, and induction stoves, you can prepare your food using an oven.
Whether you want to make lunch or dinner for your family or bake a cake for a special occasion, you can use these pots and pans. And once you're done making your food, you can simply clean them in a dishwasher.
Made with top-grade steel that is oven safe
Ensures quick and smooth heating with the aluminum embedded bottom of the kitchen utensils
Includes a wide variety of items of cookware
Appropriate for all kitchen cooktops, such as electric, gas, and induction stoves
Has a pretty basic looking exterior
4. Rachael Ray Cucina Hard Anodized Nonstick Cookware Pots and Pans Set
Next, we have another hard anodized aluminum cookware set, which is known for its well-molded handles that provide ultimate convenience while cooking.
The specialty of these handles is the dual riveted handles. Unlike most cases, they are red and made of silicone. Not only are they comfortable to grasp, but they also look great and uniform. This distinctive coffee-colored PFOA free anti-stick kitchenwares helps keep food from sticking and can be used for years.
And about the hard-anodized construction, they ensure that the items are safe for cooking and also resistant to corrosion over time. These are durable cookware that can tolerate a good amount of heat without getting affected. So, you can rely on their quality.
You can even use these in an oven. As long as you don't go over 400 degrees Fahrenheit, you are good to go. Basically, the cookware included in these are multipurpose and can be used for different styles of baking and cooking process.
And they are even easier to clean and maintain. If you have a dishwasher, you can just put these in a dishwasher. They will come out all clean without any signs of scratches. But if you prefer hand washing, you can do that, too. It won't take much longer.
If you're looking for a well functioning set for your kitchen, you can get this. However, this set includes just 12 pieces. So, if you're looking for more cookware, you should check out some of the other options.
Crafted from heavy-duty stainless steel for added robustness
Very durable, guarantees prolonged reliability
Have double-welded handles and crack-resistant glass covers to preserve flavor
Lightweight cookware requires low maintenance
Have slightly slippery bottoms
5. Cook N Home 12-Piece Stay Cool Handle, Turquoise Nonstick Cookware Set
And now, we have a bright turquoise kitchen utensil set from Cook N Home, which consists of 12 pieces. If you were looking for pots and pans for your home, this includes all the pieces you would need to make everyday dishes.
It includes saucepans, frying pans, pots, spatula, and spoon. So, you can try out all the new recipes you want for your family. And you don't even have to worry about its quality.
These are built from heavy-grade aluminum core, and each of these kitchen utensils enables fast and uniform heat conduction and also prohibits hot spots from occurring.
Besides, the pots come with strong tempered glass lids that have vents for steam and to see the food and hold in the heat and flavor. And these even lids complement the fry pans included in the package!
Most importantly, they are nonstick metal utensils. So, they make it easy to extract and clean food from the inside.
In addition, the handles on these utensils are solid and secure. They're very comfortable to grasp and maneuver. And, of course, they remain cold, no matter how hot the pots or pans get.
All in all, if you want to get this package, you're going to have a nice time in the kitchen.
Apart from electric stoves, they are compatible with other cooking surfaces like glass stove tops, gas, and ceramic tops. However, you can't use them on induction stoves, nor can you wash them using a dishwasher.
Includes all the important parts expected from a cookware set
Made of high-grade aluminum that delivers fast and uniform heat conduction
Have strong tempered glass lids to ensure integrity.
Compatible with different stoves like gas, electrical, and glass cooktops
Have relatively heavy glass lids for the pots
Cannot be used with dishwashers
6. GreenPan Levels Stackable Hard Anodized Nonstick Ceramic Cookware Pots and Pans Set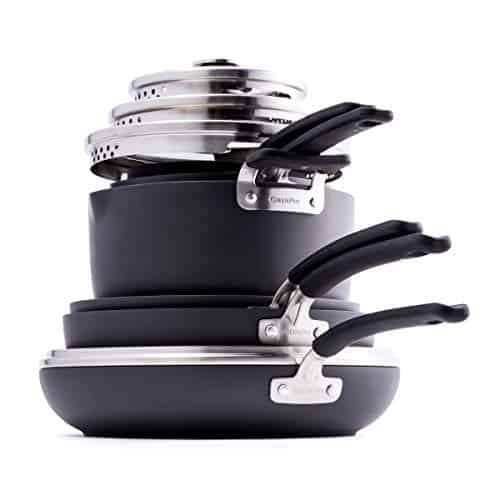 Up next, we have a special hard anodized ceramic set, which comprises of the highest quality kitchen utensils. But they are quite expensive.
Now, if you're wondering if it is worth the price, you need to understand some of the essential features it has to offer. But first, let's check out the basics. It includes saucepans, fry pans, stockpots, and 3 protectors for the pans.
Although this set includes the best pots and pans you can find, it doesn't come with spoons or spatulas. And that is a drawback since some of the other options do, and they cost less than half the price.
As for quality, the pots and pans in this package have solidly built hard anodized structures that are scratch-resistant and built to fulfill everyday requirements. So, this makes a perfect regular collection of cookware.
In order to ensure total longevity, quick heating, and seamless washing, all the utensils have advanced nonstick ceramic coatings infused with diamonds.
Another impressive feature of this is its stackability. This means the pieces in this set are designed specifically, so they can all be stacked together. And as they are stackable, they will take up less than 30 percent space on your shelf.
Considering all of this, these fundamental nonstick pots and pans are outstanding for electric stoves and offer professional results. If money isn't an issue for you, you should definitely consider getting this.
Can be stacked on top of one another to save a lot of shelf space
Has specialized diamond ceramic layer for nonstick surface

Comes with a scratch-resistant surface and perfect for everyday use

Can be used in ovens for baking and washed using dishwashers
Comes at a very high price point
Doesn't include spoons, spatulas, or forks
7. T-fal Ultimate Hard Anodized Nonstick 17 Piece Cookware Set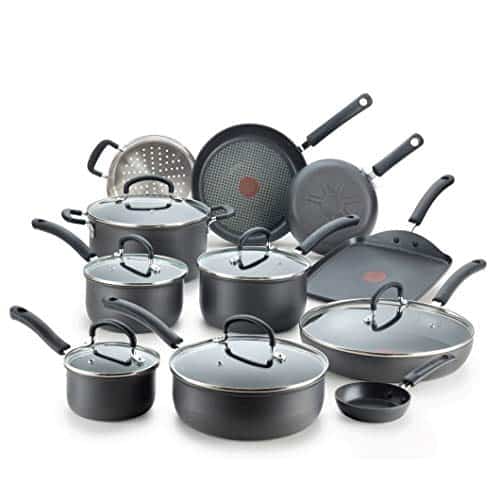 Now, this cookware set from T-fal includes a wide variety of kitchen utensils, ones that you didn't think you needed. But once you start using them, there is no going back.
As you must know, this is a very popular brand of cookware that has been in existence for over 60 years. They have enriched the lives of countless home cooks by delivering innovative, high-performing, and easy-to-use cookware that allows a pathway to professional quality food.
Made of hardened titanium, these are very structurally sound pieces of cookware. The insides of these pots and pans are scratch-resistant and free of contaminants. So, you can safely use it on a regular for all your meals.
And since these are nonstick pieces, it is easy to cook with them, and cleaning up doesn't take much work either.
Not only are they of top quality and last a long time, but they are also very well-functional. They have welded handles built for convenience and protection. They also feature ergonomic lids that are well vented to ensure transparency while retaining ample heat and moisture to deliver optimal results for all kinds of cuisines.
One of the best features of this cookware is the Thermo spot indicator. It is the mechanism where the ring turns red and signals you when the post and pans are properly preheated. Once you see the red light, you can add the rest of your ingredients and cook your food.
Includes a special Thermo spot indicator that signals when pans are perfectly preheated
Offers riveted handles that are easy to grasp and remains cool
Have tempered glass lids with air vents
Can be used for all cooktops, except induction cooktops
Require special care when using, as these are nonstick utensils
8. Cuisinart Chef's Classic Nonstick Hard-Anodized 11-Piece Cookware Set
This is our second choice from Cuisinart, and it is almost as good as the first. Although it comes at a slightly high price point, it is well worth the money.
First, let us address the basic differences between the two sets from this popular brand for culinary products. While the previous one was made from pure stainless steel, this one has a hard anodized construction.
Besides, the first had a glossy silver exterior, and this one has more of a black matte finishing, which gives it more of a classy look.
Now, let us take a look at some of the similarities. This Cuisinart Chef's Classic Set offers equally superior quality products. In this set, you will get 11 different pieces of cookware.
Starting from skillets, saucepans, sauté pans, crockpots to spoons and spatulas- this is the perfect starter pack for someone starting a family. Each of the pieces in this set is made from top-grade hard anodized aluminum.
All the pots and pans have strong grip handles, which makes it easy for you to grasp the utensils when cooking. These handles also never heat up, which is a very important factor when choosing a cookware set.
As for the lids, they are tempered glass ones that rims around them to prevent any spillage while cooking.
Moreover, they can be used to bake using an oven, as long as you don't cross 350 degrees Fahrenheit. Although this cookware is great in all aspects, they do need special care. All the pieces need to be carefully hand washed as they are not compatible with dishwashers.
Have strong anodized construction for sturdiness
Come with special cool grip handles that never heat up
Can be used in an oven for healthy cooking
Perfect starter cookware set for beginners and home cooks
The smooth surface have nonstick coating
Can't be washed using a dishwasher
9. ELO Skyline Stainless Steel Kitchen Induction Cookware Pots and Pans Set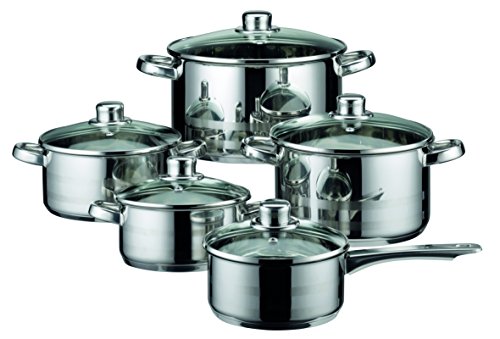 From ELO, the Skyline collection is the leader in the 'Meine Kuche' series. It is among the most famous and finest pots and pans collections out there.
In fact, it is the ideal starting set for new home cooks! But that doesn't mean it is targeted for that specific market. Whether you're new to cooking or have been cooking for a long time, you're going to enjoy this set. They make cooking very relaxing and enjoyable.
Although this comes at reasonably affordable price point, there is no concession in terms of quality. Being manufactured in Germany, this collection is the ideal mix of food, technology, and innovation.
It is composed of strong grade stainless steel. Each one is coated with a high gloss inside and outside. Every lid is comprised of a wide stainless steel rim and a clear glass with vents for air passage. This means that the food does not spill from the pot when heating, and it maintains the texture intact.
On top of that, all the pieces in this set have a capsulated base, which ensures fast and even heat distribution. While the handles on this are great, they are not perfect. If the pots and pans are heated up too much, the heat sometimes reaches the handles. That is possibly the only drawback in this collection from ELO.
As for compatibility, this specific set is built with having induction stoves in mind. But they work just as great on several other cooktops like electric, glass, induction cooktops, and ceramic ones.
German engineered highly reliable cookware
Long-lasting pieces with shatter-free glass lids
Ensures fast and even heating and maintains heat and flavor
Requires simple washing and maintenance
Handles are not rubberized
10. Heim Concept Kitchen Cookware 12-Piece Stainless Steel Pots and Pans Set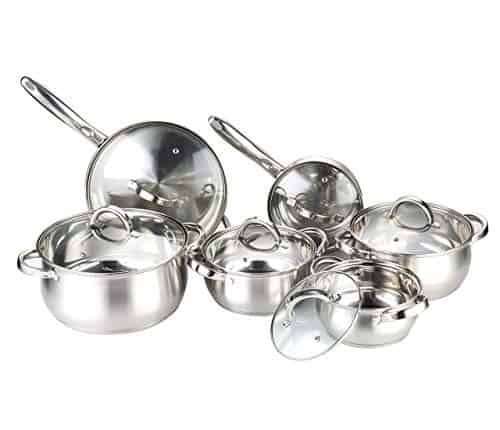 Just because this is the last option for today, don't doubt its worth. It is actually a great quality cookware set from Heim Concept.
In this set, you will get 12 pieces of cooking utensils. You will get fry pans, sauce pans, and casserole pots, all with lids. The pots and pans are crafted from top-grade stainless steel. So, they are really strong and durable and not prone to breakage or damage of any form.
As for the lids that come with these pots and pans, they are made with powerful tempered glass, and they have steel rims on the circumference. This means that the lids are strong and shatter-resistant. And thanks to the rims surrounding the lids, there will be no droppage or spillage of food particles.
And the foundation of the cookware is mirror coated; the insides are capsulated. So, any time you cook, you'll still get a fast and even distribution of heat.
Basically, this is one of the best sets. It includes all the essential parts for regular use. And almost all of the utensils are of top quality. However, the skillet in this set is not up to the mark.
So, if you already have a well functioning skillet at home, or you think you won't use the skillet much often, you can go with this option.
Have tapped rims on the clear glass lids to prevent dripping or spillage
Can also be used in an oven
Have capsulated bottoms on pots and pans for uniform distribution of heat
Safe to wash with a dishwasher
Handles heat up when the pots are too hot
Before You Buy What to Look for in the Best Pots and Pans for Electric Stove
You need to first weigh certain crucial considerations before buying a cookware set. Some of the essentials factors are listed below.
Material
First of all, you need to check the material of the cookware. Now, if you have come all the way to this part of the article, you must own an electric stove, or you're planning to get one. Either way, you're lucky because almost all kinds of materials are compatible with electric cooktops.
Electric stoves can be used with nearly all components of pots and pans, including but not limited to stainless steel, hard anodized aluminum, glass, porcelain, and ceramic. There is, nevertheless, one unique component that does not comply with electric stoves, which is copper.
As you may have noticed, most of our recommendations were either stainless steel or hard anodized cookware sets. This is because these are two of the best materials for pots and pans for an electric stove.
But, you can choose from the other materials if you prefer. The ceramic one, for instance.
As long as you don't use copper cooking utensils, you are all good.
Quality
However, the fact that most materials of cookware are compatible with electric stoves means that there are a whole lot of options for you. So, before anything else, you need to verify that the substance used in your cookware is of top quality.
This is because all materials have different categories; be it stainless steel, cast iron pans, or glass; each material has top quality, good quality, poor quality, and many other qualities of options in between.
Make sure the one that you are choosing is among the top-quality options.
Included Pieces
This factor refers to the different pieces of cookware included in a set. Needless to say, all pots and pans set have these two utensils. But the best ones usually come in a bigger set. They include several different pieces, like saute pans, fry pans, sauté pans, skillet, crockpots, and some more.
While most great sets include 10 to 12 pieces, some have about 17 pieces. However, which one you choose depends on your personal requirements. If you are someone who usually makes the same kind of food all the time, you can stick to the smaller sets.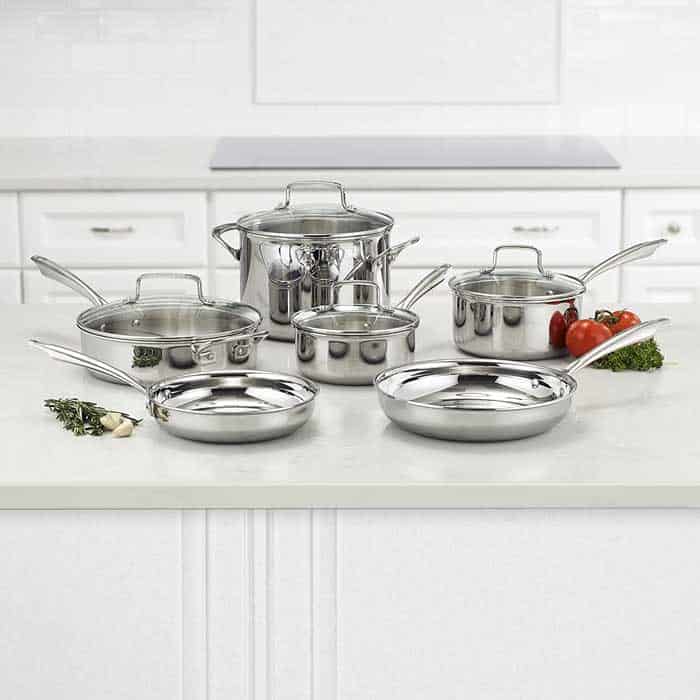 But if you are someone who enjoys a particular kind of dish, you should check for sets that include the pots and pans needed for that cuisine. And if you're a cooking enthusiast, you should opt for a bigger set if you can afford it. That way, you will get to try out different styles of cooking from your own kitchen!
Spoons and Spatulas
Considering we are discussing sets for pots and pans, this shouldn't be a factor. But some great sets do include cooking spoons, spatulas, or forks, or a combination of those.
So, if you don't already have cooking cutleries at home, you should look out for them. Even if you do own some, you can still get a set that includes these pieces, as long as all your other requirements are met.
Glass Lids
If you have gone through the individual reviews, you know that most pots and pans come with glass lids. Basically, all great sets do.
But all glasses are not the same. Some glass lids are tempered, meaning they are handled in a manner that provides additional intensity, and they have the ability to withstand all levels of heat.
This basically means that these glasses are shatter-proof. They will not break no matter how hot it gets when you're cooking.
Tempered glass lids are obviously essential for a smooth and convenient cooking environment. But what makes your work even better is having wide rims around the lids. Make sure the lids have wide solid rims because those are what prevent spillage while making food.
Ergonomic Handles
Your pots and pans will have handles. And the type of handle depends on the model of cookware set you get.
So, you have to check for ergonomic handles specifically. Different sets have different handles. While some are rubberized and provide solid grip, some don't have any extra layer for protection.
The latter causes heat to spread from the pots to the handles, which in turn makes it very difficult to work.
For your own convenience, you have to make sure that your set includes some form of protection for the handles.
Dishwasher Safe
Some people dread hand washing dishes and utensils, and it is understandable. Hand washing takes extra time and effort. And who wants to do that after spending so much time cooking? If you relate to this, don't worry. There are plenty of options for you.
You just have to make sure that you choose one that is safe to use with dishwashers. But if you prefer hand washing, there are a lot of options for you, too. Just get the one that suits you.
Frequently Asked Questions
1. What is the least toxic cookware?
Unfortunately, there are still some pots and pans out there that have toxins, which can prove very harmful to health. Among the least toxic materials, we have stainless steel, cast iron, carbon steel, ceramic, porcelain, glass, and hard anodized aluminum.
We have carefully selected options for you to avoid the ones that could prove to be toxic. So, you can confidently choose one from our recommendations.
2. Can you use any pots on an electric stove?
Electric coil stoves are very common, and so the cookware are compatible with this specific kind of stove.
Almost all materials of pots and pans can be used with electric stoves, ranging from stainless steel and aluminum to glass cooktop and ceramic ones.
However, there is one specific material that does not go with electric coil stoves; and that is copper. As long you don't have copper utensils, you can use any cookware set for your electric stove.
3. What is the best type of cookware for an electric coil stove?
As mentioned earlier, all kinds of cookware are compatible with electric stoves, except copper ones.
And among the many different materials of cookware available, there are quite a few that are at the top of the tier. Stainless steel, hard anodized aluminum, and cast iron cookware are the strongest contenders to be used for an electric coil stove.
But the quality of these materials matters too. So, you should check the strength and durability of the cookware before you purchase a set.
4. What is the best cookware set for an electric stove?
Based on our extensive analysis, we have picked out the top cookware sets for you. All the sets on this list include great kitchen utensils that work perfectly with electric stoves.
But some are better than others based on different variables. For instance, if you want a set with the most number of pots and pans, we recommend the set from Duxtop or the one from T-fal.
And if you prefer ceramic utensils, we suggest the GreenPan Levels Stackable Set.
But from an overall point of view, the Circulon Symmetry Set is the best choice.
5. What are the instructions for using cookware on an electric stove?
Electric stoves are primarily operated using electric coils. And, these coils usually take a while to heat up.
So, you should preheat your pots and pans first. As your cookware heats up, you can take that time to prepare your ingredients and set your station. If you start cooking with a heated pan, your food will be cooked quickly and uniformly.
6. Can pots for electric stoves be washed with dishwashers?
There is no specific answer to this. While it is true that most great cookware choices are compatible with dishwashers, all of them aren't.
By now, you are aware of all the different types of cookware that you can use with electric stoves. Instead of the material of the utensils, it actually depends on the specific model of cookware set you get.
Final Words
Finding the best pots and pans for electric stove is difficult considering the vast amount of options out there. So, we have provided detailed explanations of the top products constructed from top-grade materials by the top-most brands.
As you are looking for the top grade products for the kitchen, you may find our guide on authentic food processor for nut butter useful. Plus, consider buying an electric pasta maker for homemade pasta or you may love to make pancake at home with a quality pancake maker?