The team-up of a cast iron and an oven can be called culinary magic. No matter what type of food items you like to eat, you surely can make a multitude of things using these two items together.
That being said, a cast iron is quite different from most other types of pans and needs to be handled with a good quality mitt that will protect your lovely hands. Continue reading o find out about the best oven mitts for cast iron that our readers love and will hopefully make sure you have a good time making dishes.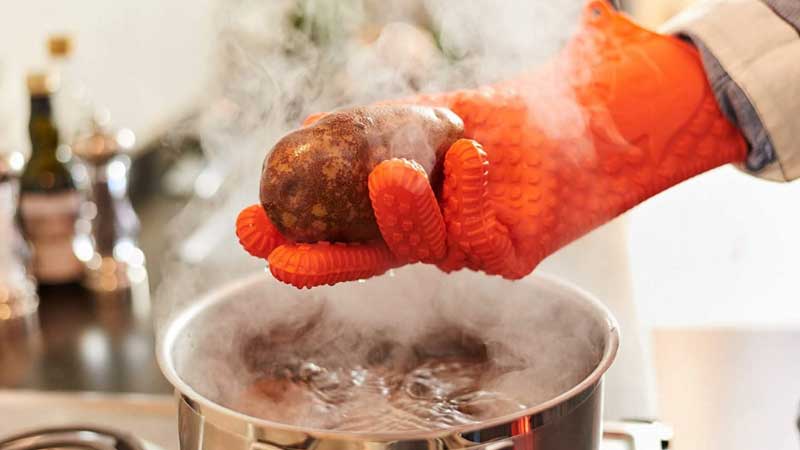 ---
---
7 Best Oven Mitts for Cast Iron Picks:
Below we have reviewed some of the top oven mitts that you can use while you are working with a cast iron. Hopefully, you too will find something that you can work with.
1. Jolly Green Products Ekogrips Premium Oven Gloves
Meet the oven mitt from Jolly Green that users cannot get enough of. Backed by thousands of positive reviews, these oven mitts have some of the most user-friendly features ever.
You will not have to do any size guessing while choosing these oven mitts from Jolly Green. One size fits most people comfortably and allows them to carry out tasks smoothly.
Their silicone material makes them safe from heat up to 425 degrees from heat and thus much safer than most oven mitts in the market. Unlike most other silicone mitts, they can resist tear and wear, which makes them last for a long time.
The thoughtful design of these mitts makes them safer and easier to use for anyone. For cast iron and even other hot cooking, these oven mitts are perfect. The non-slip design makes sure they never slip while the mitts protect your wrists as well as your hands.
It's pretty obvious, the oven mitts that can tolerate so much heat and help you cook up so many delicacies need to be cleaned regularly. As these mitts are dishwasher safe, they can be cleaned easily and quickly without facing any trouble.
One size fits almost all kinds of users
Silicone material is durable and greatly resists heat
Textured and jagged design prevents slipping
Can be cleaned in a dishwasher and also by hand
Bright color makes them easier to locate
Gloves are difficult to wear and take off
Cannot tolerate heat for a prolonged period
2. HOMWE Extra Long Professional Silicone Oven Mitts
We love reviewing items that are backed by positive customer reviews and have been tried and tested to be of good quality. These Homwe oven mitts will make sure you feel comfortable every time you are using them.
Quilted cotton lining on the inside of these mitts makes your hands feel comfortable no matter how long you have to wear them. Your delicate forearms will be safe from heat for up to 450 degrees as long as you are using these Homway mitts, as they never catch fire and never melt.
Thanks to their 14.7 inches of length, your arms and wrists will stay protected very well. The material of these gloves is BPA-free silicone, which is certainly a stronger and better material for facing extremely hot cast irons. Thanks to their comparatively low price, they are a top choice of many.
The size of these mitts helps many types of users use them without facing any trouble at all. Their textured nature and slip-proof design make sure that you can maintain control of your cast iron at all times. Greatly resistant to stain, these mitts can be cleaned with a simple mixture of water and soap.
Quilted cotton lining on the inside makes sure you can use them comfortably
Silicone material makes them stronger
Easy to maintain thanks to textured design
Cleaning them is extremely easy
Bright color helps locate them quickly
Mitts are not flexible enough
Takes a long time to dry after they are washed
3. RAPICCA BBQ Oven Gloves
The oven mitt that is a dream come true for avid cooks and bakers is a favorite among all the mitts we are reviewing. Let us take a look at these top-rated and highly coveted gloves for cast iron that is perfect for almost everyone.
Food grade neoprene rubber material makes these gloves resistant to a number of adversities. These fighter mitts are heat resistant up to 932 degrees, which surely makes them better than most oven mitts. The insulated and textured nature of these gloves helps you manage wet and dry items equally.
A product of immensely thoughtful design, these gloves boast a five-finger design that allows you better control of the very cast iron you will handle. Its 14 inches of length goes a long way and protects your wrist area as well.
Loosely fitting in nature, the Rapicca gloves have a cotton interior and always makes you feel comfortable.
Although these oven mitts from Rapicca cost slightly more than most other mitts, the features and material surely make it worth the extra bucks. These extraordinarily useful gloves are extremely to clean and take care of. You can just clean them with soap and hang them to dry afterward..
Neoprene rubber material makes them tougher
Resistant to heat for up to 932 degrees
Good for both wet and dry scenarios
Long enough to protect your hands and wrists
Five finger design helps with better control
Extremely good value for the money
Has a very strong and odd smell
4. Grill Armor Extreme Heat Resistant Oven Gloves
Let us take a look at a pair of underrated gloves that are perfect for cast irons and can handle heat extremely well. These mitts from Grill Armor will surely make your cooking sessions more pleasant.
These certified heat fighters can resist heat up to 932 degrees and can surely be a great companion for your cast iron cooking sessions. The top-quality material makes them not only long-lasting but also lightweight. Thanks to its five-finger design, you can now manage the hot dishes and pans better.
For any oven mitt, the grip is an important feature to look out for. These oven mitts from Grill Armor boast a silicone super-grip that ensures that you maintain a grip the whole time you are carrying a hot item. Even when they are facing direct heat, these gloves will neither melt nor get damaged.
These extremely useful gloves can be cleaned both by hand and by using a dishwasher for your convenience. They come with hooks so that you can store them easily and access them quickly whenever you need them.
Heat resistant up to 932 degrees
Five-finger design helps with better control and managing
Silicone super-grip is better than the grip on most oven gloves
Comes with a hook so that they can be hanged to store
Can be cleaned by hand and with a dishwasher
Do not melt or get damaged in the heat
Not durable enough for long term use
Sizing of these gloves is not consistent
5. G & F 1684L Dupont Nomex & Kevlar Heat Resistant Gloves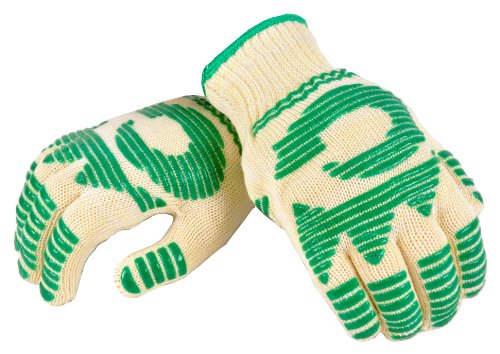 G&f oven gloves are some of the most underrated gloves ever to not get enough credit. Made of a material that is unique and yet of top quality, these gloves work extremely well but have such a low cost.
Say goodbye to silicone and try out Dupont Nomex, the material that keeps on giving. Highly resistant to flame, this material is a top choice for many purposes in the Aerospace, firefighter, military, etc. Thanks to their toughness, no matter how much heat they face, they will never melt.
These mitts with such high resistance to heat do not compromise comfort at all and are perfect to be used with cast irons. They ensure that you have a comfortable experience while also being tough and protecting your hands.
Its five-finger design helps you manage hot cast irons and other items much easier. Each of the fingers has a silicone texture on both sides and can help you keep grip easily.
Taking them off and putting them on is also very trouble-free and does not take much time at all. You will be glad to know that these oven mitts with such a strong material and user-friendly features cost surprisingly less.
Dupont Nomex material is better than silicone at keeping hands safe
Comfortable yet tough and never get damaged
Five-finger design helps manage hot dishes and pans easily
Taking off and putting on does not take much time
May not fit people with bigger hands
Not enough cushioning on the inside
6. LauKingdom BBQ Grill/Oven Mitts
Specifically made to be a fighter in handling hot situations, these oven mitts from LauKingdom are perfect for handling hot cast irons. Its professional-grade design and quality will surely make you want to purchase a second one.
Three different layers of material were used to make these mitts that protect as well as provide comfort. The 1st layer ensures that your hands are protected from heat, the second layer protects your hands from steam, and the third layer is cotton, which makes sure your hands are comfortable the whole time.
Its heavy-duty leather and Kevlar will protect your hand no matter how hot it gets.
For handling a hot cast iron, there surely are no better mitts than these. You will love the fact that the quality and design of these mitts also make them perfect for handling many more things such as BBQ, grill, fireplace tending, etc.
The layered materials ensure air circulation so that your hands do not get sweaty even in the hottest situation.
We also love these mitts because of their five-finger design that helps handle hot things better. You will have to waste no time while putting them on and taking them off. Suitable for most users, these mitts can be hanged easily with the strings they have.
3 different layers of material for ultimate protection and comfort
Great for cast iron and many more purposes
Hands never get sweaty wearing these
Five-finger design is perfect for handling hot things
7. Homemaxs 1472℉ Extreme Heat Resistant Grill Gloves
We have saved one of the best for the last. These oven mitts from Homemaxs is one of the toughest and most heat-resistant gloves you will ever come across.
Constructed with three different layers of material, these oven mitts are heat resistant up to 1472 degrees. Among the three layers, the silicone layer prevents slip, the aramid layer prevents heat, and the cotton layer ensures comfort.
Very few oven mitts are as resistant as these customer-loved and tough ones from Homemaxs.
Longer than most oven mitts, these gloves are pros when it comes to protecting your wrist and arm area from heat and any accidental splatter. Thanks to their universal size, they are a suitable fit for most people. As these gloves are highly breathable, wearing them for a long time will not make your hands sweaty at all.
Keeping a grip on your hot cast iron is something that is very important. As its outer surface has silicone coating, keeping a grip on hot pans and cast irons is very easy.
Its five-finger design makes sure even people with very little experience in handling cast irons can handle hot dishes easily. For your convenience, these gloves from Homemaxs are both machines and hand washable.
Extremely heat resistant up to 1472 degrees
Three layers of material for enhanced protection and comfort
Protects your wrist area also
Five-finger design ensures easy handling
Comfortable and does not make your hands sweat
Can be cleaned by machine and by hand
Not durable enough for long-term use
What Makes A Perfect Oven Mitts?
The perfect oven mitts are the ones that will truly take care of and protect your hands while also making sure that you can fully stay immersed in your tasks. Let us take a look at some of the much necessary factors that make oven mitts perfect for you.
The Material
The material is surely a crucial component of a pair of oven mitts and can make or break the experience you are going to have. Perhaps the primary and most used material is silicone.
Silicone is great at protecting but do remember that silicone also has different types of quality and cheap gloves are likely to have cheap silicone material. Some brands tend to mix materials, and some brands use materials that are not always common such as Dupont Nomex.
We love the ones that use more than one material and layer them to make the best use of each of the materials. A 3-layer glove would have layers of different material that ensure protection, insulation, and also comfort.
The Design
Oven mitts, in general, have the same design. What we mean when we say design is a five-finger design. Oven mitts that have one finger design make it difficult to handle hot items, such as a cast iron.
On the other hand, oven mitts that have space for all five fingers let you handle hot cast irons and other pans quite easily. For those who are not experienced at handling hot pans, this feature is very suitable.
The Grip
The grip is something that no oven mitts can properly function without. If your oven mitts do not have a good grip on them, maintaining control will be much difficult.
In worst cases, there is also the risk of accident in case you cannot maintain a grip and drop the hot cast iron. That is why it is vital to always make sure that your oven mitts have a good grip.
Wrist Protection
Cooking with cast iron and any other hot pan is bound to create some splatter, at least. All the grease, oil, and sauce may very well reach your wrists and even burn them.
That is why we always recommend choosing oven mitts that are elongated and protect your wrist area as well. Surely, the best oven mitts are those who take extra steps to ensure added protection.
Washability
After facing so much grease, oil, and heat, your clever oven mitts need to be cleaned. Most oven mitts can be washed both by hand and by a washing machine.
A good oven mitt can be cleaned easily to get rid of all the grease and afterward dries quickly. For this part, your preferences matter most, and the washing stage is greatly influenced by the material or layers of material.
The Size and The Fit
When you are choosing oven mitts, always take a look at the size options while keeping in mind the potential users that may use them. Most oven mitts have suitable sizes for almost all kinds of people.
Mitts that are too big or too small will both create much discomfort while hot things are being handled. That is why mitts that fit are the best mitts for you.
Storage
While this may not be something most people consider, it is still an important thing to consider. Mitts that have strings or lanyards can be stored easily, located quickly, and accessed quickly. For avid cooks and chefs, storage surely is something that is considerable.
Final Words
After reading about the best oven mitts for cast iron, we hope you have learned enough to make the perfect choice for you. We hope you always stay safe in the kitchen while you are creating dishes.
To ensure that, we recommend you to choose high quality pots and pans, authentic cookware, and a set of quality chef knife that come in budget.