When you use machines consistently over a long period of time, they can start to break down. This is usually a result of not keeping it well lubricated, which leads to the destruction of the components inside. No need to worry if you are facing such a problem because we have a solution for you!
A mini grease gun is just what you need to tackle this issue. However find the best product can seem a bit overwhelming, so in this article, we are going to help you find the best mini grease gun. To make things even easier for you, we have also included a buying guide for you to follow.
---
---
Our 5 Best Mini Grease Guns
We want you to have the best product money can buy. So after hours of research, we have come up with a list of the top 5 mini grease guns for you to choose from. Take a look!
1. Lincoln 1134 Extra Heavy Duty Pistol Grip Grease Gun
The Lincoln 1134 grease gun is a well-built product that is packed with some great features. Not only will it get the job done well, but it also makes the whole greasing experience very easy.
First of all, this thing features cast aluminum heads with an enclosed piston, all of which work together to create a gun that is able to tolerate even the harshest conditions.
So, this grease gun is not only highly durable, but it is very comfortable to use as well. The product has quite a unique build with a special pivot angle that helps to minimize fatigue while using the gun.
This thing uses a variable stroke mechanism, so you get a high-pressure option for high tolerance applications, and it can go up to 7500 psi. Here, you get an 18-inch whip hose with an extension of 6 inches, which will allow you to get to hard-to-reach areas easily. You will not have to worry about any wasted grease with this.
Instead, thanks to the dual lip follower, you will get a much cleaner environment to work with as the gun does not allow any grease bypass. Not just that, with this thing, you can release the trapped air with complete ease, which will help keep the gun in its best form.
Overall, this is a very good grease gun that will certainly make your life a lot easier. It will last you quite a long time and give you a very comfortable greasing experience.
Well-built and durable
Comfortable and easy to use
Easy access with 18-inch whip hose
Eliminates grease bypass
Some complaints about leakage
2. John Deere Original Equipment Grease Gun #TY26517
For the next product, we will be telling you about the John Deere Original Equipment Grease Gun. This TY26517 model is a good gun to consider if you are looking for something that will definitely get the greasing job done.
The first thing you should know about this product is that it is well made using some good quality materials. Not just that, this thing is also very easy to load, unlike many other guns that give you quite a hard time with loading.
So, even if you have absolutely no experience using a grease gun, you can still use this gun without any issues.
Here, the nozzle is fitted very tightly, which, although it can make it a bit difficult to remove, ensures there is no leakage. This is a good quality grip gun that is able to hold about 16 ounces of lubricant and offers up to 6000 psi. As this thing comes in different colors, you get color variety, so it can be a vibrant addition to your collection of grease guns.
Although this is a solid gun that will definitely get the job done very well, it may not be the most user-friendly. The manual, too, is not the best, so there can be a learning curve. However, other than that, this is a pretty good grease gun.
If you are looking for a grease gun to grease your tractor mower or anything else with the best results, this can be just what you need. This thing is also slightly more expensive than a lot of the other products mentioned here, so keep that in mind when making a choice.
Solid gun quite durable
Easy to load
Tightly fitted nozzle to prevent leakage
Does a great job
3. REXBETI Grease Gun, Premium Car Grease Gun Set with Flex Hose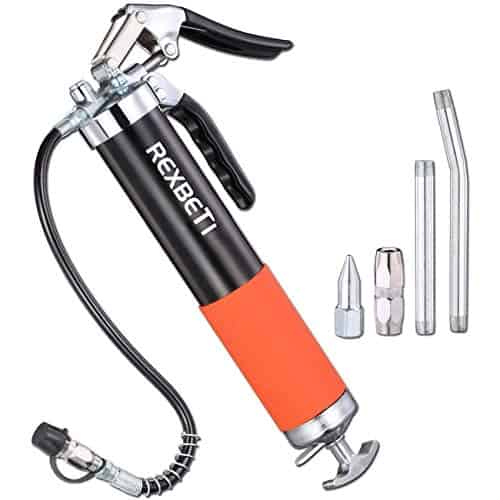 The next grease gun is an excellent one for professional use. This REXBETI grease gun is a solid gun that is able to handle any situation you throw at it with complete ease.
For building this product, they used steel to make it have a durable and sturdy construction. That means it will also perform well even in harsh conditions. To give you a better grip in case of slippery situations, this thing has an orange rubber sleeve wrapped around the barrel at the bottom half. Not just that, its strong handle gives enough leverage for you to work comfortably all day long.
This grease gun brings you an 18-inch flex hose, two whole metal extension tubes, two reinforced standard couplers. Hold on; it does not end there! With this thing, you even get one extra fine type nozzle.
Inside the grease barrel, you will find a second-generation spring which is many times thicker and powerful than any typical spring and exerts great pressure onto the plunger the whole time.
The gun features an air release valve design, which allows the trapped air to easily escape when new grease is added and pushed to the head. All you need to do is press the valve and do the work with ease. The only small issue that may come up here is that the zerk fitting may be a bit hard to remove.
All in all, this is one of the best grease guns on the market right now. It is very easy to operate and the manufacturers have even added just a bit of lubricating oil so that the product does not rust easily.
Easy to operate
Includes an extra nozzle
Features a very thick and powerful spring
Offers great grip
Zerk fitting can be hard to detach
4. Plews and Edelmann LubriMatic 30-800 4500 PSI Pistol Style Mini Grease Gun
There are times when you are using a greasing gun, but you just cannot reach certain places and corners. If that is one issue that you face a lot, we have a solution for you.
This LubriMatic grease gun is known for getting the job done by giving you access to those hard to reach places. And this is actually possible thanks to the 12 inches long and flexible hose that can get to even the smallest corners. It is very easy to assemble, so you can just set it up and get to work as soon as you get it.
Thanks to the textured barrel, you will find that this particular model has a very good grip. That means you will have a consistent grip and can use it for hours without feeling discomfort. This thing is also quite easy to use, and at such an affordable price, it does not leave much room for disappointment.
There is no doubt that this grease gun is very well built and made for heavy-duty. Not just that, this product also has an output power going up to 45000 PSI. This model features a locking, balloon-ish plunger that makes sure you get decent priming and that it is sealed tight while in use.
However, there have been some complaints about it being a bit difficult to prime. So, if you are looking for a good and affordable grease gun, you should definitely consider this one. It is quite sturdy and surely gets the job done perfectly.
Flexible hose gives access to unreachable places
Well-built and long-lasting
Easy to assemble
Affordable
5. Astro Pneumatic Tool 101 Mini Grease Gun
Finally, the last product (which is by no means the least) that we will be telling you about is the Astro 101 mini grease gun. This retro-looking model is just as good as any of the others on this list.
First of all, this a very affordable grease gun that has been made for heavy-duty tasks. It is quite a lightweight product that comes with a needle nozzle, which is easy to use even with one hand. This thing can very well hold up to 3 ounces of lubricant and does an overall great job at greasing.
You can use this gun to lubricate mechanisms of different things with complete ease, even if they do not have a grease type fitting. This is a 10.4-ounce product, which very good for getting access to hard-to-reach places and tight corners. Not just that, the gun is also quite simple to use.
It is pretty easy to get started with this thing. First, you need to remove the nozzle and fill the container with grease. Then to prime the product, lightly secure the nozzle, and use a screwdriver to exert pressure into the container.
Finally, just tighten the nozzle and add pressure at the base when you are using the gun till the lubricant is released.
However, one thing you should note here is that this thing does not have a hole in the nozzle. This can be somewhat of an issue for some. Other than this, this really one of the best grease guns on the market right now. It is affordable, durable, and just does an overall great job at greasing.
Will last a long time
Lightweight and affordable
Can get hard-to-reach places
Easy to use
What to Look for Before Buying the Best Mini Grease Gun?
So now you know all that you need to know about these products. However, the work does not end there. There are some things that you need to consider when buying a grease gun so that you can find the right one for yourself. Below we have a list of things you should look out for when purchasing a grease gun.
Size
Since we are telling you about the most authentic mini grease guns, let us assume you are looking for something on the smaller side. Ensure it fits perfectly in your hand and that it is not too long or uncomfortable to hold.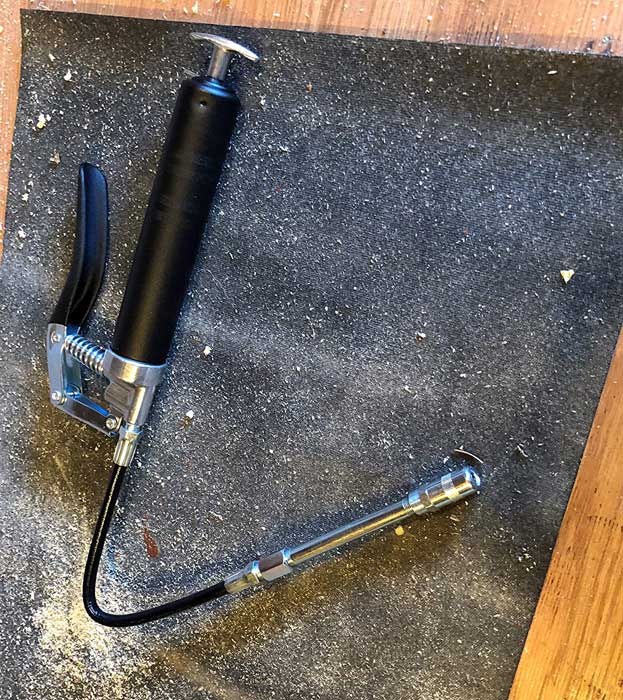 Otherwise it is not what will be best for you in the long term, especially if you intend on using the gun regularly.
Ease of Use
Speaking of discomfort, you should make sure the product you are buying is also easy to use. Different guns will have their own ways that they need to be operated. Using these should not be something very tricky, so try to get something that you find easy to operate.
Type of Grease Gun
Another important thing you should think about is the type of grease gun you want. These things come in many different forms, shapes, and sizes. The type of engine it uses is important when it comes to performance and precision.
They can be operated by a pump, use a lever, be cordless or air-operated, or have a pistol grip. Just take some times to do a bit of research on how each of them varies to see which one you like best and then make your choice.
Special Features
These things usually each come with different features. The features are not ones absolutely necessary, but can still be quite helpful to have. Among these features, you will find LED lighting, digital handling, along with a lot of other good ones.
Some of these can be a manual gun or even have an automatic feature. Just take a look at what features you think will be useful for you and make a choice for a gun accordingly.
Accessories
Many different companies tend to include certain accessories with guns. Some of these include extension cables, clamshell, or even just an extra nozzle that can come in handy. So these sorts of deals can be great, especially if you get it at an affordable price.
Price
So all the things mentioned should be considered when buying a grease gun. However, the first thing you need to take a look at is your budget because, let's face it, no matter how good a product is, it does not matter if it pushes you out of your budget.
That is why you need to carefully consider which one is the best option for you financially as well. A lot of the good quality products you see can be quite expensive, but that is not always the case. There are some excellent but reasonably priced grease guns on this list that may be just what you need.
Final Words
Well, this is all you need to know about these products. We hope you found this review helpful and insightful. Remember that finding the best mini grease gun does not have to be a difficult task.
Just follow our buying guide and see if any of the mentioned products tick all your boxes. With this, we believe you will have no trouble finding the right grease gun for yourself.
Read Also: