When you start cooking at home and controlling what you put in your body, you retrain your palate to prefer healthier foods. And the sustenance you once craved day and night starts to seem too much; too sugary, too rubbery, and too much processed.
Such as pasta! After you have ever made pasta from scratch, there is no going back to the boxed stuff. And if you have never tried because it feels too daunting and troublesome, do not worry. All you need are some basic ingredients and the best electric pasta maker that you can find. 
Here, we have a detailed review of 10 pasta makers to help get you started, along with a little buying guide as well.
---
---
Our 10 Best Electric Pasta Maker Reviews:
If the stress of rolling and cutting out doughs stops you from making your homemade pasta, a pasta maker will help you immensely. They all have excellent and unique features to look out for, some that may even surprise you.
1. Philips Pasta and Noodle Maker Plus HR2357/06
If you are planning on purchasing a pasta maker from Philips, I can already see the beads of sweat rolling down your forehead. While their products might seem to have similar features, you do not want to purchase one only to find out the other choice is significantly better.
The Pasta and Noodle Maker Plus is based on one of the company's original designs. It has been built to reduce the workload of the cook as much as possible by automatically mixing, kneading, and stretching out dough.
So, if you are a really big fan of quick dinners or just too lazy to do more than the bare minimum, this electric machine will be your new best friend. Seriously, you just need to add the ingredients, and you will get ½ pounds of pasta in less than 10 minutes from this Philips Compact Pasta Maker.
Since you can use any ingredient that you want, you do not have to stick with the plain old recipe every time. It would be so much fun to just go a little crazy with what you add and try different flavors every pasta night. Maybe you will stumble upon your very own secret family recipe!
There are four shaping discs to choose from: spaghetti, fettuccini, penne, and lasagna. You also get a couple of measuring cups, a recipe book, and some cleaning tools with this automatic pasta maker. When it is time to clean, just dismantle the parts, throw the attachments in the included storage drawer, and put them in a dishwasher.
Automatic shut-off feature in case the motor overheats
Mixes and extrudes dough quickly
Includes four discs to shape pasta with
Includes a storage drawer and a recipe book for convenience
Bulky design and can be inconvenient to store
Expensive
2. Hamilton Beach Electric Pasta and Noodle Maker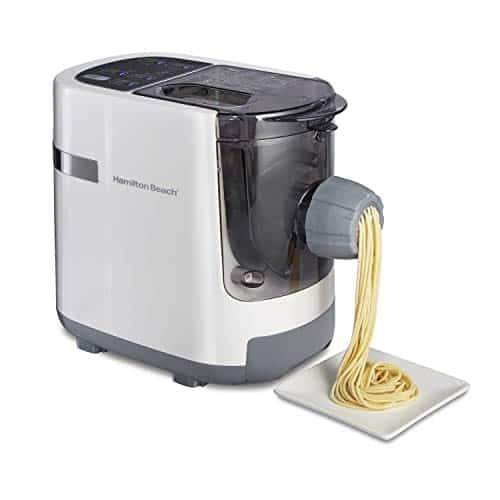 This Hamilton Beach machine goes way beyond what is expected of a normal homemade pasta maker. It offers many features and accessories, all at a very reasonable price.
The machine does the work for you, starting from mixing the dough to kneading it and then extruding fresh pasta sheets with just the right amount of thickness.
On top of that, you can forgo drying your noodles out and save more time. Boil them right away, and they will still hold their perfect shapes when you are done.
Not only can you customize your recipe with this device, but you can also choose to create multiple variations of noodles with the 7 shape discs included. Besides the common shapes such as spaghetti, lasagna, penne, and fettuccini, you can make thick spaghetti, angel hair, and wide noodles as well. 
If you are into macro counting or are interested in tracking your nutrition intake, there is an internal scale that weighs the ingredients for you. The screen on top will display the calculated ratio of flour to water.
Just add any flour you want, select your desired function, and the machine will tell you how much water to pour.
All you need to ensure is that you have the fresh pasta ingredients to get the best taste. 
Starts boiling right away as no drying time is required
The pasta extruder includes seven custom discs
Reasonable price range
The instruction manual provides tips for novice pasta-makers
Not long-lasting
Needs to take multiple attempts to get perfect batches
3. Razorri Electric Pasta Machine and Ramen Noodle Maker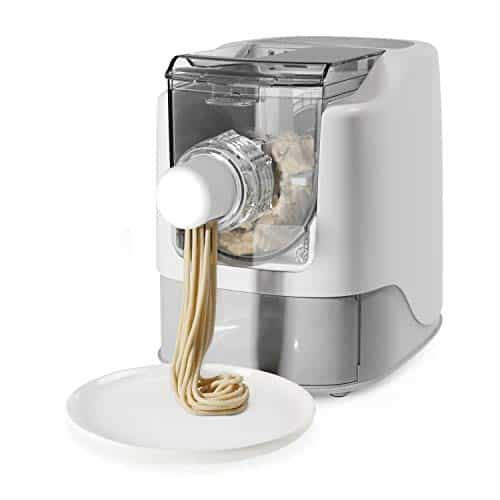 If you are tired of pasta and noodles and want to have something different for a change, this Razorri electric model has just the right features! Not only can you have the perfect ramen noodles, but you can also even make dumplings.
Start by adding your choice of flour to the basin, press the function for kneading, and then begin pouring in the liquid. And you are done. No more daunting manual labor to put you off. You also do not need to wait for the noodles to dry before cooking.
If you fancy yourself a chef or just want to make complex dishes, replace your basic dough recipe, and add eggs, vegetable juices, or other spices. Just make sure that the finished dough is a little too dry to avoid clogging up the pasta maker.
And with the thirteen different pasta discs included, not only can you get 3 kinds of fettuccine, but also spaghettis of any thickness you want. There are also discs for udon noodles, macaroni, orecchiette, triangular pasta, sliced noodles, and even dumpling wrappers.
Operating this fully automatic pasta machine is a breeze. And so is the cleaning process. Just pull apart the removable parts and throw them into the dishwasher. 
Added features for ramen and dumpling wrappers
Get a variety of noodles with thirteen different discs
Fully automated, so it allows you to focus on the sauce and other add-ins instead
Removable parts are dishwasher-safe for easier cleaning
Made with plastic, so offers lower texture quality than traditional metal
The wet dough gets stuck in the machine
4. Imperia Pasta Presto Non-Stick Machine
CucinaPro has been manufacturing pasta makers for a while now, and it has gone all out for its Imperial Pasta Presto. After all, who else can make pasta better than the Italians?
The silver-finished machine is quite large but would fit nicely on your countertop due to its sleek and modern design. It has been built heavy-duty and works as a standalone device with none of the fuss of anchoring it down.
Moreover, the pasta rollers are hidden away under the lid, which you can control with a knob setting. Just turn the dial to the level of thickness you want, and the dough will stretch out from thick to thin in a matter of minutes. Remember, you must always start with the widest setting. 
There are 6 levels for you to choose from. So, if you have a family of picky eaters who have a very specific preference, you might be eternally grateful for this feature.
Wait, there is more. There are two integral cutters included that cut your dough into two different widths- tagliatelle and fettuccine. But if you are looking to make other kinds of pasta, then sadly, you need to purchase the pasta attachments separately. 
This Imperia Pasta Machine is super easy to operate. So, if preparing dinner in your household is a family thing, your children can be on pasta making duty! They will have a lot of fun putting the dough in and watch it stretch out. 
Has six different thickness settings, you can choose the one your family likes
Comes with standard cutters
Has a non-stick coating for easy cleaning
Can attach extra cutters to make different pasta shapes
It is expensive
You need to prepare the dough beforehand
5. ANTREE Pasta Maker Attachment- 3 in 1 Set
KitchenAid Stand Mixer attachments are highly favored when it comes to making pasta. There are few alternatives that are as well-reviewed and adored as them.
And while this 3 in 1 pasta attachment is manufactured by ANTREE, it deserves a spot on this list. You can strap it onto any KitchenAid mixer you want, except model K45SS, and it will give you perfect pasta sheets every time.
It is a single device with three different settings. You do not need to bother switching between different options or go hunting for that one particular setting you want. This makes using the attachment so much easier.
The tool is also small, which makes it very convenient to store. It is also robust and easy to clean. Remove the plastic hatch to expose the electric pasta rollers and cutters underneath and clean it with water.
Also, the stainless-steel blades in the pasta roller, spaghetti, and fettuccini cutter transmit uniform power to get an even layer of pasta. It rolls out 5.5-inch sheets with 8 different thickness options. You can complete all 3 steps together, saving time and getting consistent thickness at the same time.
There is no need to hang the rolled-out dough, and you can proceed to cut and nest the pasta right after sheeting.
Easy to use and includes a brush for easy cleaning as well
A single attachment that allows you to roll and cut pasta without having to switch
Convenient storing with flat sheets and desired shape
Budget-friendly option for quality pasta
Only compatible with KitchenAid Stand Mixer, but not all models
Can only cut into spaghetti and fettuccine and doesn't extrude pasta
6. MARCATO Atlas 180 Pasta
Why would you buy a manual pasta maker when you can get a device that will allow you to get the best pasta with twice the flavor and in half the time?
The Atlas Pasta Machine can produce wide sheets of pasta, reaching up to 180 mm, in mere minutes. It is from the classic Marcato line, designed with wide rollers and bayonet fittings to get a perfect consistency every time.
No matter how many batches you make, each of the strands will have a uniform shape, cooking time, and flavor.
The anodized aluminum alloy rollers guarantee that your pasta will be fresh and wholesome, with no toxic substances leaching onto the dough. There is an adjustment dial that allows you to choose from 10 different settings, reaching as low as 0.6 mm and as high as 4.8 mm thickness.
While this manual pasta roller machine can be used as a standalone, it can be combined with other Marcato products for a better experience. You can attach a Pasta Drive Motor to reduce the preparation time even more.
Unfortunately, unlike the Atlas 150 model, you cannot use the 12 extra cutting accessories. This can be a bummer if you like trying out different textures every other time.
Equipped to attach Pasta Drive Motor to make your work easier.
Materials used in the rollers do not leach harmful substances into the dough and keeps it fresh and healthy.
Can prepare large quantities of pasta.
Has 10 different thickness levels.
Not ruggedly built to last.
7. Philips Noodle and Pasta Maker Plus HR2357/05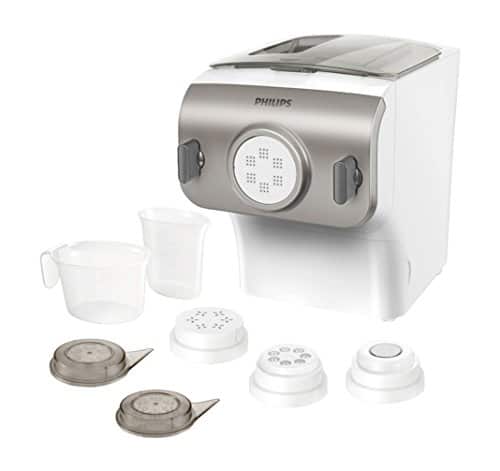 We have another model of Philips pasta maker here for you! It is an older model of the one we have listed above and has almost the same features and slightly cheaper pricing.
The design of this machine is bulky, taking up a lot of valuable counter space. You might need to dedicate a space to permanently place it as it is too large to store in cabinets or drawers.
Along with the 4 pasta shape discs that this maker comes with, there are some additional ones to purchase and add to your collection. You can store all of them including the cleaning tools in the hidden drawer at the bottom of the machine. The measuring cups included also fit perfectly into the main unit.
It is so easy to operate that your children can be on pasta-making duty! Besides the on/off and start/pause button, you can also switch out the discs and make several shapes from a single batch of dough. You can also choose the serving size with just the press of a button.
There are 2 pre-set programs so you can either extrude pre-made dough or use the machine to mix, knead, and roll it out for you. Thanks to the measuring cups included, you can get perfect batches every time without any added hassle.
Automatically turns off if the motor overheats
The machine will not operate if the lid or die isn't secured for added safety
Effortless dry, effortless liquid measuring because of the measuring cups
Worth the price tag
Small opening to pour the liquid in, so it may get messy
8. BELLA 4-in-1 Automatic Electric Spiralizer and Slicer
This electric spiralizer and slicer has many versatile uses, starting from quickly cutting healthy veggies or fruits to cutting up doughs into noodles, spaghetti, or ribbons.
One of the best things about this device is that it spruces up dishes as simple as salads into something fancy-looking. It makes it look like you have spent hours in preparation, whereas the hands-free feature of this device ensures the complete opposite.
All you must do is insert the veggie, lock it in, and flip the switch to watch it work.
This 4-in-1 device has 4 blades for you to work with and can create perfect spaghetti, fettuccine, ribbons, and linguine. So, if you are looking for some gluten-free alternatives to your traditional pasta, just feed your 6" produce into the appliance, and you are good to go! Only takes a few seconds.
It is tiny and compact, so you do not have to worry about storage much. Despite its look, it can handle hard veggies like carrots and butternut squash and spiralize it like butter. It cuts up all but half an inch of the food you insert, so if you want to minimize wastage, pop the leftover into your mouth for a quick snack.
While this machine is really handy, it is not built to last. It cannot handle the continuous strain and can snap apart.
Allows you to make gluten-free pasta alternatives in seconds
Easy cleaning process with the included cleaning brush
Hands-free feature to decrease manual labor
Reasonably priced
Not durable
Can insert max 6" of food
9. Shule Pasta Maker Machine
This appliance is one of those machines that will give you the best of both worlds. It gives you the option to use the hand crack and manually roll out your pasta or the speed setting option for faster output.
With a beautiful stainless-steel finishing, the Shule Italian pasta maker is really easy to operate. There are 7 or 9 position dials to achieve your desired level of pasta thickness. So, rotate the dial to churn out the type of pasta that you want. 
You can get the dough as thin as 0.5 mm and increase it till you get 3mm at max. The anodized aluminum blades used are wide and can roll out up to 150-mm wide noodles.
The 110-volt motor equipped within allows you to choose between 2 speeds. After you are done, you can even remove it for more efficient cleaning. However, do not use water and instead wipe it with a cloth or dry brush.
While most pasta makers offer cutters to make the standard spaghetti or linguine, the 2 cutters included with this machine are slightly different. You can use one cutter to make capellini and lasagnette and use the other for making ravioli.
It is small and lightweight, so it will not take up too much of your valuable counter space. Perfect if you have a small kitchen!
Ability to operate the machine automatically and manually
Affordable price range
Adjustable position dial to reach preferred thickness
Easy to clean by wiping or dry brushing
Limited instructions for assistance
The speeds are limited
10. Norpro Pasta Machine Motor
This pasta maker machine is not only a favorite of novices and beginners but also professional chefs who love whipping up scratch-made pasta!
The design and style of this machine are stunning. With chrome-plated steels for the body and nickel-plated steel rollers, you get a retro vibe from it. The metals are non-corrosive and are not subjected to rust easily.
You can tuck it away in a kitchen cabinet after use if you prefer it that way, and its compact dimensions make it a snug fit anywhere. This appliance gets major points for portability and storage.
Besides, you can easily follow the instruction to set up the great pasta machine and for step-by-step operation. Nothing too complicated, and the instruction manual details everything important that you would need to know.
The recipe book that comes in the original packaging gives you a basic guideline of the recipes you could make. If you do not know how to start, it gives you tasty and unique recipes to play with and tweak as you level up your culinary skills.
And no matter what ingredients you prefer, you will get impeccable results every time. It can roll out 1.5 mm vermicelli-spaghetti and 6 mm fettuccine along with fresh pasta sheets with all kinds of ingredients.
It is super affordable and will give excellent performance for many years to come.
Beautiful and stylish design
Highly durable
Safer food preparation due to the body materials used
Can increase efficiency and versatility by combining with other Norpro appliances
Needs purchasing attachments at an additional cost
How to Choose the Best Electric Pasta Maker For the Money?
If you ever thought of pasta-making as cumbersome and overwhelming, getting an electric pasta machine would highly ease some of your worries. But before you decide which pasta machine to get, check out the detailed points below to help you out. 
Type of Pasta Maker
One of the main reasons to get a pasta maker is to make the whole pasta making process easier for you. You want a device that would mix, knead, and stretch the pasta dough in the least amount of time. One that would make no mess and would be super easy to clean. 
But if you don't mind a little manual labor and even enjoy making the pasta dough by yourself, then you can instead choose a machine that would help in rolling and cutting only. You would get fewer varieties, but it would be a more pocket-friendly option.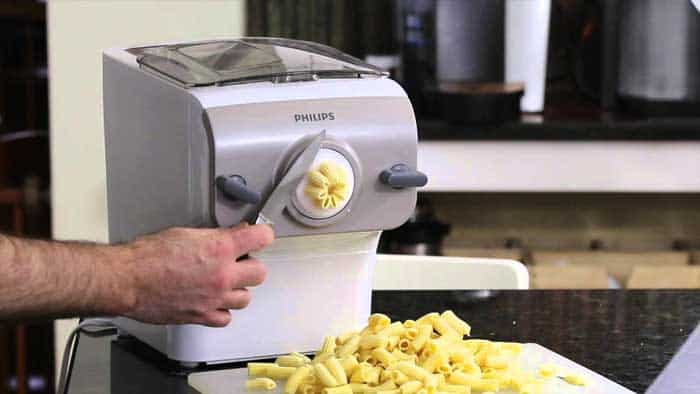 There are also some machines that have both of these settings, so you can choose whichever according to your time constraints or your mood. Check the different machines available beforehand if you want the best of both worlds.
Design and Build
You can't help but think about how beautiful the new appliance would look in your kitchen. The sleek and modern designs that manufacturers have come up with for their products make them look so much more enticing and harder to resist.
However, some products may have to permanently take up residence on your countertop. They might have the right features, but they are much too large to store in cabinets or drawers. Their weight also makes it highly inconvenient to free up valuable space.
So, if you have a small kitchen, you might want to think about the design and build of the appliance you want to add to your collection.
Body Material
Not only is the outside look of the appliance important, but learning about the materials used to make the body is also super necessary. There are two kinds of pasta makers available in the market: metal and plastic. And they have their advantages and disadvantages.
Metals might be sturdy, but they rust easily. This makes the product entirely useless and throws your investment down the drain. You need to do regular maintenance and ensure that the appliance is thoroughly cleaned and dried after every use.
On the other hand, pasta makers made of ABS plastic do not have such similar issues.
But besides the cleaning factor, the body materials also affect the textures of the pasta. Metal blades and rollers create a better-quality texture and are more consistent compared to plastic ones.
Attachments and Shaping Dies
Nothing is more boring than having the same kind of food every day. It is the same thing when it comes to having pasta. While you might have preferences, you still want to have different attachments in stock in case you decide to change things up randomly.
Every appliance includes a few shaping dies as well. You can get various kinds of homemade noodles and pasta along with dumplings and momos. Also, extra drying racks as attachments are available if you want to prepare large quantities and wait before cooking.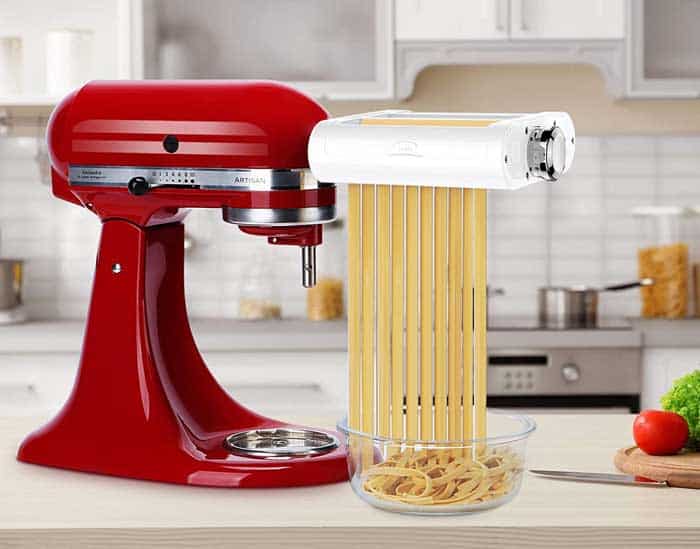 If you have kids, you also want to keep their preferences in mind before making a purchase. Their choices are fleeting and dynamic, so it helps to have a few different accessories in hand.
Speed
You do not want your pasta maker to reduce the workload for you only to take hours to prepare. Most appliances make ½ pounds of pasta within 10 minutes, while some can take 25 minutes to prepare the same amount.
Cleaning
Pasta doughs are very messy to work with. They get into nooks and crannies that you did not even know existed. Moreover, your dough needs to be a little dry as well, or it may clog up the machine.
Your appliance should be easy to clean, or it will jam up and be useless after a few uses. Some even come with cleaning brushes or scraping tools to help make the whole process easier. And then there are a few appliances that have removable parts and are dishwasher-safe.
Durability
Opt for brands that have a renowned brand image of excellent quality and service. Reading through reviews might enlighten you about the durability of the appliance. You don't want to spend hundreds of dollars on one appliance and have it die on you before you can get the proper return value of your investment.
Cost
Pasta makers can cost a fortune, especially the fully automated ones. However, they are worth the investment since they do everything, starting from mixing the pasta dough to cutting into different shapes. 
But, if you're still unsure, you can start your pasta-making journey by getting different stand mixer attachments or even pasta rollers. They are much cheaper and would be perfect for you if you are a newbie.
How to Make Pasta Using a Pasta Maker?
When you've tried making your homemade pasta, there is no going back. It is well worth the effort. And with the help of a pasta maker machine, you'll be a pro in no time and would shudder at the thought of box dried pasta ever again.
So, if you have recently purchased a manual machine, check out the steps down below.
Step 1: Add the ingredients
Combine all the ingredients. You will only need some basic ones, such as all-purpose flour, eggs, and salt, which would be readily available in your pantry. Try other alternatives if you want gluten-free or healthier options.
Step 2: Mix the pasta dough
Incorporate the flour into the center after you have finished whisking your eggs. Your dough should be sticky at the end.
Step 3: Knead the dough
Spread some extra flour on your workbench and begin kneading the pasta dough. Press firmly with the heel of your hand and fold it with the other hand. Turn it slightly before repeating. Continue kneading until you end up with a smooth and fluffy dough, which would take around five minutes.
Wrap it in cling film and let it rest somewhere warm.
Step 4: Divide the dough
Cut the pasta dough into 4 equal pieces using the widest setting of your pasta maker. Some machines need to be strapped onto the surface beforehand, so ensure that it is properly done.  
Step 5: Flatten
Choose any one piece and re-wrap the remaining pieces in plastic again.
Step 6: Roll
Feed the flattened dough through the rollers, beginning along the width of the rectangle.
Step 7: Fold the dough
Fold the dough from both ends until it resembles a formal letter, having three layers in total. Lightly press on top of the pasta dough to flatten it further. 
Step 8: Feed the dough again
Beginning with the narrower end, run the dough through the rollers again. Make sure that the machine is set to its widest setting. You can repeat steps 6-8 for 5 times.
Step 9: Get your pasta sheet
After repeating the last steps, adjust the dial to the narrowest setting and roll the pasta again. You can have somebody to assist you so that your sheet doesn't tear up. Adjust the dial and follow through again until you reach the perfect consistency.
Step 10: Time to cut
Attach the cutters and feed the pasta sheet through them next. Use your arms to catch them so that they do not clump together.
Read: Thin Waffle Makers Compared
Step 11: Drying your noodles
If you have purchased an extra drying rack, you can drape your homemade noodles over them until it is time to cook. Or you can spread them over a sheet pan dusted with cornmeal.
Step 12: Cooking time
Boil the noodles in a large pan along with a little salt. Drain it after it's done and serve with your favorite sauce.
Make Pasta with An Automated Machine
If you have a fully automated machine instead, the steps are even easier.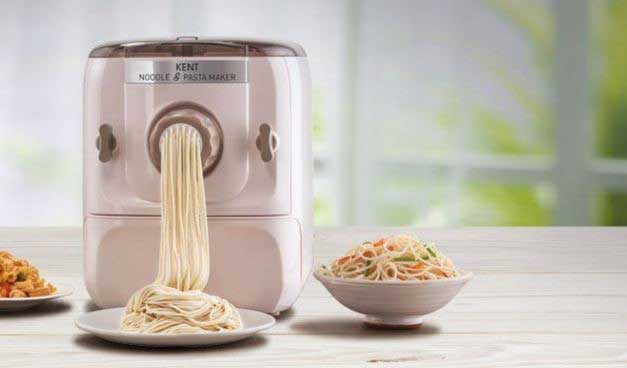 Step 1: Add the dry ingredients.
You can experiment in any way you like when using automated machines. First, add in your dry ingredients. The scales will calculate the flour to water ratio and tell you how much to pour.
Step 2: Add wet ingredients
In this step, you can pour in your wet ingredients now. It doesn't have to be water and can be eggs, vegetable juices, or any other alternatives.
Step 3: Press to prepare the dough
Turn on the machine, and it will start mixing. In 10-15 minutes, you will have a fully prepared dough.
Step 4: Adjust the dial to get your preferred thickness
After kneading, the dough will start to thin out to your desired level of thickness. You can adjust it using the knobs.
Step 5: Cut your pasta
Use the shaping dies next to get the type of pasta you want. You can purchase extra attachments if you do not like the ones your unit came with.
The rest of the steps are pretty similar to that of a manual machine. Now, making pasta could not be more effortless.
Final Words
Homemade pasta is delicious, full of flavor, and much healthier. Having a pasta making machine will make your life a lot easier and will make family dinners so much fun.
The best electric pasta maker for you would be the one that would cater to your needs and contains the features that you are looking for. All models have unique characters that are worth checking out, but all models in this list are excellent and well worth the investment.
In case you need a kitchen sink, we have an in-depth buying guide on luxurious yet cheap kitchen sinks for granite countertops. Or you may want to have a powerful blender that can crush ice and frozen fruits? We have reviewed that too!

Plus, consider reading our guide on specific dishwasher safe knife sets, chef knives in budget, and tomato cutting knife reviews.