When it comes to rotary tools, Dremel is a name you will hear everywhere. And that is all for a good reason — they are one of the veterans when it comes to these kinds of tools.
So, let's say you want to use one of their tools to cut metal. That means you will need to use their bits too. However, the only issue is that there are so many options that might overwhelm you.
Well, let us help you find the best Dremel bit for cutting metal. Below you will find some rather impressive products that we think will put a clean cut on the metal and a smile upon your face.
---
| | | | |
| --- | --- | --- | --- |
| | | | |
| | | | |
| | | | |
| | | | |
| | | | |
| | | | |
---
5 Best Dremel Bit for Cutting Metal Picks:
Dremel has a plethora of accessories and bits available for you to choose from. However, in terms of cutting through metal, knowing which one to get is necessary.
1. Dremel EZ688-01 Cutting Discs
First off, we have an 11-piece set that cuts through metal without a hiccup. Upon receiving the box, you will first notice the nice little storage box it comes in.
But let us talk about the most important bits (pun intended). Firstly, you get a decent quality mandrel. The difference between this mandrel and the others is that you do not need screwdrivers to lock the bits in place with it, thanks to Dremel's EZ Lock system.
It is also a one-piece design; hence, changing accessories consumes less time. Moreover, it is effective for cutting anything from metal to plastic. You will also find four cutting wheels. And as we are talking about cutting metal, the products need to be durable.
Therefore, these wheels are fiberglass reinforced — you can even cut hardened steel with them. You will get three thin-cut cutting wheels as well. These are great at providing a precise cut.
Moreover, you can cut into bolts and screws with ease. You also get three plastic cutting wheels in the package, but we will keep the discussion focused on metal. When it comes to the price of these bits, they are reasonably priced too.
They are durable and long-lasting
Switching the accessories is simple
Color-coded to help with identification
You can use these for various purposes
Reasonably priced
The insertion point occasionally separates from the body
Locking piece could be much better
2. Dremel EZ406-02 Cutting Disc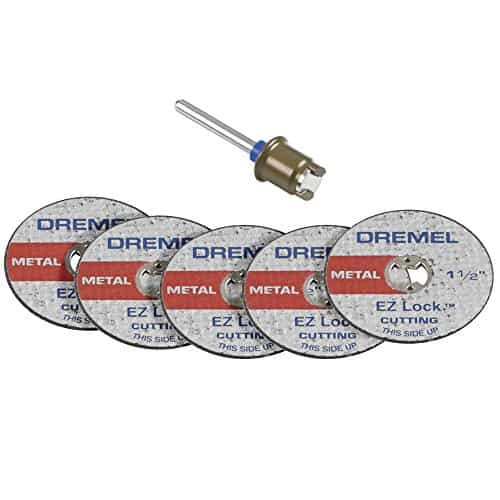 Here, we have a package consisting of five cutting discs. It has a 02 at the end of its name because it contains a mandrel that comes from Dremel's very own EZ402. And it inherits the same efficient loading functionalities, as you can guess from the name.
This feature is something we like about Dremel's products. Many products in this category usually do not make switching between bits very efficient. The switching process consumes a lot of time, depending on the product.
But thanks to Dremel's patented system, doing that has become much simpler. There is a little caveat, however. Since this was the first product that adopted this system, some customers have complained about EZ Lock's stability.
And we, too, feel that it could have been somewhat better. Yes, the blades are reinforced with fiberglass, and their working diameter is around 38.1 millimeters, with a thickness of 1.1 millimeters, but you can use these only with an EZ402 mandrel.
With the impressive build and reinforced materials, you can cut through tough objects like hardened steel and steel sheets. They come at a reasonable price, too.
Includes an EZ402 mandrel
The cut-off wheels are durable
Reinforced with fiberglass
Well-suited for cutting bolts, metal, or screws
Budget-friendly
EZ Load mechanism could have been better
Not very quick at cutting bolts
3. Dremel EZ456 Cutting Disc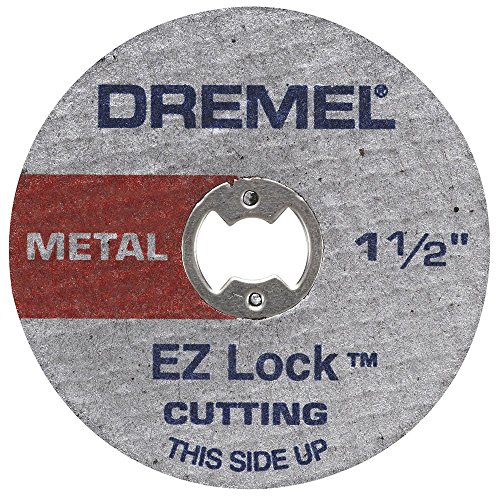 With many discs, you will realize that they wear out fairly fast, and the edges do not cut as effectively as they used to some time ago. Manufacturers have tried to come up with various materials and coatings to prevent that from happening.
Our third pick does a remarkable job at that. As with most of Dremel's quality cut-off discs, these are reinforced with fiberglass to achieve better durability and strength. But it does not end at the fiberglass coating.
Compared to most standard fiberglass coated cutting discs, these last up to twice as long, even after long usage periods. You can use them on ceramic, metal, or wood and still achieve superb results.
Its working diameter is 1-1/2″, and the thickness of the blade is 1.1mm. However, there can occasionally be a slight issue. When you get close to the disc's center, it does not have as much strength as it does with its full body.
As usual, these discs are compatible with Dremel's EZ Lock feature. This mechanism helps save a lot of time and strength. And as with their other products, this one's accessories are color-coded to improve your experience.
Uses fiberglass for improved durability
Sturdier than standard reinforced discs
Comes as a pack of five
Optimal diameter of 1 ½ inch
Easy to take off and switch
Somewhat brittle near the center
The locking mechanism leaves room for improvement
4. Kuenuilr Cutting Wheel Set
'Cutting discs for Dremel tools that are not from Dremel?' is what you might be asking yourself. Well, these products from Kuenuilr are going to blow that question away.
For one, this is a 36-piece set of tools, which is probably more than you expected. At first, you will find 6 HSS (High-Speed Steel) saw blades. These blades are great at cutting metal due to their remarkable heat-resistance and toughness.
Moreover, you get five different options as to their diameter, providing the granular control you need. You will also get six resin cut-off discs. Thanks to their material, these bits will generate significantly lower heat.
Furthermore, these do a superb job of making thin and precise cuts. Therefore, you can use them for things like cutting metal circuit boards and various kinds of chassis.
Then comes the diamond cutting wheels. As you already know, diamonds are one of the toughest materials that you can find in nature. Its usage means you can use the ten pieces of diamond cutting wheels for various purposes. You can even cut gems with these. And for the price that these come in, they are a steal.
Comes with two screwdrivers
Great for various purposes with 36 pieces
HSS blades have five options for diameters
Reasonably priced for the quality
Resin discs produce less heat
Some users reported the bits bending
The quality of its build could be better
5. Yeezugo Cut Off Discs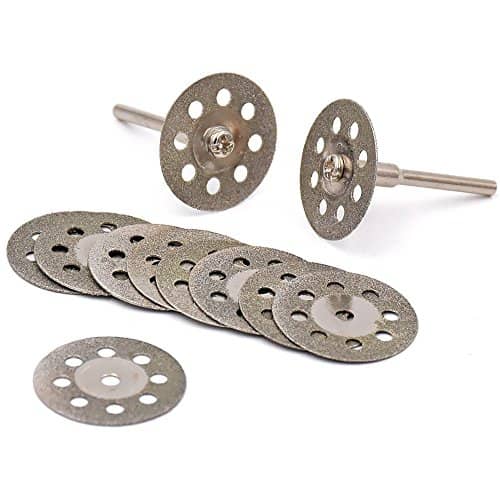 We have reached the last of our list — another great set of tools not manufactured by Dremel. This time they are from a brand named Yeezugo. These are a pack consisting of ten pieces of diamond cutting wheels.
Let us talk about the diamond coating first. As we know, diamond is among the ten toughest materials in existence, be it natural or artificial elements. So, as you can imagine, cutting metal is a cakewalk for these tools.
Not just metal, you can cut through gems, rocks, aluminum, or any other tough materials with discs like these. Hence, even though you get ten pieces of similar products, they are versatile enough for you to accomplish a slew of tasks.
One issue with many cut off discs is the heat that is generated while cutting through metal. And this is not unusual at all — the sheer friction is enough to get these tools insanely hot. These products have some breathing holes to help with heat reduction to alleviate that.
Moreover, these holes also help you in avoiding the build-up of debris around the bit. And in terms of the diameter, these ones are 22 millimeters, and the mandrel is 3 millimeters, which is pretty standard.
Breathing holes help reduce heat
Diamond cutting discs
You get two mandrels out of the box
The coating is dual-sided
Uses carbon steel as the main material
Lack of options
Included mandrels are not as impressive
Dremel Bits Buying Guide
These bits are quite versatile and durable at their job. However, to ensure that you achieve their full potential, you need to use the right ones for the right jobs. Here, we will explain some fundamentals that you might come across when shopping.
Diameter
The diameter of a drill bit determines how wide or narrow the hole that it drills will be. You can find drills of various diameters (e.g., 1/16 of an inch, 1 inch, etc.). The diameter of your tool should solely depend on the type of work you are doing.
Materials and Coating
Of course, this is probably the most important thing to notice about a cutting disc. Although these products are usually of good quality, knowing the materials used is crucial.
Fiberglass
As we know, to cut through an object, the cutting tool needs to be tougher. This is why a huge chunk of Dremel's creations is coated with fiberglass, enabling them to easily cut metal objects.
Hence, fiberglass is not a bad bet if you want to work with metal. However, trying to cut something too tough with these might not do very well for you.
Cobalt
Cobalt is a possible choice for you when it comes to working with metal. Although they are slightly more expensive when compared to traditional materials, they might also last a little longer.
High-Speed Steel
High-speed steel is a tough steel that deals with heat pretty well. Moreover, when compared to something like high-carbon steel, you can achieve a significantly better cutting speed with these. Hence, these are a worthy choice with reasonable pricing.
Carbide
Carbide is a well-known material for cutting bits. And since carbide is extremely resilient, you can cut through metal effortlessly with these. However, carbide does tend to be more expensive.
If you need to drill even tougher materials to cut things like fiberglass (although unlikely), you can find bits completely made of carbide. These are known as solid carbide bits. As you can imagine, these are likely to cost more.
Diamond Coating
As you know, diamonds are an extremely resilient material. It is not just metal, the diamond coatings are used for cutting through materials much stronger than metal. You might be wondering about the price at this point.
They are not as expensive as one might think, but the price difference is somewhat noticeable. Moreover, most people don't require tools of this sort.
In the end, it depends on what materials and coatings you want for your specific workload. If you do not need to drill through objects that are known to be very rigid, many of these expensive ones would be way overkill.
Black Oxide, Bronze Oxide or TiN Coatings
While cutting bits are typically not made with these products, you might sometimes find products that are said to be coated with these. Black oxide is a coating that helps reduce the heat and friction.
TiN, AKA titanium nitride, can play a role in making your drill bit tougher and increasing its lifespan, in turn. But you can also find a coating called titanium carbonitride (AKA TiCN).
TiCN coatings are great for resilient materials such as cast iron or stainless steel. While TiN coatings look golden in color, TiCN is bluer and grayer, in case you were wondering what they look like.
Lastly, bronze oxide coatings work on increasing the bits' tempering and make them more resistant to wearing out.
As you can see, these coatings can make a big difference in these products. So, make sure that you know which coating would be optimal for your use case and provide you with the best possible results.
Final Words
If you were looking for the best Dremel bit for cutting metal, now you know what to get. There are various options out there; therefore, you can use our guide to figure out which materials, coatings, and designs to look for.
Posts You May Find Useful: