Do you have a gas stove in the kitchen? You will be surprised to learn that the majority of the cooking in the world is still accomplished using gas stoves.
What could be the reason? They are efficient, reactive, and produce heat quickly. You could say it is precisely what a professional would recommend attaining the lovely tang in food.
Is that all do you need? Well, whatever you cook, one must have the best cookware for gas stove, too. That is the only way to perfect your creation in the kitchen.
It is a bit traditional, but nothing can beat the mouthwatering taste the chefs obtain using the appropriate cookware. Now you can also have that secret within your grasp.
Let us find out!
10 Best Cookware for Gas Stove Picks:
It is time we get to the bottom of each product mentioned here. All the sets we have chosen here are individually assessed to match based on your setup. Let us waste no more time and get started!
1. Viking 5-Ply Hard Stainless Cookware Set with Hard Anodized Exterior, 10 Piece
Our first product is a stainless steel cookware set that consists of ten pieces of amazing items. It includes a Dutch oven, a sauté pan, two saucepans, and two frying pans.
Each item comes with a lid except the frying pans. All the pots and pans in this set offer various capacities for the user to cook versatile dishes without feeling lost.
What we loved the most about this product is the interior markings of capacity on all the pieces. However, the fry pans are the exception; it is still a good enough reason to own the cookware for convenience.
The size of each item is measured in a way that the user who cooks for two or more can manage vast advantage. Plus, let us not forget the stainless steel construction.
Each piece has about four layers of aluminum on the outer side. This allows the transfer of thermal energy cooking evenly all around. The stainless steel, on the other hand, is the interior surface for non-reactive food preparation.
As an outcome, whatever you cook in these pots and pans, the internal surface will prevent acidic food burn. The outer surface, at the same time, will fight against blackening when under high heat.
Another feature we have come to like a lot is the design of the lids. These lids are solid stainless steel with incorporated handles. We do advise wearing mittens before holding them as they might get hot during cooking.
All the pots and pans except the Dutch oven comes with long handles for ease of control and maneuver. Even if you are new at cooking, you can rely on this set comfortably.
Finally, who does not love the final process of baking to add extra flavor? That is right; the Viking 10-piece cookware is safe for the oven, broiler, and grill use up to 500 Celsius.
Versatile use
Non-reactive interior under high heat
Includes measuring scale
Excellent handle for secure grips
Must wear oven mittens to hold hot pots/handles
2. Cuisinart MCP-12N Multiclad Pro Stainless Steel Cookware Set, 12 Piece
Sometimes one has to give up on quality to meet the budget. However, if you are seeking premium-grade cookware, it will not come cheaply.
Such is the case when it comes to Cuisinart MCP-12N. The craft of the product is true to its statement; thus, you are looking at long-lasting pieces.
We admit that the price is a bit steep, but would you not go for it if it stops you from purchasing pots/pans every after six months? This is why we have added it to our list.
The quality is, undoubtedly, of professional 18/10 stainless steel. It means the items are safe to use in the dishwasher as well as the oven. Though make sure the oven temperature does not exceed 287 Celsius.
It has the construction of a triple-ply structure where the core is made from pure aluminum. The stainless exterior, on the contrary, ensures cooking on gas or induction stovetops without a hint of burn marks.
Now, what does this polished silver looking cookware include? The whole thing is a 12-piece set where you will find two different sized saucepans. It also has two open skillets and a stockpot.
There is even a steamer included in this unit that you can utilize with the included tight lid. Speaking of which, all the covers assisting with the pots and pans fit perfectly to their designated piece.
As an outcome, there is hardly any chance of losing heat or uneven thermal spread. You will never miss out on the healthy nutrients sealed inside the moisture, making the recipe more flavorful.
While the stockpot and the stainless steel steamer offer regular but sturdy handles, the other items have long handles. Even the lids have robust handles to lift without feeling the heat.
We highly recommend this product for its durable and long-lasting components.
Multiclad base allows cooking in high heat
Heavy-duty construction
Tapered rim design to prevent dripping
Incredible heat conduction with even distribution
Safe for dishwasher and oven use
3. Duxtop Professional Stainless Steel Pots and Pans Set, 17PC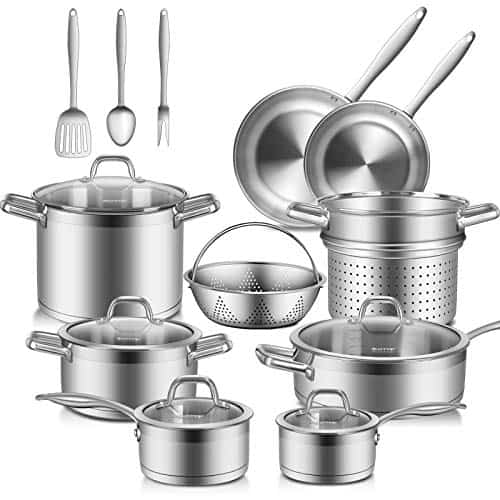 Although this unit is basically for induction stovetops, the impact bonding feature makes it compatible with any form of a cooktop. Thus, it is another excellent set that you can use on a gas stove.
Moreover, the 17 pieces of cookware mean a huge relief when cooking regularly for a large family. You will not have to purchase anything separately since almost all the necessary components are laid in one set.
Each item has a meticulous build from 18/10 stainless steel that is often well-known for being highly durable in the long run. Besides, the core aluminum, along with the steel material, creates a heavy gauged encapsulated bottom.
Hence, the heft surface creates a robust bond that is formidable to break even when the gas stovetop is burning at high power. So whatever cooking method you are into, it will not matter when using this cookware set.
Even the handles are ergonomically convenient that have riveted reinforcement. Whether it is a long handle or a couple of small ones, you will feel the sturdiness of the stainless steel at every grip.
They remain cool even during cooking so that the user can take charge of the dish and flip, stir, etc., all the while keeping a steady balance. As for the lids of each pot and pan, the clear lids are the game-changer.
Since the glass is well-tempered to work against extreme heat, it will not have any chance of crack. Plus, the accessibility to the happenings on the inside makes it all the more advantageous to the new cooks.
Now, this cookware set includes a lot of pieces, for instance, two saucepans, a casserole pot, a stockpot, and a sauté pan. These things, of course, come with lids.
The set also provides two fry pans, a boiler, and a steam basket. Last but not the least, it concludes the cookware with three significant kitchen accessories, a 2-prong fork, a big spoon, and a slotted turner.
Multipurpose usage with even heat spreads
Ideal for big families
Comfortable handles and clear glass lids
Highly durable with Impact-Bonded base
Oven and dishwasher safe
Does not have a nonstick interior
4. Anolon Advanced Hard-Anodized Nonstick Cookware Pots and Pans Set 11 Piece, Bronze
When you lay your eyes upon the Analon 11-piece cookware set, it is the appearance that will take up your attention. And we cannot blame you for it!
This set is truly a magnificent creation that does not lack in superiority; nor dependability. It is a medium-ranged product, which allows many users to purchase and be satisfied for many years long.
Admittedly, the components are very few in comparison to many products in our comprehensive list. It does, however, make up for such missing pieces by providing top-grade quality at every turn.
In a way, one can apply these items to make a simple omelet to the intricate gourmet recipes that require hours of heating on to cooktops. So, you still win either way!
And the best part is the hard-anodized nonstick surface. Why is it a big deal? Well, for starters, they are unbelievably easy to maintain and use. Next, this type of interior reduces a significant amount of oil/fat application when cooking.
Thus, not only do you attain easy maintenance but also achieve a healthy way to create recipes. You can extend the possibilities to baking as well, meaning it is oven safe as long as the temperature is up to 204-degree Celsius.
Even the tempered glass lids have a shatterproof composition for additional protection and durability. Now the handles are entirely a different matter.
Each handle, long or small, has a silicone coating to ensure a firm grip and cool to hold with bare hands. This nonstick cookware set is the perfect way to accomplish your mission towards acquiring high-quality pots and pans.
It includes two covered saucepans, one stockpot, two French skillets, and a covered sauté. Let us not forget the exclusive grill pan it offers alongside! Overall, we say, go for it!
Extremely convenient to use
Versatile operations
Retains food nutrients without burning
Premium construction with nonstick feature
Silicone coated handles to avoid hot grip
5. Home Hero Copper Pots and Pans Set -23pc
Here is a cookware set that, no matter how hard we tried, did not have any fault. In a way, it is the perfect version of wholesomeness to a cook.
Instead of looking for cooking components separately, would it not be awesome to have everything essential in one collection? Home Hero Pots and Pans have thought the same and decided to deliver you something of the sort.
Remember, it is an enormous set of 23-piece. Unless you are really in need of something this substantial, we suggest opting for small cookware sets. Just a single purchase of this product will reduce the pressure of picking many items at once.
This gives you the advantage of owning a kitchen that has to deal with a lot of cooking and baking for a large family. Furthermore, the price tag is not as high as we thought it would be either.
If you think about all the pieces that accommodate the unit, the cost would not be a big factor here at all.
The aluminum construction is thick enough to ensure a heavy-duty design all year round. In short, you can rest assured of warping metals when under high flame.
Now, if you add copper ceramic coating interior, you get an ultra-nonstick cooking set. These items are, thus, very durable in the long run; no peeling, flaking, or chipping.
So, this feature offers maximum even heat transfer whether you use them on gas or induction cooktops. However, you have to keep in mind that every pot and pan here is oven safe, with the exception of the egg pan.
Another thing we have found in favor of all the users is the ergonomic handles and the clear glass lids. While the sleek metallic handles stay at room temperature at all times, the glass lids allow visibility during preparation.
This can be an awesome addition for people with a knack for matching designs.
Long-lasting thick layered structure
Nonstick pans offer even heat transfer
Versatile cooking/baking/grilling pieces
Oven-safe
Affordable and convenient for big families
Not suitable for dishwasher
6. Cuisinart Chef's Classic Non-Stick Hard Anodized, 17 Piece Set, Black
Here is another cookware set from the very well-known Cuisinart brand. This model 66-17N is known to have 17 pieces to fulfill daily cooking, boiling, frying needs effortlessly.
It includes three different saucepans and skillets. Plus, the set consists of a stockpot, steamer with a lid, a Dutch oven with a lid, and a sauté pan with a lid. Let us not forget the added helper it comprises.
All the pots and pans have a heavy gauge aluminum core construction in order to conduct heat as swiftly as possible. We really liked how fast the surface heats up no matter what BTU power gas stovetop you use.
It also indicates that the duration to heat a pot/pan on the gas stoves gets shortened. So, you can save more gas, in a way!
However, this does not mean the product is too lightweight to carry out burn-free operations. The overall structure has a hard-anodized aluminum build to make sure the set is susceptible to hard scratches.
Though we are not so sure about the feature since many consumers have stacked up complaints regarding it. The nonstick surface interior tends to give out the scratch resistant advantage after a few months of use.
Besides, the outer exterior of the items comes with a rough texture, which is not suitable for multipurpose cooktops. So, this is a choice you can make only when all odds are against you.
The handles are made from stainless steel material. They are well-riveted to the exteriors for a solid and ergonomic grip. This model includes lids made from tempered glass that are oven safe, though not at more than 177-degree Celsius.
Easy to maintain and use with stainless steel handles
Highly durable hard anodized aluminum cookware
Oven safe up to 260-degree Celsius
Break-resistant, tight-fitting tempered glass lids
Tapered rims eliminate drips when pouring
Non-durable nonstick surface
Not dishwasher safe
7. T-fal Ultimate Hard-Anodized Nonstick Cookware Set, 17 Piece, Black
This unit is also an example of a 17-piece set for a cook who seeks all-in-one at an affordable price. Are you a cooking enthusiast? Do you live with children who demand new dishes each day?
Well, here is your solution to it all. You will not have to break the bank to acquire this many items at one go. Plus, the quality will remain stable even after months of utilization.
What is more important is that there is no possibility of metallic chemical mixing with ingredients. Thanks to the nonstick pans and pots design, the user will not even require much oil or fat to prevent burns as well.
So if you are looking for a healthy and cheap way to go for chef-like cookware items, this product can take you a long way.
The titanium black color with the symbolic red thermos-spot indicator shows when the pan/pot is pre-heated. These parts are ovenproof up to a point, whereas we suggest not using the lids at more than 175-degree Celsius.
This T-Fal model is crafted from hard-anodized materials, bringing to you the best of all options. It includes all the essential components that we do not think you will miss out on anything.
While the transparent lids have a perfectly sealing fit with vents, the handles are impressively comfortable. You can say goodbye to the hot-to-touch grips every time the pan heats up.
Whether it is stewing, braising, deep-frying, or boiling, cooking ingredients, everything is attainable! What better way to begin the experience than a sturdy unit like this one?
However, we do advise not to use a dishwasher to clean the pieces. It could rapidly damage the exteriors.
Red thermos-spot to indicate a pre-heated pan/pot
Ergonomic silicone handles
Gas stove cookware comes with durable construction
Transparent, tightly fit lids
Budget-friendly
Dishwasher cleaning could ruin the exterior
8. Rachael Ray Cucina Hard-Anodized Nonstick Cookware Pots and Pans Set 12 Piece, Gray with Blue Handles
When we lay our eyes upon Rachael Ray Cucina's gray and blue cookware set, we noticed how attractively they had been designed. It is the beautiful yet not-flimsy set that we have found immediately to our liking.
They are even smart and state-of-the-art from every angle you look. The product consists of two saucepans, one stockpot, and a sauté pan, including transparent lids for all.
It also has two frying pans of different sizes, though no lids there, let us remind you. Moreover, you will find two incredibly elegant kitchen utensils in blue color.
If blue is not your thing, then you can always choose the set among at least six choices! It will not only provide you day-to-day cooking benefits but also help avoid color-clash in your kitchen cabinets/shelves.
Each pan and pot has the capability to deliver even heat transfer and conduction. The surface is formed with enameled porcelain that bears a nonstick feature. Besides, the hard-anodized aluminum construction promises long-lasting sturdiness.
Even the handles with elongated rubber coating allow you to carry hot pots around safely. They are secured well with riveted functions. It is the very same rubber coat that you will find on the lid handles as well.
Speaking of which, these covers are transparent and shatterproof. Furthermore, this set is thoroughly safe to use in the oven and dishwasher, up to a limit, of course.
So what was the problem that disappointed the consumers tremendously? Well, though they are outstandingly well-made, they tend to feel slippery as you stir contents on the gas stovetop.
It definitely raises the voices due to safety concerns since a single accidental knock off could lead to a serious incident! Hence, it is affordable, but we advise keeping an eye on the stove when using this unit.
High-end construction for durability
Multiple color choice for a kitchen theme
Heat-safe ergonomic handles with rubber coating
Clear and shatterproof glass
Oven and dishwasher-safe
Potential to slide on the cooktop
9. ELO Skyline Stainless Steel Kitchen Induction Cookware Pots and Pans Set with Air Ventilated Lids, 10-Piece
Whether you particularly love cooking or do it just to meet the daily sustenance, this product will not disappoint you in the slightest. Many users have come to love the unit because of the convenient sizes they come in.
So it does not matter if you are a novice or a professional; the Elo Skyline cookware set is an ideal choice for all.
Nobody wishes to waste long hours cleaning and washing pots and pans. Thanks to the high-end finish with a durable build, they are surprisingly straightforward to maintain.
Now let us discuss the features in detail where you will find that each cooking component is made from commercial-grade stainless steel. The encapsulated bottoms distribute heat evenly.
This means the quick thermal conduction will save energy as well. Another great thing about the product is that it is suitable for all kinds of cooktops, including gas and induction.
Though the set does not have any fry pan, the rest of the pots and pans are quite useful for all sorts of cooking, boiling, deep-frying, etc.
The handles seem pretty standard in appearance but let that not fool you. Each handle has a thick structure to make sure the hands do not feel the heat when holding.
As for the transparent lids, they are a remarkable addition to the set. The glass feature is the best way to check on the contents inside. Plus, the whole thing is safe for dishwasher use.
Overall, this model could be the best choice to buy as a present or for yourself. Some might not find it lightweight. However, we think the weight adds extra robustness and balance if you consider the long-lasting usage.
Gloss finish inside and out
Highly durable
Distributes heat evenly and quickly
Dishwasher safe gas stove cookware set
Ergonomic handles and ventilated lids
Requires oven mittens to touch lid handles
10. GreenLife Soft Grip Healthy Ceramic Nonstick, Cookware Pots and Pans Set, 16 Piece, Turquoise
Are you heavily reliant on pans when cooking? Then we say this unit is the best way to satisfy that need. Of course, it features other pots and utensils in the set; it was the variants of pans that have attracted us toward this product.
It has won many hearts because of the total of 16-piece inclusion in a whole cookware set. That is not the only reason. The GreenLife pots and pans offer about eight colors to select from.
If you are very keen on keeping a color theme in your kitchen, what better way to meet that requirement? And the different sized pans will allow you to have versatile options for cooking.
The set is constructed from the materials aluminum and ceramic. While the overall structure is aluminum crafted, the interior surface has a ceramic nonstick layer. It is safe from all the harmful chemicals and substances that often mingle with foods.
So, you are going to get some effortless maintaining cookware pieces, all the while achieving healthy recipes. Remember that these items are oven-safe up to only 177-degree Celsius.
Furthermore, the base is free from wobbling; thus, provides even heat distribution and a stable position on the stovetop. Nevertheless, there are a few drawbacks that have withheld the product from reaching the top of the tier.
For instance, the nonstick ceramic is not as durable as it seems. Although it is easy to clean with simple soap and water, the ceramic layer tends to scrap off after a year of use.
Another problem is the rivetless handle integration, which we think is quite innovative. However, it leaves the potential risk of snapping in half despite preventing internal food buildup.
It is, nonetheless, a superb purchase within the budget where the lids are transparent to check on the food progress. Though, we would not suggest it if you are going for durability instead of a colorful design.
Made from recycled aluminum
Ceramic coating reduces carbon cookprint
Oven and dishwasher safe ceramic cookware
Comes in varieties of colors
Rivetless interior prevents food buildup
Not durable for a long time
What to Look for Before Buying the Best Cookware For Gas Stove
Each gas stove offers versatile cookware requirements. So how would you know what kind of cookware is best for your stove? Below are some factors you can look up to when trying to find an ideal option for daily/occasional use.
Number of Items and Their Size
Different people have different requirements in their kitchen. So is it not better to look around and assess the situation first?
For instance, do you live alone or have a large family to feed? These sorts of questions will help to decide the number of cookware in a set you might need.
It also depends on how often you cook and in what quantities. Now, it would be prudent to buy a set that can cater to a big family if you have one, right?
On the other hand, go for something that accommodates two to three people if you live alone or have a very small family.
Whatever the case is, remember that a set, in general, includes a frying pan of about 8 to 10-inch. It should also have approximately 3 or fewer saucepans, varying in size from 1 to 3-quart.
Do not forget that it must have a stockpot too. We all love pasta or soup, and there is nothing better than a stockpot to boil/cook them! This should have a capacity of around 5 to 6-quart.
Now, if you wish to extend the list and go for a bigger set, some of them even include steamer baskets, more saucepans ranging from medium to large. Others provide griddle pans, a Dutch oven, or grills too.
It is all about your choice, needs, and style so choose sensibly.
Read Also: Top Quality Rice Dispensing Machine
Weight: Light or Hefty
First of all, lighter cookware could have more effect by the heat than the heavier ones. The pots or the pans could warp, though it depends on the BTU of your gas stove.
On the contrary, hefty items are solidly built but, well, might be too heavy for a person to work with!
So what ought you to do? We say opting for a set that is neither too heavy nor too light for the stove is the best way to stay on the safer side.
This will allow you to transfer them from stove to countertop with ease. Besides, moderately weighing cookware tends to have a thick base with slightly thin walls. In other words, they offer even heat conduction.
And if the prompt thermal reaction is too much to handle, you can always adjust the temperature to evert food burning. It is a win-win situation.
Read Also:
Storing Techniques
You might wonder that it is an absurd consideration but simply storing them wherever there is a room is not always the right answer.
Some of the sets have porcelain or ceramic coating. Now storing them inside one another could lead to scratching, gouging, or even chipping the surfaces.
And these will not remain safe to cook with once damaged. Therefore, try placing them individually on shelves or let them hang from the hooks.
This way, each item will have space to dry independently after washing. They will also have zero chances of clashing with each other.
Lids and Handles Fitting
Do the lids fit tightly? Make sure they are not too tight that you will have to yank them open! There is the matter of visibility as well. It is totally about your personal preference.
Some choose solid stainless steel with no chance of peering in, whereas others like the glass lids with metal rims for a quick look. The type of lid/cover you select could also rely on the level of experience you have in cooking.
The handles, in contrast, are a complicated matter. Of course, you should pick something sturdy and long-lasting.
However, some prefer single handles that are elongated in order to flip foods in the pans. But one must not choose that option when it comes to the pots.
Always go for two steady handles that are easy to grip when taking care of a large amount of food.
Once again, whether it is a single-handled pan or a two-grip handled pot cookware, it is up to you, based on the different styles and themes you prefer. Whatever you choose, just make sure the handles stay cool even when the ingredients are boiling!
Oven and Dishwasher Safe
This is an optional yet very useful attribution to the domestic/professional cooks. Can you imagine the power of transferring your dish right from the stove to the oven in an instant?
Plus, things get quite hectic having to wash all these pots and pans. Would it not be more advantageous if they were safe to put in the dishwasher?
So if you have to cook a lot for a big family, try to buy a cookware set that comes in these both options for your own benefit.
Durability
When you cook on gas with the sheer force of thermal energy, at high or low temperature, it is the cookware that takes all the beating. So make sure whatever you buy can last at least five years.
For those who utilize saucepans or soup pots regularly, it is better to go for ten years of lifespan, or else it would be a waste of the budget.
Best Cookware Materials for Gas Stove
The user can determine the durability of certain cookware by its material as well. So, here is the brief information about the four key materials for a set as follows.
Stainless Steel
This type of cookware has now gained popularity for delivering versatile designs and styles. Stainless steel can last for good if the quality is top-grade.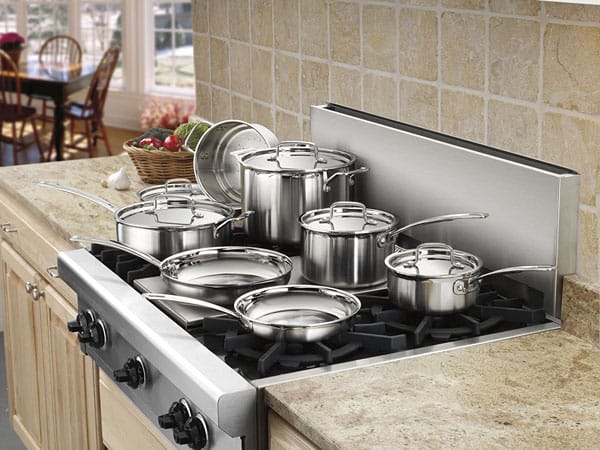 It is expensive too but worth the expense only if you pick out the right kind. The cookware of this sort does not react with the contents inside, which is a major advantage.
Although the cooking surface is not coated and requires more oil, it offers a both oven and dishwashing features.
Aluminum
Once the raw aluminum goes through the process of maximizing the oxide layer, a hard external coat is formed. It is typically black or gray in color.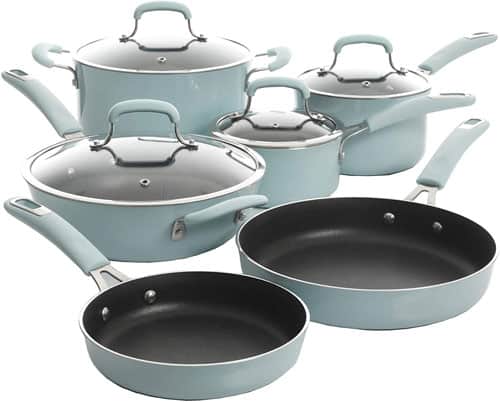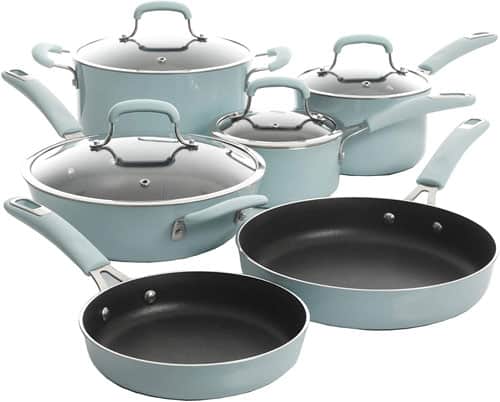 This type of aluminum cookware is, thus, healthy to utilize. The outer layer is, at times, enameled too. Plus, this material makes everything lightweight and a good conductor of heat.
When using an aluminum pot/pan, one has to make sure it has a nonstick coating. Otherwise, the metal substances could leech into the food.
Cast Iron
Many users buy cast iron cookware due to the long hours of heat it retains even after the stove is off. However, this material is quite hefty and prone to rust very soon if not seasoned well.
Copper
The best positive side of this material is the even and fast thermal spreading all around the device. It has the topmost heat conduction among the rest we have mentioned above.
As a result, cookware of such metal is expensive. Still, you will love the way each item is beautifully designed. Most copper cookware has tin or stainless steel layer lined so that certain foods do not react with heat.
Copper pots or pans might require additional polish every once in a while, but their elegance is worth the effort.
What Are the Best Pots & Pans for Gas Stove?
After a lot of research and debate, we have decided that the following products deserve praise. The unit that took the first spot is Home Hero Copper Pots and Pans Set.
Next is the Cuisinart MCP-12N Multiclad Pro Stainless Steel Cookware Set and Anolon Advanced Hard-Anodized Nonstick Cookware Pots and Pans Set.
Home Hero Copper Pots and Pans Set
First of all, have you seen the number of components it offers? Secondly, not all products with these many parts often provide premium-grade materials.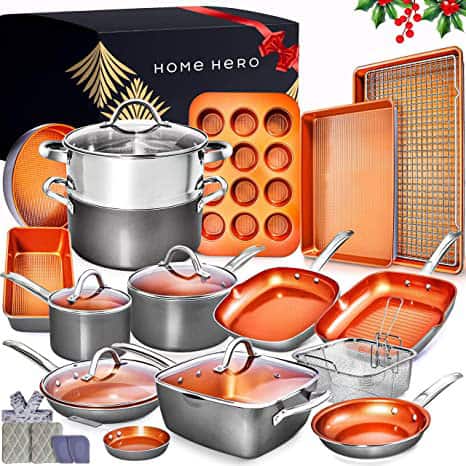 You are not just getting the cookware for gas stoves but also an immense variety of bakeware trays! The high-end material craftsmanship ensures a longer lifespan without compromising the flavor of foods.
Besides, each item has high heat conductivity and balanced thermal spread-out when cooking. They are all absolutely simple to wash, thanks to the ultra-nonstick interior bottom.
All in all, we absolutely love this unit that can be found at a very reasonable cost.
Cuisinart MCP-12N Multiclad Pro Stainless Steel Cookware Set
Our reason to select this unit is because of the sturdy build each piece shows. The external layer will not have any stains due to the polished surface, while the interior prevents hot spots.
So you can cook in high heat without worrying about the stains. Thanks to the polished layer, this set is very easy to clean and maintain. It is a useful set for a single person to a family who relies deeply on regular cooking.
The set can also be used on induction stovetops. Cuisinart MCP-12N is, therefore, multipurpose cookware durable set that provides unparalleled thermal conductivity with stable spread-out.
Anolon Advanced Hard-Anodized Nonstick Cookware Pots and Pans Set
This is the final product we believe has the right to be on the top three selection. Thanks to its versatile uses of the pans and pots, one can never get bored.
The significant reason for choosing this unit is the comfort of maintenance. All you have to do is clean the pieces with dishwashing soap, and that is it!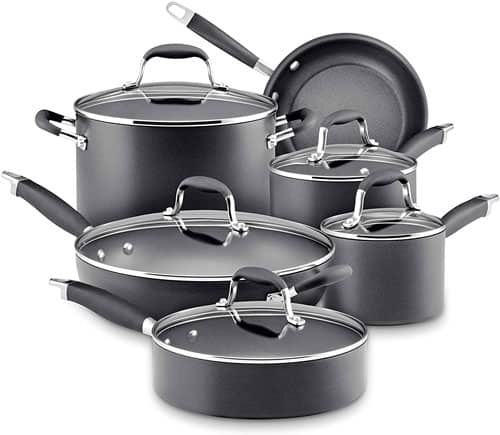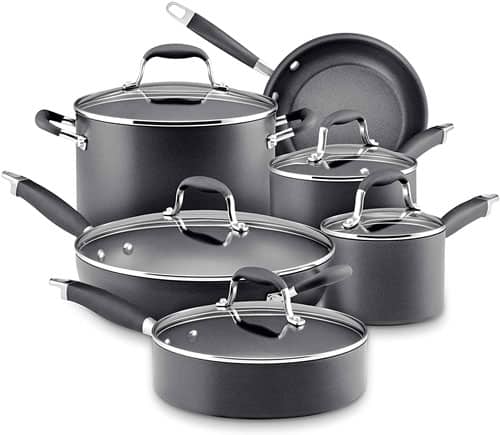 Also, the hard-anodized nonstick feature is the way to move ahead with innovation. Whatever you cook, grill, fry, boil, or bake, nothing will stick to the solidly engineered bottom surface.
What we love the most is the condition this model remains in, even after years of utilization. That explains the durability period of each component.
From the clear glass fitting lids to the silicone integrated handles, nothing is amiss when it comes to the Analon Cookware set.
Frequently Asked Questions
What size pans and pots should I get in a cookware set?
It will depend on the number of people living in a house and how often you rely on cooking. Even the number of burners on your gas stove is a great way to determine the size.
You can always go for medium size cookware if still unsure what to get.
Is there specific cookware for gas stoves only?
Not necessarily; some consumers use the same kind of material while others prefer various styles. Nevertheless, the gas stoves often fail to produce even heat, which means unevenly cooked meal unless you use the right cookware set.
What material cookware is the best for gas stoves?
We suggest opting for stainless steel, aluminum, or copper as they are superb at conducting heat. They are also good at even heat distribution.
Most of all, anodized aluminum is the best way to go for stovetop cookware items. It is easy to maintain, conducts heat quickly, and pretty affordable to own.
Yes, ceramic cooking goods are quite versatile to utilize and have a longer lifespan. Due to their durable construction, they are an incredible addition to both electric and gas stovetops.
Can I use colored cookware on a gas stove?
To be frank, we think it best not to purchase any cookware that includes color. Though most manufacturers ensure the color is well-coated to not mix with food, it is better to be on the safer side.
Besides, it might even discolor if you often cook on high heat. That is another matter to clean up for hours.
Is it possible to use induction cookware on my gas stove?
Induction cookware is mostly made from steel or cast iron. In a way, they are alright to cook with so long the steel material is not too thin.
Related: Top Rated American Style Waffle Maker For the Money
Final Words
Well, we hope if you had any questions regarding the best cookware for gas stove, we were able to help in this article.
It is now your time to explore and evaluate the differences for coming to an informed decision. All you have to do next is buy one of these and get on with the cooking. Cheers!