Aluminum is one of the most popular metals because of its weight and durability. However, cutting or carving it to your heart's content can be a bit of a chore. Plus, the chances are that you could ruin it too.
In that case, the easiest and the most precise way to do it is by using a CNC Router. Sadly, not all of these are up for the job. So, you require the best cnc router for aluminum. That way, you will get the best results.
All of the products we mentioned here are top-notch quality and will give you a fantastic user experience. So, why are we waiting anymore? Let's get right into it.
Our Best CNC Router for Aluminum Picks
There are countless of the same products out there in the market. Sadly, you will have to work a bit to find. To make it easier for you, we did the research and got the best ones out there.
1. BobsCNC Evolution 3
We all know that to be a good CNC router, it requires good build quality, versatility, etc. What about the platform you are running it on, though? Most of the products out there don't support various operating systems, which can be a big issue for some people.
Changing the whole OS of your computer so that you can use something like this is ridiculous. So, what do you do? Well, you can consider getting the BobCNC Evolution 3. It can supports most OS out there, which is great news for everyone out there.
Not all of us use Microsoft Windows, some of us like to use raspberry pi or Linux, so this one is perfect for most people. Other than that, you also get a durable build quality. The machine has a build of various strong materials. You also get an SG20U support rail system.
It also includes a Makita RT0701C Router with 1/4″ collet, which is absolutely powerful and precise. Sadly, the cable management and the whole build does not look pretty polished and good. However, it will finish the job without any problem.
The machine is really powerful, and you will require an AC power supply that will constantly provide at least 115V. That way, you can make sure that it won't perform badly. This product is a good option for the price, but it can still be a bit much for some people.
Although, when you are a professional worker, it will come in very handy. Not only does it cut precisely, but the finishes are pretty smooth too. That way, you'll never have to worry too much about quality.
Build is durable
Cuts precisely
Supports various Operating Systems
Comes with a high-quality router
Rigid laser frame
Cable management isn't good
Not very versatile
2. SainSmart Genmitsu
These CNC routers do not come cheap because of how powerful and efficient it is. Plus, any machine that uses a laser cutter will cost you an arm and a leg. It is not like they aren't worth it, but not everyone has that much to spare. Thankfully, things are changing now.
As time goes by, more and more great affordable options are coming. Out of all of them, the best one would be the SainSMart Genmitsu. It is a very efficient and easy to use product that will not tire you out. There are tons of things that will provide you. So, let's get right into it.
First of all, the machine comes pre-assembled. That way, fully setting it up will take you less than 30 minutes. It is a godsend for products like these because it can usually take hours and hours only to assemble and start it up. The machine has updated and new Toshiba drivers.
These drivers will prevent it from making hard stops, and that way, it will run much more efficiently. You can expect a long life span from it too. The all-aluminum body gives it a sturdy build. That way, it will not move around whenever you are using it roughly.
You can use various other materials, which is good news for people who plan to use this product for other applications. These machines can get dangerous, so the manufacturers made this one with a barrier. It makes the whole thing much safer to use.
The 1.8-inch display will help you make sure what you are doing and show you all the important information. You are getting a really high-quality product for the budget. Not only is it easy to use, but it will help you finish a versatile amount of work too.
Great price range
Safe to use
Effortless to install
Provides awesome versatile usage
Solid build
Bad customer support
Not easy to use
3. Genmitsu CNC 3018-PRO Router
What if you are working on something pretty important and unique? Sometimes, you want to create something very special, so you might want to adjust everything manually. Sadly, not every product allows you that. These problems may seem rare, but they are not.
Many people suffer from this, and that's why offline CNC routers exist. The Genmitsu CNC 3018-PRO Router will be the perfect example. You can manually adjust the various axis and get the perfect result without a computer's help when you are in a pinch.
Other than this, the machine uses custom software and an integrated board, which helps it run much smoother. For professional use, this one does not come behind at all. You get a solid build quality, and it can cut various materials, which is perfect for professionals and beginners.
You can use acrylics, PVCs, plastic, and even carve wood with this machine if you want. That way, no matter what the work, you can use it without a problem. It also comes with three different sizes of drill bits for more convenience. Sadly, it does not support operating systems like Linux or Raspberry Pi.
However, if you use windows, then it can support it from windows XP onwards. You will require a 24V/5A power supply to run this machine, so it's better to stay prepared because this bad boy is hungry. It also comes with an easy to learn assembly guide.
Even when you get stuck, you can always check the SainSmart Wiki for more help. For people who are a bit nervous to set this thing up, don't worry anymore. It is a pretty high-quality machine that can finish different types of work in no time. So, why wait?
Runs seamlessly
Extremely easy to set it up
Can cut a wide range of materials
You can use it offline
Great longevity
Does not come cheap
There's a learning curve
4. VEVOR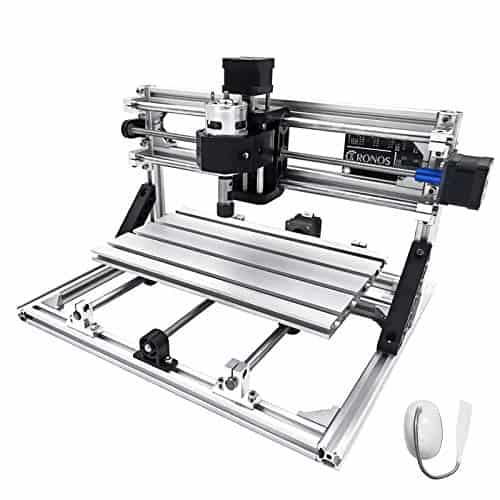 Most people use these machines for their professional work. If you search for one suitable for handling difficult jobs, you will require something very fast, precise, and durable. It can get confusing since most of these products look amazingly strong, but sadly, they aren't.
If you want the strongest one out there, then consider the one from VEVOR. It is one of the most durable ones out there, and it runs efficiently. The spindle speed of this product is a whopping 10,000 rpm/min, which is crazy.
That is perfect when you have to do a lot of work but have little time to finish everything. The cuts are always very precise, and it does not get too noisy or hot. This product has a durable aluminum body with stainless steel screws, which is preventive of any rust or corrosion.
The engraving machine is perfect for versatile use too. If you want to work on wood, plastic, PVC, or acrylic, you can easily do it with this one. Don't worry because you get the same results no matter what surface you are using.
It has three refines axis that is 300(X)x180(Y)x45(Z)mm. Moreover, the machine requires 24V DC power input to work properly. The assembly is also pretty good, and you will not have to spend hours figuring everything out. It is a really premium product that is pretty high-performance.
Well, since there are so many features you are getting, what about the price? Surprisingly, it is really budget-friendly. It will also be a perfect product if you are a beginner.
Amazing build quality
Great versatility
Affordable price range
Perfect for beginners
Pretty fast and accurate
5. Cenoz
As days go by, more people are learning and using these CNC routers. However, there is always a learning curve. Since it is a new technology, it can get a bit difficult for people to use. So, if you are nervous about getting one for yourself, don't worry too much.
For the best ease of use, you can check out the one by Cenoz. This is convenient for beginners, but it can also do most of your jobs without a hitch. It is also a perfect option when you are looking for something that can almost everything.
The versatility is obviously great for a product like this one. You can use different materials, and the consistency is amazing. The best feature about this router is that you will not have to worry about it performing badly. It is also perfect for heavy usage.
The machine has an extremely durable metal build. Keep in mind that it is also pretty heavy. So, you might need some help moving it around. The software is fairly easy to use, and it supports various operating systems. No matter what you are running on your computer, you can use this machine without a problem.
Even the offline use of this product is great. You can easily control the axis and get results according to your own. Not only is it effortless to control, but the assembly will take you no more than 20 minutes. That is a really nice bonus. Plus, it has great offline usage for creative people.
This machine is amazing for people that want to learn more about carving and want everything these laser cutters have to offer. It is a very high-quality option that will also last you a long time.
Effortless to use
Easy assembly
Online user manual
Perfect for creative usage
Sturdy build quality
Tough to move around
Software doesn't seem innovative
What to Look for Before You Buy?
Now that you know which products to get, it is finally time to know more about them. Some important factors will help you choose the right one for yourself.
Software Experience
These machines run mainly on various software. Some manufacturers make software of their own, which makes the process much smoother. The whole machine has better communication that way, and you get more precise results.
One bad thing about most of these is that they do not support a lot of operating systems. If you are using a different OS on your computer, you will be unable to run the whole thing.
It can get a bit tricky, so try to get a product that supports the operating system you are running on your controller. There are other factors in this scenario too. Like, try to use something that is easy to learn and gets constant updates.
That way, the whole experience will improve more and more. Try not to go for something that isn't very innovative because it will take you much longer to finish the job that way. When it gets updated frequently, then you will all the new features too.
Also, designing on it will be much easier.
The Motor
One of the biggest things about a CNC router is its motor. If the one you have is not strong enough, you will have to work for much longer. It is a really time-consuming process too. That is why, for a professional, a high-performance motor is necessary.
That is not the only thing to keep in mind when it comes to the motor. There are two types of motors that you can find in these products. It can get pretty confusing if you do not have any clue about them. Well, don't worry because we are here.
So, the two types of motors are Stepper motors and Servo motors. Both of these motors are great but for different use cases. Now, why don't we get a bit more deeply into it?
For normal workloads, this motor will be the best. It is perfect for daily usage, and it runs efficiently. The motor runs based on pulses, and it will give you medium to low performance. That does not mean that it is useless, however. For your casual usage, it will be more than enough.
Plus, it is a budget-friendly option. This option is perfect for people that don't have a lot of work. Sadly, it can get pretty loud when you set it on medium performance. Also, it will last for a long time with normal behavior.
This variant is perfect for professionals. It is a very powerful motor that can finish your work pretty quickly. The motor stays quiet even when you are using it to the max.
They are highly efficient, and there will be no heating issue either.
Size of the Router
Size matters a lot, especially when you are talking about these machines. You will have to pick one depending on your usage. Since these products do not come cheap and moving them around will be a chore, you have to think about your preferences.
For a big corporation, you will require a huge machine. That way, you can tackle heavy workloads. Plus, the big ones are much better for dealing with various materials too. Since industries don't usually have plenty of projects, it will be wise for you to get a big one.
On the other hand, your usual sized router will be more than enough for personal use or a small company. Just because these machines are small does not mean they are weak.
It will be more than enough for you, and you will not end up wasting money. Plus, small-sized machines are perfect for custom and creative works too. You can control the axis much better this way.
Tool Changer System
A CNC machine will require various tools to do the job. Since not all of the cuts are the same, you will have to change the system pretty often to get precise results. Plus, changing tools every few minutes can get annoying and tiring too.
This issue will become huge when you are working professionally in an industry. Then, you will have to change up various things more often. So, what do you do to relieve yourself from this hell?
Well, you can find different products that have an automatic system for it. You will have to put the necessary tools inside the machine to change it according to its needs in that scenario.
That way, you will not have to work too hard. Sadly, these automatic ones are not suitable if you are using the machine for personal use. Since you will be using it for a more creative purpose, it will be better to have proper control.
Additionally, these automated ones are much more expensive too. So, you will have to check your preferences and choose the one that is suitable for you.
How to Cut Aluminum with CNC Router?
Now you know all about buying one of these powerful machines, but there is one more problem out there. Since more people are getting these CNC routers, most don't know how to use them properly.
You might be one of them too. Don't worry about it because we all have to start somewhere. Luckily for you, the process is not very hard. All you have to do is consider a few steps, and you will be good to go.
Safety
Before starting anything, make sure that you guard yourself properly. Since you will be cutting various materials like aluminum, things can get messy. Don't get too close to the machine when it is running.
The biggest concern is your eyes and hands. That's why you should wear protective glasses and gloves to protect them constantly. Other than that, you should always try to maintain a safe distance.
Remember that there is no point in going through the whole thing if you can not protect yourself in the end. Your safety should always be your top priority in times like this.
Now, enough about that, and let's start with the necessary steps to cut aluminum with this machine.
Keep Calm
The first time you will be using this machine can get very exciting, but don't let it get over you because being calm is necessary. Since you will be doing precise work, it is necessary to stay calm and not rush everything.
Every small thing can make a really big difference. That's why you should try to stay concentrated and put all the numbers exactly. Also, you don't have to make the machine to hurry.
To get the best results, just take a breather and let the machine do its thing.
Don't Take Breaks
To be honest, most people find working with these machines difficult because you can not let yourself rest through the whole process. However, that is still better than getting bad results in the end.
Since anything can happen at any moment, it will be wise always to check what you are doing. To make sure that you never mess anything up, use a Feeds and Speeds calculator.
That way, you will get precise information and get better results.
Pick the Right Cutter
After mentally preparing yourself, you will have to pick the right cutter. Since these machines can work with various materials, not all of the cutters are suitable for aluminum.
You will require special cutters in this case. For this case, you can try using two or three flute carbide endmills. That way, you will get faster cuts. Carbide cutters are amazing because they can go much faster than the other options.
It will easily bump up the recommended rpm, too; if you want fast speeds, opt-in for a smaller diameter cutter. The smaller it is, the faster it will finish the work.
Normally people use ½" endmills, but to get faster results, you can use ¼" ones. Also, make sure that it is much stronger since the pressure is high. This reason is why you should pick carbide cutters because they are much smaller and more rigid.
Get Proper Knowledge of the Software
Get proper knowledge about the software you will be using. Since most software is different, you will have to adapt to the one you have. At first, you don't have to get too deep into it.
Learn the basics at first, and you will be good to go. You can gradually start learning everything. Using the software is very necessary when you are cutting aluminum because you will be controlling everything with it.
Wrapping up the Process
These are more than enough things you should know about before starting your first time. The biggest tips will be proper tools and concentration. If you can manage these, then you will be good to go.
The whole thing is not too difficult, and you can do it without any problems.
Final Words
The days of manually cutting aluminum with a saw is over. These days, you can do it much more efficiently with a CNC router. To get the best results, you can consider our review of the best CNC router for aluminum. All of these products are very powerful, and you will get fantastic results from them. Plus, we have given you everything you need to know about these machines too. Now, you will not have to worry about anything and start working with peace.
As you have read an in-depth buying guide on the aluminum cutting router, you may find our CNC router for small shop review a helpful one. Plus, metal cutting dremel bits, tube notchers, and torque angle gauge are some of the tools you should have in your possession.