Are you an arborist? Does your job entail operating a chainsaw? The reason we are asking these questions is to show you if you are well protected from oncoming injuries.
Accidents can occur at any second, and most often, people forget to shield their feet as much as they shelter the eyes. This means that not all footwear is suitable for heavy-duty jobs.
What you need in this situation are the best chainsaw boots. They will safeguard your feet when you are busy dealing with a rather complicated part of a task. It would be like getting a load of stress off the hook!
So let us look at the distinguishing features and importance of five chainsaw boots and see which one goes with your need.
---
---
Our 5 Best Chainsaw Boots Picks
It is mandatory to wear chainsaw boots for basic precaution against life-altering incidents. Shall we see what do these products have to ensure your feet protection?
1. Georgia Boot, Men's Boot
Georgia Boot is one of the most reliable names that many have heard over the years. This brand is like a mentor and a bright star amid all the new ones for many decades.
That gives you the idea about how well manufactured the boots must be. And we will not disappoint you with negative remarks because we could not find any!
The flawless men's boot for heavy-duty and intricate jobs offer premium material quality at a very affordable price. This model, G8044, have Vibram soles that are absorbent to shocks. So you will attain maximum traction on any level of the ground.
Pretty sure by now, you would want to know its build quality. The whole thing is made from tough leather upper, which is waterproof. That is not all; you will find the steel shank to protect the feet from any sudden force.
So long the boots are of your size, it will fit you like it was meant for you all along! It gets much better as you tighten the laces up to the tongue. There are eyelets with stud hooks for the laces to be woven through gorgeously.
The frilly design on the front is no funny matter either. It is known as brush guard kiltie and will shield the interior and the foot from any sort of dust and dirt.
Now the overall upper is set onto the waterproof Goodyear welt while the insole comes with Georgia Boot's signature Comfort Core. All in all, this pair is flexible, stable, sturdy, and most importantly, does the job of protecting perfectly well.
The G8044 with steel toe cap will aid you when taking that long hike before reaching the destination. It will ensure your feet are not heavy, and you do not feel exhausted. From good grip when climbing to the leisure walk on the ice, it has got it all.
High-end excellent quality
Stable on any level
Flexible and convenient fit
Hard-wearing
Weatherproof
Takes time to get used to
2. Viking Footwear Class 2 Chainsaw Boot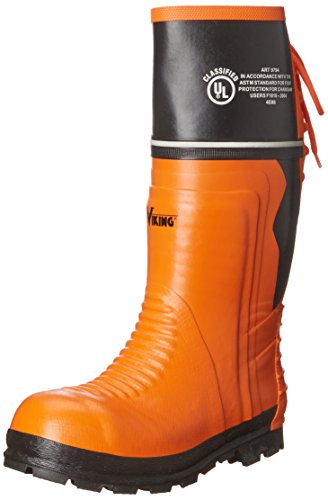 Viking Footwear is another brand that most arborists are well aware of. It is because of the specific rubber construction with multitudes of features added to make these boots.
They have expansive room on the inside for people with big feet. So it is a bit unique than standard gumboots with steel toe caps. It is made from rubber upper with NBR lug sole.
In a way, we are talking about resilience against all kinds of elements, including oil, chemicals, abrasion, slips, etc. The boots are almost knee-high, giving you the advantage of utmost safety.
What we liked the most about this product are the air-cushioned heels. They offer much comfort as you walk and supports the pressure released by your feet.
Now, are they as efficient to all users as they are to big-foot people? Yes, these gumboots are effective as far as you can stretch the word. There are various sizes of this model, allowing men and women to select the pair for a snug fit.
Although there are not any shoelace on the front, you will find one at the back near the shin area. This can be adjusted to secure the feet no matter the size.
Remember, these chainsaw boots fall in the class 2 group. Therefore, they are tough enough to withhold about 25-m/s speed mid-level chainsaw. It also explains the weatherproof feature that lasts for a prolonged time.
However, being highly rugged also means struggling at times when moving. They are not insulated; thus, it gives your feet hardly any room to breathe. You can still put on thin woolly socks, though.
Anti-slip and resistant to chemicals
Ideal for professionals
Complete protection with 100% rubber
Air-cushioned heel for comfort
Includes rubber lace collar for adjustments
3. Ariat Men's Groundbreaker Pull-On Work Boot Round Toe
Are you tired of wearing hardly breathable boots at work? This product is not entirely chainsaw boots, but it is equally robust for everyday use. It does not matter if it is the farm work or taking a long walk into the woods. These easy pull-on boots will assist you in achieving comfort every step of the way.
The moment you put them on, you will know you have made the right decision all along! And these boots are a pair of splendid treat to receive as a present as well.
We must caution you, though, that these are not suitable when working with a chainsaw. Despite providing high-grade materials to forge this pair, we do not think they can replace the gumboots.
One reason that set them apart from the rest is the lack of steel toe caps. This, alone, can bring about a shift in fate. Let us not tamper with that.
However, the marvelous craftsmanship shows they are quite the catch for equestrian athletes. Besides, most users have got them in order to achieve footwear that will not make them walk stiffly.
This will give you the feeling of a break from long-term sore work boots. So is it just the leather that makes it this attractive?
No, while leather foot with suede upper does give off a rustic appeal, the boots are safe to use in factories, warehouses, ranches, or farmhouses. Thanks to the rebound cushioning for all-day-long walks/standing.
The pair is easy to wear and provides traction on multiple surfaces. Also, it is resistant to slippery areas. This product does meet some of the legislations but not all to allow a mad chainsaw nearby.
If your work involves mostly under the sun looking after lands and ranches, then we think the Groundbreaker is a perfect choice.
Ideal for equestrian athletes/farmers
Convenient for all-day work
Mesh lining and a 90-degree heel
Resistant to slipping and oil
Resilient to wearing
Not suitable around chainsaws
4. Husqvarna 544027944 Rubber Loggers Boots – US Size 10.5/European Size 44
There should never be any room for error when it comes to the chainsaw boots. Without the regulations to meet the standard requirements, it is hard to understand what we should purchase for the task.
Husqvarna 544027944 logger boots are the tough love the users are going to need when working with dangerous equipment. This pair will, thus, makes sure the feet are well-protected and not forgotten in the wilderness commotion.
So what are they made of? As you can see, the exterior is constructed from natural rubber. It would be difficult to penetrate with accidental impact. This also means the pair meets certain regulations and standards.
If you are looking for safety as well as a long-lasting pair of boots, here is your pick. They are resistant to a chainsaw, but that does not mean it is suitable for all types.
The user first must check the speed level to ensure the product is appropriate with the work conditions. Each boot consists of a four-layered insole and internal cotton piling.
It has an ankle-guard and heel grip as well. Let us not forget the toe caps that make it all worthwhile. Of course, they are made from steel, giving optimal protection on the toes.
You will find the shoelace at the top that enables further tight-fitting around the shins. Unfortunately, it might not fit people with large calves because of the narrow boot openings.
Other than this fact, the product is undeniably beneficial when climbing, tree felling, or other complex jobs regarding trees. Since the soles are oil-resistant, it makes an exemplary solution to walk on any surface.
Water and oil-proof
Premium construction materials
Extremely durable
4-layer insole and an ankle guard
Reasonably priced
Tight around the shin for some users
5. Viking Footwear Bushwacker Waterproof Steel Toe Boot
Our final product is yet another Viking Footwear product, which is difficult to ignore. With all the praises and positive remarks going about regarding the pair, what say we make a go for it as well?
Honestly, it was all the durability and resistance against elements that have claimed it as one of the winners. Moreover, the opening is not as narrow as many comparable products tend to have.
This allows the user to put on the boots without any hassle. The upper shoelace around the shin will further tighten and fit according to your choice. It prevents any dust or debris to intrude as well.
These boots are far too advanced for bushwacking or hiking. Yes, you can still utilize them on such journeys. However, we think they are a great inclusion in construction sights too.
The steel toe caps, on the other hand, hardly adds any weight to the boots. As a result, they are pretty incredible when walking long distances. Even if the walk is during a cold, snowy day, you will be totally fine.
Thanks to the ice studs compatibility, bushwacking in the winter season will not compromise walking pace. Once again, the steel toe caps are very tough to withstand chainsaw impacts.
Nevertheless, some might find the boots heavier than usual. This could tire the person within a short period. It is still one of the best chainsaw boots that provide maximum protection, though. Viking Footwear Bushwackers are made from high-quality rubber and other materials. It comes with a platform of 0.75-inch; enabling the user to keep moving without feeling the debris at the base.
Perfect grip on many surfaces
Sturdy, durable, and long-lasting
Nylon cuff seals out debris or sawdust
Resistant to abrasion, oil, chemicals
Excellent protection for the foot
Warm interior during summer
What to Look for Before You Buy?
Is it that easy to obtain these boots? Not, if it were, people would not have to go through so much trial and error. However, we would like to present some significant factors that must not be ignored.
Boots Legislation
It is not a feature per se, but crucial information to keep in mind before buying. There are some requirements that a pair of chainsaw boots ought to meet. Otherwise, they will not be classified into that category.
In fact, one must never operate a chainsaw unless these regulations are met. As you can see, this hazardous but useful tool pose threats if mishandled/slipped.
And the boots ensure to mitigate these risks by shielding your feet from the danger. The latest safety standard legislations, therefore, must be abided by the manufacturers.
It implies that the boots must provide optimized absorption power if such accidents occur while keeping you comfortable at the same time.
The regulation also includes the incorporation of rubber soles, steel caps, Kevlar lining, moisture-absorbent insoles, bending resistance, etc. It even comprises protection from cuts, waterproof leather, heat-resistance material, and more.
So do not purchase boots that do not come with any one of these features.
Protection Class
There are at least three classes into which the chainsaw boots are categorized. This is of the various degrees of protection each pair affords. It also determines to what extent one should rely on the particular footwear.
Each class determines the capability of stopping the chainsaw coming at certain speeds. Having said this, the class-1 boots can stop about 20m/s chain speeds.
As for the class-2 boots, they are certified to prevent a 24m/s spinning chainsaw. The class-3 ones can overcome up to 28m/s at max.
This kind of classification might make you consider opting for class-1 as class-3 could be expensive. Frankly, there is no such proof to show it. Sometimes class-3 boots are surprisingly cheaper than the class-1 boots.
So feel free and willing to spend based on your requirement. This feature is closely related to the chainsaw model and speed rate you regularly utilize.
Steel Toe Caps
It is the most vital feature of any chainsaw boots you purchase. If there are no steel toe caps, forget about buying it.
The woods is not just a source of beauty but also an environment where working could mean inadvertent incidents. So how do these caps protect your feet? You must be thinking about the amount of weight they would add up and cause you to lag. Consider it as a minor setback to look at the big picture.
They will offer the feet the kind of protection one needs in the deep woods. From felling trees to utilizing heavy equipment, this small influence will compensate for more than just the feet.
Though they tend to become quite cold if wearing for a prolonged time in an icy area, other alternatives, thus, are brought to light. For example, you can now find the toe caps in alloy or composite materials.
Alloy cannot handle high compressing force but are very lightweight. Composites deliver lesser protection but are not heavy like steel as well.
However, we insist on making sure they meet the legislation to this date regardless of what you choose.
Precise Fitting
It is just like buying standard shoes. What would be the point of getting a high-end pair if it is too uncomfortable to wear?
And it is further significant to people with health conditions. There is no need to aggravate one's health by forcing the boots to fit.
What the user requires is patience. One must check one after the other until the right size is found. It is because sometimes one has to remain in rugged terrain for quite a while.
So the boots ought to be ergonomically resourceful. Otherwise, the person could suffer from blisters, corns, bunions, etc.
As long as they can reduce fatigue and joint pain while working, you know you have got some comfortable chainsaw boots. Therefore, research thoroughly before selecting the size.
Maintenance
There is no way you will come out of the work with shiny boots after several tree felling. It is either mud or sawdust; do not forget the grime, tree sap, and what not!
But the moment you get out of these boots, we recommend cleaning them right away. Now maintenance could differ based on the brands. Some allow machine-wash while others ask you to apply a sponge or brush to clean the dirt.
In any case, immediate maintaining of the boots will lead to long-lasting durability.
Work Environment
Sometimes the region where you work also determines the suitability. Opt for a pair that fits the weather condition of the place. Too cold means well-insulated boots, while hot areas mean lesser insulation works better.
Furthermore, these boots must support you during climbing, slippery spots, and such. No matter what you select, make sure they are comfortable, meets the essential regulations, and withstands the harsh weather.
Final Words
In conclusion, let us hope this list helps narrow down the best chainsaw boots you had been seeking for ages. Remember that comfort and stability throughout a safe-conduct is what matters most.
We wish you good luck in finding the right product and protect yourself from awaiting danger. That is all!
As you are looking for a chainsaw boot, you may want to see an in-depth buying guide on chainsaws as well. Plus, we have flush-cut saw reviews, table saws for both pro and beginners, along with the table saw stand recommendations for our visitors.