One of the most painful experiences is having your hands come into contact with a hot pan or pot handle. Has that happened to you? While you can use a towel or dry cloth to protect your hand, that isn't always ideal. Is there a proper solution for this?
The best thing to do in this case is to invest in a cast-iron handle cover. They serve to make transporting cast iron pots and pans much easier. So what is the best cast iron handle cover? To help you answer that, we've made a list of reviews of some of the most popular picks in the market.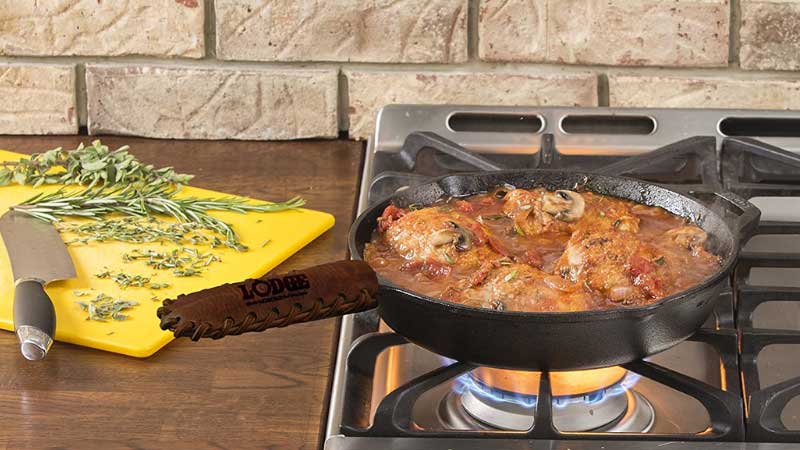 ---
---
5 Best Cast Iron Handle Cover Reviews
To help you find the item you're looking for, we've compiled a list of some of the most popular picks. This article will examine them in detail:
1. Lodge Nokona Leather Hot Handle Holder
Lodge is one of the first to come up with the idea of cast iron handles. Considering how high quality their products are, it's no surprise they're on this list.
Manufactured in the USA, Lodge and glove-making company Nokona have come together to make this amazing handle.
It is made out of the top of line leather that boasts impressive heat resistance. Your hand will be protected from temperatures up to 600 degrees Fahrenheit. No more blisters or burns when trying to get the pan out.
Nokona has ensured that the handle cover is designed to be functional. A spiral-stitch is used to hold the cover together. The fit is quite secure and tight. It won't slip off the handle during use. Leather provides a good grip.
While generally designed for Lodge cast iron pans, the item works well with most standard cast iron pans. If you already have a Lodge unit, we highly recommend this handle holder cover. The only problem you might encounter is that the leather is much harder than other covers.
Works with most standard size cast iron pans.
Protects from temperatures up to 600 degrees Fahrenheit.
Fully covers the handle.
The fit on most handles is very tight.
Leather is hard, so there may be initial discomfort.
2. Hardmill Leather Cast Iron Handle Cover
Next, we have another USA made cover. Hardmill's leather cover is made out of oil-tanned leather and is double layered. This provides excellent heat resistance and will protect your and from heat up to 500 degrees Fahrenheit.
One problem with many types of leather made covers is that if they happen to briefly come in contact with direct flame, their stitch often comes undone. This leads to permanent damage and replacement. The predicament is avoided in this item by making use of Kevlar threads in the stitches.
Kevlar threads are heat resistant. So when coming into contact with heat, the stitches are not damaged. This vastly increases the life of your leather cover, and you won't have to replace it as often.
You only need to slip the cover in and out to use it on your handle. It fits almost all standard size handles, and there is a longer variant if you need it. The leather is very comfortable to grip.
For your kitchen needs, this is a great investment. It is durable and will provide great protection. The item is also decently affordable.
Provides great heat resistance and protection.
Very easy to switch from one pan to another.
Kevlar thread prevents stitches from being undone by heat.
Conforms to the pan handle with use.
We didn't find any cons with this item.
3. Hide & Drink Leather Handle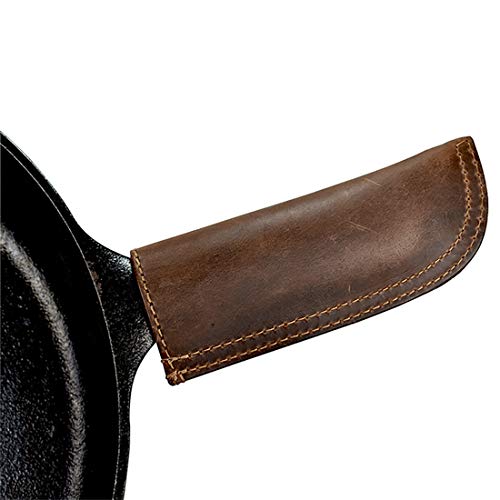 The first thing you'll take note of this model is the rustic leather. It looks very stylish and is also a very useful leather handle.
Double layered leather is very good at insulating pan handles. It will protect your hand from temperatures of 450 degrees Fahrenheit. They are designed to be heat resistant. Remember to keep the handle cover away from fires as it can cause permanent damage to it.
The leather handle cover is lined with some soft sheepskin. This makes it very easy to slide the item in and out of the handle. If you have multiple pans that you use, you can easily switch the cover from one handle to the other.
It is designed to work with most cast iron skillets. The fit is very secure and covers the whole handle, so you won't have to worry about accidentally touching a hot, uncovered part of the handle.
One problem is the design. The model has an edged design on one side. Some people may not find this particular design comfortable depending. However, the combination of aesthetics and functionality does make it a favorite amongst chefs.
Has great insulating property.
Very easy to switch between pans.
Provides a solid grip and doesn't slip.
Works with many different cast iron skillets and pans.
The edged design might not be comfortable for some people.
4. American Brothers Silicone Cast Iron Handle Cover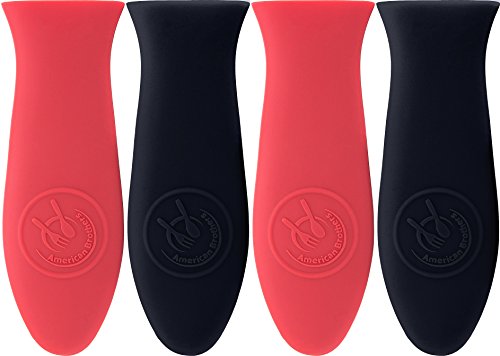 Contrasting the other options in this list, this handle cover is made out of silicone. Silicone is a synthetic rubber and has many qualities that make it great for use as a handle cover.
The first is that silicone has great heat resistance. You can comfortably hold it without feeling the heat too much, even if you squeeze it. While silicone does have a degree of fire resistance, it is still recommended not to put it near fires or in the oven. The cover can end up melting, so be careful.
Silicone is very durable yet flexible. This makes it great for constructing handles. The item is very comfortable to grip and has an anti-slip texture designed into it. You won't have to worry about the pot or pan slipping from your hand.
Also, you can use it with a variety of long-handled pans or skillets. The cover extends to the whole handle so your hand will be well protected against the heat.
Overall, this high-quality silicone cover does its job well. If you don't want to use leather products, this is a great alternative.
Very durable and long-lasting cover.
They are dishwasher safe so easy to clean.
Has an anti-slip texture to prevent accidents.
Can protect from high temperatures.
The fit on the handle could be better.
5. Lodge Silicone Hot Handle Holder
Finally, we have another entry from Lodge. This is another high-quality silicone hot handle holder. Although made for Lodge skillets that have a diameter of 9 inches or above, they also work with other skillets and pans. However, for the best results, you will want to use them on Lodge skillets and pans.
This handler has a great deal of heat resistance. Your hand will be safely protected at temperatures of 450 to 460 degrees Fahrenheit. For skillets with a diameter of 9 inches, they completely enclose the handle preventing accidental burns.
The design is great and features a comfortable grip. It is smooth to the touch. Silicone is very durable, so this holder will last for a long time.
If you're concerned with looks, you'll like this model as it comes in a variety of colors. So you can get a handle with a color of your choosing. The options include red, black, blue, yellow, orange, etc.
This unit is an easy pick if you want a silicone hot handle holder for your Lodge product. While you can use it with other skillets and pans, there's no guarantee that the fit will be perfect.
Works great with many Lodger products.
Available in a variety of colors.
Very comfortable due to the high heat resistance.
Silicone handle is very durable.
The fit on some other pans or skillets isn't the best.
Things to Consider Before Buying the Best Cast Iron Handle Cover
So what makes a good cast iron handle cover? With there being so many options available in the market, a buying guide is often essential. Here are some things you need to keep in mind when looking for cast iron handle covers:
Heat Resistance And Insulating Material
The main use of a cover is to prevent your hands from being burned when moving a hot pot or skillet. For that, the handle cover needs to have very good heat resistance. The standard heat resistance is that the item protects you from temperatures of 450 degrees Fahrenheit.
While some covers can protect up to 500 degrees Fahrenheit, 450 degrees is a good standard and can serve you well for most daily cooking. If your task requires greater heat resistance, consider more insulating material.
Double layered leather is very good at insulating and also comfortable to use. Silicone is also very good at insulating and has a degree of fire resistance.
Fit
Another important thing to consider is how well the cover fits the handle. If you're transporting hot pots or skillets, you want to be sure that the handle cover has a tight fit. Loose covers can lead to very dangerous accidents, so never settle for a loose fit.
While there are "one size fits all" versions that are made to work with a variety of skillets and pans, it is not recommended to buy them unless you switch covers often. The fit isn't always going to be secure.
Handle Cover Design
The design of your handle cover is important. Often you'll be holding the handle for a long period. You want it to be comfortable to hold.
Most handle covers have grooves to allow your fingers to comfortably hold them. This type is a very popular pick.
Final Words
If you need a recommendation for the best cast iron handle cover, we would recommend the Hardmill handle cover. Its performance has been amazing for most kitchen tasks and is a very reliable aid for many chefs.
Before you click back, consider reading our guide on the top rice dispenser to perfectly dispense rice, hand mixers to perfectly blend mashed potato, and a quality vinyl table cloth review to protect your wooden dining table.