Have you ever thought about how precisely those cabinet installations go? What do you think makes each handle right where they belong without an inch of inconsistency?
Well, you have come to the perfect place for getting these questions answered. If you can get your hands on the best cabinet hardware jig, consider half your cabinet building project will go smoothly.
Whether it is a hobby or just a DIY wish, this single tool will take care of the measuring preps like a pro. To be honest, this is what a professional cabinet builder utilizes anyway!
So do you want to make your project more fun and easy? Then, we suggest taking a look at our comprehensive list of products from well-known manufacturers.
---
---
Our 10 Best Cabinet Hardware Jig Picks
You can say goodbye to inaccurate measuring frustration during the assignments. After a lengthy process of research, here are our top picks within your reach; choose accordingly.
1. True Position Tools Original Cabinet Hardware Jig, TP-1935
True Position Tools are well-known to many skilled and experts in cabinet building expertise. The reason is the most accurate and versatile tool that will never budge once set up to the task.
Does the kitchen involve wider handles? Do you need a jig for drawer fronts? This right here is the proper cabinet hardware jig tool for the projects. It is a favorite of many DIY-ers and professionals.
Thanks to the amazing pre-calibration, it makes the work super easy for the user. Also, the rulers are laser engraved so that they do not fade over constant use.
The unit is reversible for left and right cabinet sides. This even allows shelf-pin holes no matter the depth. It is designed to act as your loyal assistant that will never let you down.
But does it hold the end of the bargain when it comes to durability? Yes, and we could not think of another way to say this, but the thing is solid! Made entirely from aluminum, it is one of the sturdiest in the market.
The moment you take it out of the package, it will only provide you successful cabinetry assignments. Being adjustable only gives it the advantage of applying to several jobs in different locations.
Ideal for professionals/experts
Heavy-duty materials for long-term use
Adjustable to versatile applications
Easy and fast to use
Offers pre-drilled holes; no need for marking
2. Kreg Cabinet Hardware Jig Super Pack
Here is another incredible unit that works as an alternative to the previous product. It means it can also be a suitable selection for the experts.
What does the product include? There are three things to install the pulls and knobs without much concern. The whole kit offers great ease at setting up the concealed hinges and drawer pulls as well.
Not many hardware jigs have the pieces to install these hinges. However, Kreg ensures times saving operations with a single kit. They are also quite a catch for precise measurements.
It is adjustable to whichever project one chooses to complete. This means the main reason to purchase a cabinet hardware jig will certainly pay off. The knobs protect the precious drawers/cabinets by keeping everything steady in their places.
As a result, there will be zero chance of any obstruction with other movable objects.
Although the product is a superb addition for professionals, there is a tiny imperfection that many has disliked. It did not stop them from buying the kit – let us remind you.
The entire thing is made of plastic. Yes, they are highly durable ones with lightweight features. It still made some DIY experts frown since the price was comparably steep.
Nevertheless, it will last you long enough to transform you from a noob to an experienced one! The unit even comes with two clamps that the user can implement for many purposes besides checking the joint-connections.
Ideal for concealed hinge installations
Several useful tools and pieces in one kit
Comes with dual clamps that do not mar
Delivers precise measurements
Adjustable knobs
3. Valiant Cabinet Hardware Jig
It does not matter what kind of jig you buy — the point always comes down to the precision and steadiness. This one is actually designed to ensure you achieve them both.
The user can work using this tool as long as possible without anything going wrong. Whether you are a newbie or with years of experience, this jig is simple enough to provide breezy installations.
Why do we love this tool so much? The reason lies within its construction material. Nothing can beat the industry-grade aluminum if it is the long-term robustness you are thinking about.
As for the ruler, it is manufactured from stainless steel, another heavy-duty quality material. So when you combine both items, you are investing in one of the best cabinet hardware jig out there.
Never will you have to worry about the mounting needs, for it will outlast the most. There are an Allen key and a pre-hole bit along with the tool in a storage bag.
This jig is capable of being utilized at any length of cabinet hardware. The only dissatisfaction we found was the sharp corners of the index. So watch out for those edges!
Now, if you are wondering about the accuracy, there is not a single problem regarding the subject. But the jig might be too delicate for daily professional remodeling jobs.
We highly recommend it if the user wishes to acquire a durable jig for special occasions.
Best for occasional use
Made from highly sturdy components
Accurate measuring calibration
Easy to use; time-saving
Includes a storage bag
4. ShineUs Power Tools Punch Locator, Drill Guide Sleeve Cabinet Hardware Jig
If you do not want to spend too much on a hardware jig but still hoping for a well-made product, here is one option. Maybe you do not need the tool regularly. Then this one unit you can buy and store for future use.
Again, are you planning on installing those cabinets and knobs by yourself? So what if you lack the experience; this device is too easy to require any guidance at all.
Of course, we would still ask you to familiarize yourself with the item before beginning the drills and punching, though.
Despite it being low-key on popularity, it does the job of accurate alignments efficiently. One can rely on this tool without getting your expectation ruined.
The reason we have chosen it is due to the simple design it represents. While the overall jig is constructed from polycarbonate plastic, the ruler is of high-end stainless steel.
In short, it will assist you in installing those handles and cabinets without deviating from the drilling positions. Further drill guides included with the product will enlighten you, in case it is your first time.
Moreover, when you do not require the tool, simply store the pieces in the incorporated zippered bag. Thanks to the stainless steel component, there is no fear of rust and such.
Hence, get away from those time-consuming old school methods. Get one of these to achieve precise measurements both in imperial as well as metric.
Includes drill guides to eliminate mistakes
Easy to adjust and use
Reversible structure
Ability to operate on repetitive projects
Well-made at a low price
Drill hole off by at least 2mm
5. ShineUs Cabinet Hardware Jig Tool for Handles and Knobs Drawer Guide Jig
Here is another hardware jig from the same brand that can be used for occasional projects. It will not disappoint you either, with the aligning properties and precise drilling measures.
In a way, it makes the ever so frustrating dealings with inaccurate and deviated tools a distant memory. The unit simplifies the work twice faster than any intricate hardware jig.
Many beginners have found this more helpful than other pricey jigs. Admittedly, the drill-hole guides are a little bigger than the regular size. However, it is something that one can fix with masking tape.
Now just because this stuff is sturdy and well-built, it does not mean it can handle hardcore remodeling gigs in a row. Yes, the parts are made from aluminum, stainless steel, and abs plastic, the best combination for a hardware jig.
It is still a risk to operate on expensive cabinet hardware without understanding its strength limit. In that regard, we think this would be a good start for any beginner in order to adjust easily.
The product comes with several attachments in a zippered case. So are you a novice or a learner who prefers durable tools?
This one will keep you occupied with all the ideas and whatnot! Just do not go overboard; it is not too advanced for a hardware jig.
Most suitable for beginners and intermediates
Offers quick-release setup of drill guide blocks
Multipurpose and accurate measuring
Made from strong materials
Clear measuring marks for quick reads
Not durable for daily use
6. Rockler Woodworking and Hardware, Deluxe Drawer Pull JIG IT
So what if you have never mounted pulls before? If you keep this unit at home, we assure you, it will save you from a lot of trouble in the future.
It is cost-efficient, well-made, and even pretty straightforward to operate for a first time user. The only problem is that the thing is not sufficiently long for wider handles setup.
In that case, our first few products would do the magic. Honestly, this one does not really offer all those features we have seen so far in other comparable units.
Due to this, we have found it a little place in our list for the users who are not so keen on owning an expensive one. It does not have sliders or drill guides either.
This tool is merely a template that helps you mark where you wish to make the holes for the screws. We think such a job deserves little praise for saving your precious time.
It is better to buy this product only when you think all the cabinets you install will have the same width for drawer-pulls. Another issue is that it can only install 4-inch or less centered handles.
This means it is a one-time template setup. The unit has a T-slot bar, which is built from aluminum. However, the template is from clear plastic that actually makes things easier when marking.
Works great as a template
Offers hole guides for up to 5-inch pulls
Easy to function
Durable for small tasks
Affordable for any users
Suitable for a one-kind repetitive job only
7. Kreg Tool Company KHI-PULL Cabinet Hardware Jig
We give you one more Kreg Tool Hardware jig model that we could not contradict. It is like the king of all hardware jigs, yet at such a fair price.
A handful of professionals have backed up on this product, and we could not find anything to say otherwise. It is the most affordable way to get yourself a user-friendly jig.
Whether you are an expert or a beginner, it would not matter when it comes to its easy featuring uses. The majority of the DIY carpenters and woodworkers love keeping it at their bay.
So what do we like the most about the product? Well, to begin, hats off to the perfect accuracy. Next comes the adjustable guides that are constructed from hardened steel.
It means straightforward drilling holes that will never jeopardize the project. Plus, there is hardly any chance of wearing out thanks to the material.
Another option we loved how simple it is to maneuver. There is a gray knob at the back that you can turn for adjustment purposes. The built-in scales are at the bottom of the jig, which will aid in finding the center lines.
We do, however, remind you to use the correct drill bit size. The recommended size might not work well, so test before applying.  
That is all one needs to know before purchasing this unit. The user will definitely not regret for it can last for years too.
Extremely durable built
Lightweight
Edge guides are adjustable
Built-in measuring scales
Repeatable accuracy
Includes only two drill guides
8. YIZRIO Cabinet Hardware Jig for Handles and Knobs
YIZRIO cabinet hardware jig is like any other comparable ones. It is mostly suitable for pulls and knobs of practically everything.
The reason we have chosen it is due to the intricate-looking yet simple, functional design it offers. That is right; it might seem too difficult for a rookie but let us not scare you.
This is quite easy to obtain and use, thanks to the moderate price tag. Many buyers appreciate the robust structure at this rate. Although the thing comes with an aluminum and stainless steel build, it is surprisingly lightweight.
Thus, forget about the sore wrists because we know it often happens to regular users. Also, the quick-release hinges are a great feature that makes layout configuration a breeze.
As a result, not only will the user save time, but also be able to utilize the tool many times in the long run. We can think of only one issue that takes a while to get used to.
It is not a quick fix when it comes to laying out the device. While other products in the list deliver swift setup, this is kind of stubborn to get things in order. The reason is the constant friction in the process.
Even though anybody can use it, some might need time to adjust to the formats.
Lightweight for transportation
Constructed from durable materials
Ability to withstand wear and tear at job sites
Versatile template jig
Long-lasting for professional purposes
Measurement is off by a millimeter or two
9. ASCENDONS Cabinet Hardware Jig
Nothing could go wrong while operating with a cabinet hardware jig from this brand. All you have to do is making sure you have put the correct settings. Then, drill away and work on perfection.
This is advice to anybody utilizing the unit, never forget to double-check everything. It will save you from a lot of hassle about miscalculated drilled holes.
The jig is strong enough for even the contractors to use as crafted with aluminum and stainless steel. However, there is a slight possibility of inaccuracies by about 1 or 2-mm.
So we think it is best left to the users who are into experimenting with tools. But it does not mean the precision is way off. One can hardly notice the change unless paid very close attention.
Moreover, there are adjustable pieces for creating the best template for whatever installation you are making. From the cabinet, drawers to the knobs, all can be achieved without a trial.
Despite being constructed from two sturdy materials, it does have some boundaries. Of course, a professional can utilize it but, to an extent, that would not critically damage the device.
Hence, we believe it is rather apt for regular small projects. Plus, dropping it accidentally could damage the jig. If you are looking for something more permanent, you would have to spend more.
Reasonably priced DIYers
Ideal for occasional use
Pre-drilled hole saves time
Includes an L-bracket and top screws
Easy adjustments to eliminate rookie mistakes
10. TOURACE Cabinet Hardware Jig
So here we are at the end of the final review of a cabinet hardware jig. If you are expecting the last one to be an extraordinary woodworking kit, we don't want to disappoint you.
TOURACE brings to you one of the coolest designs for helping you build the cabinet pulls and handles. Unfortunately, the brand could not realize the fault in their craft until it was too late.
Honestly, the overall precision functions top-notch. It cuts down the installation duration almost by half. The unit stays steady and without any chance of drilling aberrations.
Furthermore, the unit is resistant to corrosion and offers wide ranges of adjustment. It simplifies the complicated installation for a beginner to utilize. The thing is lightweight and pretty easy to transport.
How could we forget about the dual measuring system? This saves so many efforts as you will no longer have to convert from one scale to the other.
So what makes the product a letdown to most buyers? It is not the accuracy or the pre-drilled feature either. The reason it had dissatisfied the consumers is due to its flimsy built.
The stainless steel ruler is very sturdy alright but has the potential to bend after operating for some time.
Now, the next problem is the ABS plastic integrated components and the slider. There is a high chance of it breaking or chipping within a short period.
Without these two drawbacks, it could have been one of the best cabinet hardware jigs within the budget.
Accurate performance
Includes both standard and metric measurements
Reversible for quick drilling
Easy setup
Multipurpose template
What to Look for Before Buying?
Have we not all faced the dilemma and confusion before buying something? The panic of not knowing what to look for is the worse, to be frank.
Let us, then, get rid of the avalanche of petrifying confusion by taking a tour down this buying guide!
Materials
The type of material used in making the hardware jig can impact big time on the performance. There are a lot of options in the markets, but depending on the project, one can choose the appropriate product.
So the best choice would be to opt for aluminum or stainless steel. They are known for durable structures. If the user relies heavily on the hardware jigs, then going for an aluminum design would be the right decision.
Even the stainless steel ones are similarly useful for daily utilization. However, if the person does not seek anything heavy-duty, you can tick these two options off the list.
In that case, we suggest plastic hardware jigs, which are available almost at all hardware stores. The thing is that they are pretty straightforward and more of an amateur-level tool.
Durability
It is unquestionably a real fact that stainless steel or aluminum will see through more tasks than a plastic jig.
But that does not mean the plastic ones are utterly useless. Otherwise, they would not have been manufactured in the first place!
Plastic jigs are for rather easy installation jobs, more like maintaining the existing cabinets. It is as simple as that. Admittedly, they are fragile, so long you do not rely on them too heavily.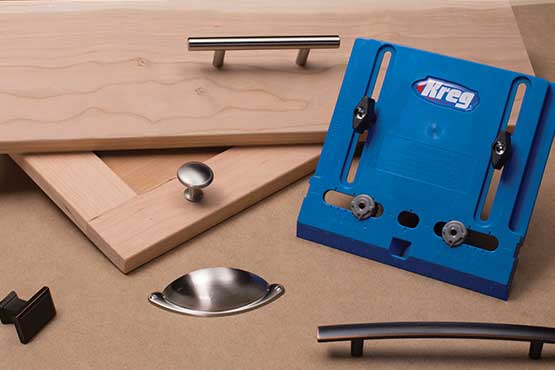 The stainless steel or aluminum are, obviously, the winners in terms of sturdiness. They will have a prolonged life span though a bit heavy to hold for quite some time.
These materials hardly compromise the precision, which is a different matter altogether. In short, aluminum and stainless steel are pretty durable to see the end of many cabinet installations.
Usability
When you purchase a cabinet hardware jig, you probably wonder the more features it has, the better! In a sense, it does seem more beneficial to many.
On the contrary, suppose you are new at this. The intricate adjustments with multiple features, therefore, would only confuse you. Things could take a bad turn with the installation process as well.
So choose based on your capability. If you do not understand the premium unit, do not give up. Just select an easy-going model; that is all.
However, it is quite different for a professional or an expert. That is when a lot of options in one jig can come in handy.
Dependability
As the saying goes, work smarter, not harder. This tool is somewhat an example of such a statement. Hence, if the hardware jig could be adjusted, then you will achieve unlimited setup options.
All in all, it better not compromise the sturdiness during operation. For example, imagine you have marked and aligned the perfect sport for a knob or a handle. Now right when you are in the middle of drilling, the jig shifts from its position.
This would mean redoing and a whole lot of mess of all the hard work you just did. Therefore, even as you rely deeply on the tool, make sure it can adjust on will not by accident.
Accuracy
This factor plays the most significant role in providing the right measurement readings. If the ratings are incorrect, it would be pointless to spend money on a jig despite the high-quality material.
Some brands offer accuracy rating information along with the product. Try to obtain such a unit as they will help a great deal when it comes to performance.
That is why always check before purchasing a cabinet hardware jig, whether a templet is included or not.
Most professionals rely keenly on precise measurements. Thus, such rating information, when laid out, eliminates plenty of guesswork. It means the user gets exactly what was anticipated.
This also makes you feel more confident in control. Even when you do not get a rating template, do not worry. As long as the product delivers accurate information upon utilization, you will be fine.
Read: Split point Drill Bit vs Standard Drill Bit
Budget
The price factor is heavily connected to the type of material you choose. And the decision is also determined by the longevity of a jig the user presumes to have.
Keeping the durability and dependability in mind, let us just say the stainless steel ones are the most expensive. Remember that they are better at taking abuse through tough projects.
The aluminum material comes second when it is about affordability. These units have greater chances of surviving rough jobs but not as frequent as stainless steel. So they do have a steep price tag, but nothing one cannot manage to meet.
Lastly, the cheapest of all is the plastic construction. If you do not plan on using the tool regularly, then why spend so much on it? In that case, opt for a plastic build -though, make sure it is of premium quality.
Frequently Asked Questions
1. Is it worth to purchase a cabinet hardware jig?
It depends on the person. If you have to deal with a lot of cabinet installation, then yes. The tool will save time and effort, all the while showing off perfectly balanced knobs on the cabinets.
2. Can I install the drawer pulls with a cabinet hardware jig?
Yes, do not forget to measure first. The jig will assist you along with other hardware and a drill. It will successfully mount drawer pulls with precise distance and alignments.
3. Where do the pulls usually install on the kitchen cabinets?
The style can be different according to the theme each kitchen pulls off. So the set up would vary based on the design as well. This is where the hardware jig will effortlessly help you acquire the perfect look.
As far as the standard, small length pulls go, they are often installed mid-way or below on the cabinet doors.
4. How much should I spend on the cabinet hardware jig?
If you are a regular/professional user, then we think investing in a durable one would do. In that case, the user should not worry about the cost but rather about the worth it delivers.
However, an amateur can go for something at a cheap cost to temporarily use instead of splurging big bucks on a jig.
5. What material is best for the jig?
Generally, it is aluminum that delivers both durability and ease of mobility. But then, it is also the question of quality.
Final Words
So there you go! Hopefully, this list aids you in narrowing down the best cabinet hardware jig based on the requirements. Remember that the proper position is the key factor here. The truer the position, the more spot-on the precision!
For a perfect cabinet hardware jig installation, you need to have necessary tools in hand. We have reviewed a wide range tools to help our readers find the best among thousands of choices. In case you don't have one, we recommend getting a perfect cordless nail gun to keep your home jobs running. You may want to have some tree cutting saws as well to get rid of the unwanted branches. Plus, a pair of work boot is a must when you are a DIY homeowner.