What is the most significant tool for a woodworker? Obviously, it is cutting the woods in shapes before settling for the desired furniture.
So, the workshop would look incomplete without a table saw, which is the easiest way to get the job done. Obtaining the best beginner table saw can put a stop to the relentless researches, no matter how tough the project is.
Instead of naming hundreds of the products and brands, we thought choosing from ten would help you quicker. A woodworker has to undertake many types of intricate cuts like rip and dado.
The finer the design, the higher one can charge for their handmade items. Is it possible to acquire such a table saw without compromising on any feature?
How about we take a look at the products and see if your criteria meet the features.
---
---
Our 10 Best Table Saws For Beginners Under $1000 Picks:
Now the question is, which product here shall deliver the required necessities in a saw under $1000? Let us find out!
1. Bosch Power Tools 4100-10 Table Saw
We begin the first review with a well-known brand Bosch. It has a motor power of about 4 HP with 3,650 RPM.
So, it is more of a Jobsite table saw that features Smart Guard System. As a result, one can operate as many tasks of cutting boards as one wants while maintaining safety.
The system comprises an adjustable splitter along with a blade guard for additional protection. The power tool is big enough to make sure the hands do not come in contact with the blade.
Plus, you can worry less about the accidental kickbacks, which you will learn more about later in the article. Now, the unit top has the cast aluminum construction.
Therefore, the work surface will be as flat as a sheet; talk about precision! Besides, it also comes with an extension. So, even if the machine is compact, working on a large project is no hassle.
The overall model is crafted from heavy-gauge steel, making it long-lasting in spite of regular use. When it comes to height adjustments, Bosch utilizes plastic bevel components.
Of course, that does not compromise the adjustments but could compromise the longevity of the model.
It also provides a stand that supports the whole weight of the machine. And frankly, we think the table saw is comparatively lightweight. This is why it becomes an easy task to transport it.
Moreover, the two attached wheels make things a lot simpler and more mobile in the workshop/garage.
It is a relatively sturdy and powerful table saw with many features packed in one.
Durable steel construction and cast aluminum table
Lightweight
Accurate adjustments and adjustable fence
Wheels can handle rough surfaces
Easy blade changing
Patented gravity rise structure
Difficult to adjust the rip fence
2. DEWALT (DWE7491RS) 10-Inch Table Saw
Our second item by Dewalt brand has won so many hearts that we could not help but praise it for being the best table saw under $1000. It is often hard to accept that a high-end machine like this can be attained at such a rate.
All in all, are you more into heavy-duty woodcuts? Do you want to cut other materials as well? Here is your best pick! This one is yet another outstanding machine with a 2 HP motor.
It does not just deliver higher torque than other competitors but also cuts through lumber like it is no big deal. Moreover, it can equally provide similar outcomes with pressure-treated ones.
The model DWE7491RS has a pinion fence system and telescoping rack system. So, let go of the stressful alignment issues during adjustments. It has a rip capacity of about 32.5-inch and offers a port for dust collection.
We could not think of a better option for a beginner who had never worked with such tools. Its user-friendly functions have made the newbies fall head over heels, which we strongly advise against for safety reasons!
Next, the tabletop is made from cast iron, an ideal material that can minimize/eliminate vibrations. Whether you are a beginner or a professional, a steady working area is the right way to go.
Let us not forget the impressive stand it accompanies. Being a jobsite table saw makes the moving of the machine a useful aspect. The combination of both legs and wheels, hence, gives it the ultimate advantage of portability.
Excellent performance
Perfect accuracy with pinion telescoping fence rails
Heavy-duty steel construction but lightweight
Compact table design
Durable for a long time
Dust port for efficient dust collection
Requires blade replacement for better cuts
3. Goplus Benchtop Table Saw with Metal Stand
The following product is a table saw that offers up to 5000 RPM and a 2 HP motor. Therefore, the 10-inch blade rotates with such speed that it saves time and effort.
The best beginner table saw is fairly light to transport though the saw stand lacks dual wheels. You can set it up anywhere you see fit. From the courtyard to the garage or job site, the device can easily settle on the designated area.
The height of the blade is adjustable, including the bevel cuts. It has a sliding miter gauge that one can regulate based on the required angles. This allows you to perform versatile woodcuts like slotting, crosscutting, and more.
Besides, the rip fence comes with a parallel guide in order to ensure more accurate and stable cuts. It even includes a push stick to assist in small woodblock cuts.
Now, let us discuss the safety features this unit delivers. The transparent blade guard means clear vision, which refers to advanced precaution from oncoming flying chips.
Plus, it works to prevent accidental touching or injuries by the moving blade. There is a large safety switch for overload protection warning. A quick turning off the machine could not have been this easier.
The whole thing is constructed from steel, aluminum, and PP, whereas the stand is crafted from metal. Also, the tabletop exhibits excellent resistance to oxidization and deformation, thanks to its aluminum build.
Offers all necessary features
Performs brilliantly with accurate cuts
Top-grade protection guards for new woodworkers
Delivers bevel cuts
Compact for any area
Wheels not included for transportation
4. Delta 36-6023 10 Inch Table Saw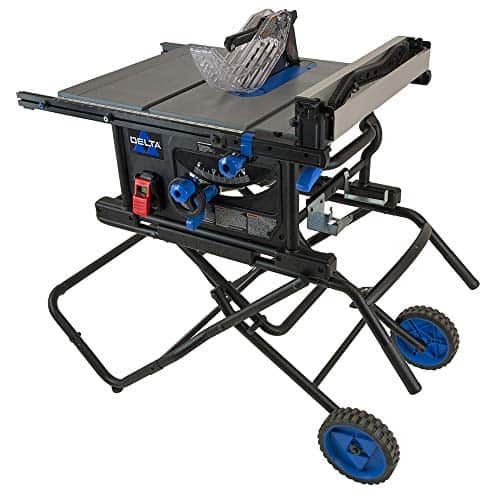 We will just say that it has enough power to work straight away after assembling. It is more of a hobbyist tool than for a professional.
Still, we have got to admit how amazingly this works even when it comes with a cheap price tag. If you think these machines are better worth buying at a steep price, this product will surely prove you wrong.
It is powerful, compact, collapsible when not in use, and pretty much simple to work with. This is exactly what a beginner woodworker should get when the price factor is the main concern.
Of course, the unit will not disappoint the user with its precision cuts, durability, and ease of mobility. It has a dust collection port, which can be connected to a vacuum for extracting dust.
So, your work area will always remain clean no matter how many wooden boards you have cut. This reminds us of its capability, which is surprisingly sturdy! It will, without a doubt, fulfill the demands of continuous cuts.
The Delta 36-6023 is quite reliable due to the large rip capacity and overall solid construction. Do not forget the consistency and true cuts it delivers as well!
It could be an incredible addition to a newbie who has just found a love for woodworking projects. Being in a one-piece frame, the lightweight model helps improve the balance during sawing.
We recommend it to all the beginners out there. Nothing can beat a long-lasting table saw equipped with advantageous features within your budget.
A foldable stand that can convert into a dolly
Lightweight but stable frame
Longer rip capacity
Dust collection port for quick cleanup
Ideal for hobbyists
Difficult to assemble for some users
5. Evolution Power Tools RAGE5S 10″ TCT Multi-Material Table Saw
The most impressive feature of this product is the blade it incorporates. It is crafted from Japanese TCT that can cut through steel, aluminum, and clearly, wood.
Even the boards with nails embedded will not be safe from this saw. So that explains the precision result of ripping, cross cuts, etc. It can handle the sheet materials as well, with no burr or sparks development in the process.
It is reasonably priced and has about a 2-HP powered motor to rave through the materials. Beware of the speed, though. Never forget to be on the safe side than making a shortcut.
This high torque motor ensures a versatile and superior cutting experience without the change of the blade at all. Moreover, the blade is adjustable to tilt about 45 degrees.
It also includes an adjustable miter guard and a blade guard. Unlike other blade guards, this one will not get in the way of your tasks. Such is the efficient design that allows smooth wood gliding into the blade while maintaining optimum safety.
Plus, there is a sliding table that ensures precise and leveling cut. Simply make sure the clamps are secure to achieve anti-vibrating clean cuts.
Despite it being compact, the table extension provides substantial benefit to support longer/wider pieces on a table surface. It is pretty easy to store and transport, too, thanks to the folding legs function.
Ability to operate on varieties of materials
Well-built for durability
Additional surface support
Excellent performance via blade
Remarkable cut depth
6. Milwaukee Electric Tools 2736-21HD Table Saw Tool
There is a slight difference between the Milwaukee 2736 and the rest of the similar products we have reviewed so far. If you are a supporter of portable table saws, then we think this is the right choice.
The 2 HP motor is powered by battery. Moreover, it is one of the best models in the line of other comparable cordless units as well. That gives you the idea as to how robust and versatile it is.
This unit is convenient enough to keep it running even when on the move. We do not suggest trying it, though, for safety reasons.
If the woodworker is planning to transition himself/herself from a beginner to an experienced, what better way to do it than a cordless Milwaukee table saw?
It is a Jobsite tool, so it gives the user all the more advantages of getting the projects done. The unit offers a 24.5-inch rip capacity that allows working with longer pieces of wood.
Plus, it is easy to adjust the rip length using the rack and pinion to dial into the desired length. A lever on the right beneath it then locks the measure.
Besides, the bevel angle to swing the blade to the left ensures various cuts. And the 6300 RPM blade promises fine, excellent, and smooth performance at all times.
Incredible pack of features
Cordless; ease of portability
Very smooth cutting performance
Outstanding power with adjustment structures
Ability to track/control the unit via One-Key app
Saw stand support is not included
7. DEWALT Table Saw for Jobsite, DWE7485
We will start right away with the features because it contains some punching ones to impress you all the way. The Dewalt DWE7485 is a heavy-duty table saw. Thus, one will never have to worry about breaking down in the midst of a job.
It is engineered in such a way that it meets all the requirements that even professionals demand. The 2 HP powered motor does not slow down unless you control it.
Delivering the rip capacity of 24.5-inch and 5800 RPM of load speed, we have to admit it is quite a catch. This Jobsite table saw is the center of attention despite having a compact design.
The only thing missing here is the stand. Though you can set up the machine anywhere at work/garage, the lack of the stand eliminates the ease of transportation.
Otherwise, this unit is an excellent model to learn woodworking as precisely as possible. Such strength and versatile cutting capability with durable engineering will remain unfazed even when handling challenging projects.
The blade has more than 3-inch depth when working at a 90-degree but offers about 2 ¼-inch at a 45-degree angle. In short, the user will not regret purchasing this Jobsite Dewalt table saw, not in the least.
From miter gauge, dust storage to fencing rails, push sticks, everything is built and delivered with top-notch quality. We highly recommend it.
Numerous features to work with
Lightweight
Impressive depth of cuts
Crafted from high-grade materials for longevity
Powerful motor
Difficult to move without a stand
8. Makita 2705 10-Inch Contractor Table Saw
Anyone in the line of woodworking business should be familiar with the brand Makita. Even if you are not, it does not matter, for it is a name that promises sturdy equipment with long-term usability.
This model can be a splendid addition for a new learner who wishes to experiment in the garage or courtyard. However, even a professional can make use of it in the workshop.
The sheer power of the motor, at 2 HP, delivers an efficient wood cutting outcome. It has the ability to reach approximately 4800 RPM of speed. Also, do not forget that the blade, at a 90-degree angle, can cut more than 3-inch.
On the other hand, it cuts 2.5-inch at a 45-degree angle. Whether you want to make ripping or dado, this electric table saw will see to the matter smoothly.
Although the blade guard does not come assembled, it has the easy cam lock feature that allows you to install it without needing any tool. The machine also includes adjustable dual side guards, storable anti-kickback pawls, and a riving knife.
All these make sure the machine gives you the kind of result you expect in a starter table saw tool. It is, overall, a solid product specifically suitable for novices.
Nevertheless, some might find the blade not parallel to the miter slides, thus, hard-luck at creating crosscuts.
Best for ripping and dado cuts
Reliable and durable with accuracy
Includes anti-kickback pawls
Capable of fitting longer dado blades
Ideal for beginners
Not suitable for crosscuts
9. SKILSAW SPT99T-01 8-1/4″ Portable Worm Drive Table Saw
Are you looking for a table saw that provides precise cuts and is easy to maintain? Here is one option you can opt for. You should, by now, be aware of how to achieve a smoothly cut wooden board.
It is all about the power of the motor; in this case, it provides a stellar performance. The lightweight product makes the work progression further simpler on various materials.
Honestly, it does tear through the boards as if no big deal. The circular saw with rack and pinion system enables the right measurements. Hence, tearing through the materials with perfection and precision.
Thanks to the all-metal construction of the unit, it is highly durable and works pretty much anywhere so long as the surface is flat enough for woodworking projects.
These conveniences of compactness allow the machine to boast ease of portability despite the unavailability of the stand. It makes any complicated work easier with the integrated features.
This model will not let you down when it comes to safe maneuvering and conducting variable woodworks. The one familiarity between this model and the most others mentioned here is the rip capacity.
It is 25-inch, basically the standard attribution when it comes to the board length. Still, the overall design, including the transparent blade guards and anti-kickback pawl, shows how powerful it is when switched on.
Plus, it is within the budget! What else could one ask for, right?
Impressive motor torque
Versatile use of the worm drive system
Reliable for tough applications
Easy to maneuver
Compact and lightweight
The user has to buy the stand separately
10. Metabo HPT Jobsite Table Saw, C10RJS
The final product that we are about to discuss is a jobsite table saw with a stand. However, we have to say it is slightly on the heavy side. Thankfully, the dual-wheeled stand support covers up the extra pounds.
So, what can you do with this machine? It can practically cut any wooden board at a 90-degree to 45-degree angle. The incorporated blade is 40-tooth carbide tipped, meaning sharper than the other comparable units here.
When you turn on the unit, this blade will cut through any wood that has more than 3 inches of thickness. You can easily adjust it according to your needs and the cutting materials.
It also has a blade guard, a miter gauge, a self aligning rip fence, wrenches, a push stick, anti-kickback pawls, and so on. The table is quite stable to hold on any surface as long as it is even.
If you are a hobbyist and wish to keep a table saw in the garage, then this durable model can work wonders. Thanks to the aluminum construction for the majority of the machine, the user can rely on it to deliver the toughest jobs.
The C10RJS is pretty straightforward to assemble and work with. There is an oversized power switch situated at knee length for emergency turn-off action.
And you can always fold the thing and roll it away to a corner for storage at a safe distance. It will not wobble and fall, unlike some flimsy-built stands.
Offers 4500 RPMs with a powerful motor
Easy to handle and cleanup
Folding stand makes it easy to store
Telescoping table extension for 35-inch rip capacity
Ideal for ripping and crosscuts
Carbide tooth blade
Best Beginner Table Saws under 1000 Dollars Buying Guide
One must learn a few things before purchasing a big machine like this one for the first time. Is it important to focus on these factors? We have to say, pretty much if you want it to last long.
Saw Types
There are a lot of ways one can set up their table saw. From compact to large, lightweight to hefty, stand or no stand. It all relies on the variety of tasks the user plans to accomplish.
The most usual ones are – portable, jobsite, benchtop, compact, and stationary.
1. Portable Table Saws
Now, the portable table saw is rather high in demand than the rest. It even comes in three main kinds.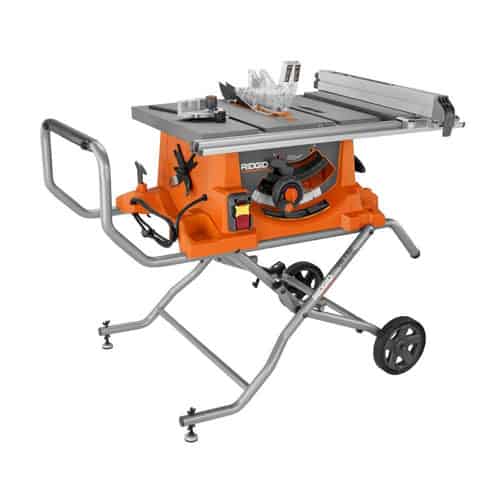 A hybrid table saw and a contractor saw are sort of similar in character. They are portable and best for both hobbyist and professional tasks. The cabinet table saw is more durable than a hybrid table saw and is most typically used for advanced, heavy-duty projects.
2. Compact and Benchtop Table Saws
The compact and benchtop ones are somewhat alike at delivering results. However, a benchtop does not have a stand, while a compact saw does. They can be a great addition to the garage of a hobbyist.
3. Jobsite and Stationary Table Saws
As for the jobsite and stationary table saws, they are often chosen by the contractors for handling complicated jobs. While the jobsite is a perfect choice for an experienced hobbyist, the stationary one is more powerful and suitable for a professional.
Motor
Simply devoting your concentration on the saw and portability does not mean that is all there is to know. You can determine the quality of a good table saw within budget by the motor power it delivers.
So do not forget to look into that part of the machine too. It will indicate how much strength the device can contain. At least a 2-HP motor power is the start.
Besides, greater power would mean spending more bucks. But there is no point in increasing your expense if the motor does not provide a high HP.
Do not settle for less than 2-HP; otherwise, the machine will not provide you the outcome you seek.
Ease of Drive
An experienced woodworker is already aware of how difficult it could get to operate a table saw. With time and practice, however, it would get better and easier.
On the other hand, for those who are just starting out to own this big tool for their woodwork, learning is a vital factor. Therefore, get acquainted with the equipment first.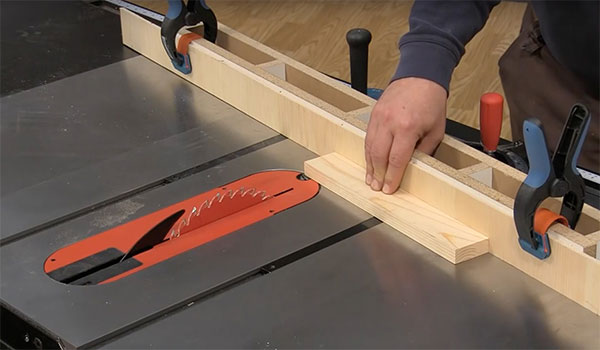 Then, start working with it, for the user must operate the saw to keep it sharp at all times. If you know your machine well, you can gain better control of driving it.
It is the most crucial point in the woodworking profession. Hence, we suggest opting for a unit that one can understand well at first glance. Such a machine should require fewer adjustments to operate as well.
Ease of Handling
Handling a tool is often more cumbersome than choosing one. And if that tool is heavy and large, maintenance is more vital.
Keep in mind that, no matter how compact a table saw is, it is still large. Thus, you cannot set it up anywhere else besides at a workshop or personal garage.
The size of the tool, as a result, is also a vital point to consider. Yes, it is awesome to own one that offers versatile operations like the cross, rip, bevel cutting and fencing, jointing, framing, etc.
However, are you keeping the tool in proper maintenance after each use? Is it too difficult to clean up the machine? Well, if upholding the unit is too complex, it is not for you.
Go for simple structures that do not deviate their path from variable functionalities.
Safety
Remember, it is not a plaything. Thus, always follow the safety guide before working with the table saw.
A motor with high-end power will likely offer a swift finish. This also means taking all the safety precautions before handling the unit.
It is a big tool that comes with a very sharp rotational saw. So, stay alert around it when working. We advise not wearing gloves, jewelry of any kind when you're near the blade.
Also, keep the surrounding clean from debris to avoid fatal accidents in the future. Never make adjustments while the machine is running and never saw small pieces of wood individually.
Try utilizing a push stick so that your bare hands are free from injuries. Overall, being safe around a table saw is also a crucial factor to keep in mind. It will help you realize what you are getting yourself into.
How to Use a Table Saw?
Before we get to the instructions, the users should familiarize themselves with the rudimentary parts of a table saw. Some include a tabletop with extensions, while others are made for portability.
Other parts consist of a blade that one can raise, a rip fence located parallel to the saw. It also has a miter gauge for making crosscuts.
Lastly, the thing should always have blade guards for protection and a push stick to send the material into the saw.
Safety Precautions
Always ensure the blade guards are in place. It can save you from splinters, debris shooting right at you. This also provides a safety zone around the blade.
Some professionals might remove the guards for other cutting purposes only when necessary. However, one should never forget to set it back in its place afterward.
Next is the splitter, or a riving knife, which helps in keeping the wooden board in line with the blade after the cuts. This prevents the kickbacks.
It is something that occurs as the wood gets caught on the lifting blade part. Thus, the piece flies straight back to the user.
Now, remember to wear appropriate clothing and shielding before starting the motor. Read the manual instruction first and foremost, and make sure the wooden board is entirely flat against the table when cutting it.
How to Cut: Rips
There are many types of cuts a table saw can perform, but ripping and crosscuts are the most common ones. Let us discuss the ripping first.
Step 1: Setting the Blade Height
See that the rip fence is in position and a suitable rip blade for the material is set. The blade height should not be too high or too below the wood thickness.
For instance, ½-inch thick plywood would require the blade to set around ¾-inch overhead the tabletop.
Step 2: Positioning the Square Lock Rip Fence
Next, situate the rip fence based on the width of the cut you seek. Lock it in its place using the lever it associates. Try measuring with precision tape instead of relying too much on the integrated ruler.
Step 3: Operating under Full Speed
Now, plug in the machine and put the material you wish to cut on the table. Never send the material through the blade when the speed is slow. Wait until it reaches full speed; otherwise, you can expect some kickbacks.
Step 4: Making the Cuts
Finally, gradually guide the wooden board towards the saw. Make sure to hold it firmly. Keep it aligned to the fence and flat against the table.
Some thicker woods might require the use of both hands, while others do not. In any case, when the cut is near its completion, slowly allow the push stick to take over. This will keep your fingers safer when cutting narrow rips.
How to Cut: Crosscut
Crosscuts are mostly formed in rather small or narrow materials. That is if you want a piece of a board in half or clear the end of some boards. Thus, a rip fence does not work here.
Since it could increase the chances of kickbacks when trying crosscuts, we advise utilizing a miter gauge.
Miter gauge allows you to guide and control the material. It looks almost like a protractor and is adjustable with a knob for choosing various angles.
Step 1: Attaching the Blade
So, the first thing you have to do is unplug the machine and attach a crosscut blade. Then, set the miter gauge according to what type of cut you want to make, straight or angled (mitered).
Step 2: Aligning the Material
Next, place the material on the table and make sure it is perfectly aligned to the miter gauge. In fact, use a clamp if possible to ensure firm alignment to the front edge of the gauge.
Step 3: Performing the Crosscut
Finally, plug the machine, slide the miter gauge carefully towards the blade. This will send the material forward through the full speed moving saw.
Do not forget to retrieve the cut off pieces of the wood only after the table saw is turned off.
Final Words
As you can see, this is a product that does not get chosen on a random pick. This thing is complicated and requires accurate guidance to execute. That is how one will gain the best beginner table saw at first try.
It is high time you have these reviews and buying guides within your reach for attaining a superb experience at all times. Good luck!
For the people in the woodworking we recommend a perfect CNC router along with hand saws, small chainsaws, and dust collecting vacuum cleaners.