When it comes to chainsaws, it can get pretty overwhelming because of their sheer numbers in the market. Plus, if you bring the types and sizes into the matter, it can get even more confusing.
However, we all more or less know that 14-inch is the perfect size for versatile work. That's why to make your life easier, here's a review of the best 14-inch chainsaw out there.
Finding these were not easy, and we had to search around a lot. These products stood out from the rest and have great features. Now, let's not wait anymore and get right into it because that's what you are here for anyway.
---
---
Our 10 Best 14-inch Chainsaw Picks:
Out of hundreds of the same things repeatedly, here are the ten best ones out there. All of them are ready to cut your problems in half.
1. Makita XCU03PT1 18V X2 Brushless Cordless Chain Saw
We all know that there's nothing that can beat a gas chainsaw. These machines are highly power-efficient and can easily cut down large trees. Sadly, they are not easy to carry. On the other hand, electric ones are easy to carry, but most are not very powerful.
So, you end up in a very weird state where you have to choose convenience or power. Thankfully, that's not the case with the option from Makita. When it comes to various tools and machines for industries or crafting, they are hard to beat.
All of their options are fantastic and extremely powerful, and this one is no different, either. It is compact and provides you with the same power as a 32cc gas option. That's why this product is the sweet spot for everything.
You get a variable speed trigger, and the chain moves pretty fast for better cutting. The electric chainsaw also gives you proper control over the chain, as you can adjust it as much as you like. You will not require any tools at all. It has good safety features that prevent the machine from automatically running.
Moreover, it has two 18V lithium-powered batteries that deliver you the ultimate power, and there are plenty of other convenient features. It is not a cheap one, but when you want to finish large jobs without the help of a gas option, this product is absolutely worth it in that case.
Great battery life in a competitive price tag
Low noise level
Extremely powerful electric chainsaw
Plenty of safety features
Perfectly compact with chain brake feature
Does not come cheap
Not comfortable for prolonged use
2. Husqvarna 120 Mark II Gas Powered Chainsaw
It is a fact that chainsaws do not come cheap. Well, of course, since it is a powerful and high-maintenance machine. Sadly, not everyone has enough budget to spend on it or enough use cases. So, if you are one of them, which one do you get?
Most affordable products do not come with premium features and break down easily. That issue happens because manufacturers have to perform a lot of cost-cutting. Thankfully, that's not the issue with the one from Husqvarna. It is the perfect affordable one out there.
Not only does this machine have a great build, but it is perfect for home use. Firstly, let's get one factor out of the way first, that this option is not perfect for professionals. However, since it is much less powerful than most products out there, that doesn't mean that it's bad.
For daily usage, this reliable workhorse will be more than enough. You get a good amount of safety features like a handguard and a built-in safety brake. It is very easy to use, and simple tensioning will allow you to make pretty quick adjustments while using it.
The size is perfect for traveling, and the Husqvarna Chainsaw is not heavy at all. For occasional users, this gas powered machine will be perfect. When you are considering the affordable price range, getting a better option will not be easy. Don't wait anymore when you mainly work casually.
Perfect for beginners who cut logs and small trees
Built-in safety brake
Lightweight chainsaw is easy to carry
Great for home use
Affordable price range
Not powerful enough for felling tree
Longevity is questionable
3. Ryobi Baretool Brushless Cordless Chainsaw
To get the most of your small chainsaw, you will have to connect it to a power line that will deliver constant electricity. Connect a cord, and you are good to go. The only issue is that cords are annoying when you have to work outside. Where will you get a power outlet?
Plus, it is hell when you are traveling too. Since you never know where's the power outlet of your destination. Plus, if you are out of electricity, then you cant work either. There are plenty of reasons why cordless options are better and even more reasons why you should consider the one by Ryobi.
Why do we suggest this one? Well, when it comes to great cordless options, you will not find better options. Sadly, it does not come with batteries. That's why you will have to buy it separately. Other than that, the performance you get out of it is fantastic.
It has a brushless motor, which provides almost the same power as a gas option. If you are a professional user who has to work in various places, you will love this product. It is fairly lightweight and comfortable to hold. Plus, it is also versatile.
The product will support all the 40V lithium-ion accessories and batteries by the same manufacturer. That way, you will have specific things to search for in the market. Also, since the battery is removable, you will never have to worry about bad performance. It is truly an amazing product.
Great longevity with proper maintenance
Fantastic performance when spitting logs
Easy to carry and auto oiling system
Prolonged usage is not uncomfortable
Supports quick chain adjustments
Bad battery life
Can leak oil
4. Remington RM4214 Rebel 42cc Gas Powered Chainsaw
Professionals always require the best out there. You will always need a powerful machine that is easy to use and carry around. The durability will be no joke either. Sadly, something like that is much harder to find than you think. Since most manufacturers try to sell their products like that, the search becomes difficult.
All the products are claiming the same thing, but not all of them are capable. Well, you will not have to worry about that if you have the one by Remington. It is a high-quality gas chainsaw that does not joke around when it comes to sheer performance.
It has a full crank 42cc two-cycle engine that delivers outstanding performance. When you have to work on various big projects or cut down large trees, this product will not disappoint you. It sports a quick-start feature that gives you fast starts, and the build quality is fantastic.
Since you will be tackling tough jobs with it, build quality will have to keep up. So, nothing will be better than the durable die-cast chassis. Other features include an automatic chain oiler and easy chainsaw maintenance. This product has a 5-point anti-vibration system, which will make prolonged use comfortable.
This product is perfect for people who have a lot of work to do and always have to do them. If you're one of them, then you will absolutely adore this machine. Plus, you can use this for years to come without any worries.
Durable build quality
Extreme performance
Sports an anti-vibration system
Easy to use with automatic chain oiler feature
Perfect for traveling
Not cheap
Has over-heating issues
5. Greenworks 40V Cordless Chainsaw
The battery is a big factor when you are considering a cordless option. Since you will not have a power line, you will have to depend on the reserved power. What do you do if it quickly runs out? Tackling a large project outside will always be hell.
It's safe to say that it'll be a nightmare for a professional user. However, a cordless option is way too convenient to use too. That's why, for a heavy-duty option, consider the one by Greenworks. It has the best battery life out of all of these.
This product is very powerful because of its brushless motor. It also has an auto-oiler that will prevent you from oiling the machine again and again. When it comes to noise, this product runs quietly. Now, you can say goodbye to the headache that comes after work.
It has an electric start, which helps it turn on much more efficiently. Usually, people have a rough time starting their chainsaws because of various weather conditions. Thankfully, this feature will prevent that. The body is pretty lightweight, coming at only 7 kilos.
That way, you can easily carry it with you. Since it comes with the batteries, you will not have to buy them separately either. The price is really affordable, and the quality is also amazing. It is really easy to use the product, and you can expect reliable results.
Lightweight chainsaw build
Outstanding battery life
Perfect for traveling
Has an auto oiler
Manually adjustable tension
Build doesn't feel durable
Vibrates too much
6. EGO Power+ CS1401 56-Volt Cordless Chain Saw
Water and weather are the worst enemies when it comes to these high-functioning machines. Moisture can easily ruin the motor make it runs less efficiently. Plus, some of them don't even want to start in colder weather. So, how do you deal with this?
Well, you can try considering a water-resistant product. That way, you'll never have to worry so much about this again. Great news for you that the EGO Power+ will deliver you what you truly desire. It's perfect for people living in colder regions.
You get a rugged construction that prevents any moisture from getting inside. Plus, this product is very comfortable to hold. The handle has a great texture, which helps you grip it much more easily. It does not cause any fumes, sparks, or too much noise, perfect for long term use.
It has a highly efficient battery that takes less power but delivers better performance. That way, you are getting good results at the expense of a small amount of battery life. Also, you can use any battery that you want. Now you can choose an option that you seem fit.
Since you will be getting 6800 rpm, cutting through large trees will not be a hassle at all. It is perfect for cutting down tree branches, soft trees, and even hardwood. Versatile use from only one product, which makes it suitable for tough jobs.
Great for all weather conditions
Fantastic battery life
Electric saw comes with powerful motor
Does not cause fumes
There's no overheating issue
A bit on the heavier side, hard to use in light duty works
Chain can fall off sometimes
7. Worx WG384 40V Power Share Cordless Electric Chainsaw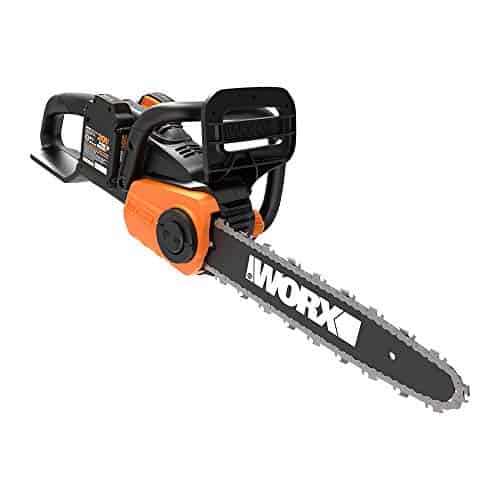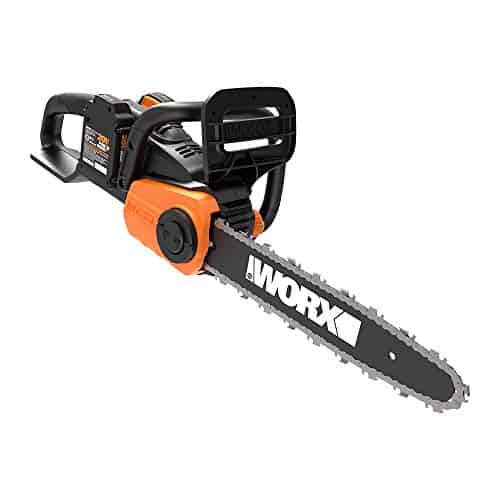 These machines are not something that you can play around with because one simple mistake can easily ruin what you are working on or hurt you severely. That's why you should always have good control over what you are doing maintain a safe distance.
It would be wise to get something with many safety features and properly control what you are doing. Well, kind of like the one by Worx. It has a great ergonomic handle, which will help you get a proper grip over the machine. Plus, the lightweight build makes it more comfortable.
There are a few guards that will prevent your hand from slipping to the saw. Most products have an annoying feature, and that is vibration. It is not very comfortable to hold on to the machine when it is shaking too much. Also, you will have a loose grip.
Not suitable when you have to work precisely. That's why this one has anti-vibration features. The motor is pretty powerful that helps you cut through any hardwood. It supports any 20V or 40V tools, which is great for various applications.
The battery life is great, and you can work for a long time before running out of juice. Plus, the 20V dual charger charges the whole thing pretty quickly too. For people concerned about the safety brakes, this one will be the best option. So, worry less, and work more.
Great for prolonged use
Sturdy design allows it to be used in heavy duty jobs
The great tool is easy to hold
Various safety mechanisms
Doesn't require tools for tightening
Overheats a lot when cutting tree limbs
Not very reliable
8. CRAFTSMAN Corded Electric Chainsaw
Oiling is an important part when you are using something like this. It will keep your motor running smoothly, and you can expect a long lifespan too. Sadly, most options do not have an auto-oiler. That's why you will have to oil the machine manually.
It becomes a tiresome process after a while. Besides having an automatic oiling system, you get a high-quality product if you consider the one by Craftsman. Not only is it really affordable, but you get fantastic performance out of it. For a beginner, it will be perfect.
When you start using a heavy-duty chainsaw, there are a lot of things to learn. Plus, when the machine is hard to operate, then you will have a difficult time too. Also, when it is too expensive, then it might bother you too.
That is why this product will be perfect for you. It has an 8 amp motor, which is perfect for tackling heavy objects. This one also has a bolt lock chain tensioning feature, which clamps the bar and chain together. That prevents the chain from easily falling off.
The weight is pretty light, and you can carry it around without any issues. It is not very suitable for rough usage because of its body, but the normal workload will be more than good enough. Now you can learn the ropes without any worries.
Great price range with adequate bar length
Lightweight chainsaw construction
Effortless to use in heavy duty jobs
Highly efficient motor with enough power
Chain always stays in place
Mediocre build quality
Not suitable for professional use
9. Litheli 40V Cordless Chainsaw
The rougher you use the machine, the faster it will start wearing out. That is the normal of almost everything out there. However, if you have a very efficient motor, then you can greatly expand the lifespan. That's why it would be best if you always consider getting a product with a highly efficient motor.
Thankfully for you, you'll not have to look too far for it because Litheli offers you exactly that. If we are completely honest, this is by far the coolest looking one out there. The teal and black accent highly compliment the white body. Plus, the performance is no joke either.
Furthermore, you get a conversion efficiency of more than 85%, which is crazy. You can expect this motor to work perfectly for years to come. The chainsaw chain speed is amazing, and it can spin 36ft in one second.  Yeah, the numbers on this thing are pretty awesome. Well, what's the downside then?
Surprisingly enough, not much. Other than being a bit on the heavier side and causing some noise, everything is pretty good. You will get great performance and battery life too. For difficult works, this product will be highly capable. That's why there so many happy customers. Sadly, it's on the costly side, but you are getting premium build quality and features. The body is really sturdy, and it does not vibrate much. You will also not notice any heating issues either, making it a great product for prolonged use.
Design choice is fantastic
Great for tough jobs
Powerful motor
Sports an auto-oiler
Good for making quick adjustments
Expensive
Creates a lot of noise
10. Poulan PL3314 Gas Powered Chainsaw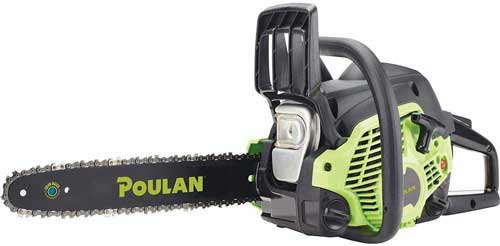 Manufacturers like to sell their products based on a few features. What if you want something that has everything to offer? That way, you'll not have to worry when you have to do diverse work or get the best convenience. Sadly, most products aren't overall good, because some stuff is always lacking.
The one by Poulan is the best when it comes to an overall great product. You get all the necessary features, and using it is extremely easy too. Firstly, it has great build quality, which keeps it sturdy. The handle is easy to hold and has a great design choice.
You get a pretty powerful motor that gives you incredible power. That way, you can tackle a difficult job with no issues. There are great safety features that help you prevent any mistakes. Also, you get an auto-oiler. So, you know that the machine will last for a long time.
It has OxyPower technology, which helps it run very efficiently and reduces too much fuel consumption. That is great for cost-saving measures. The filtering system is also great, and it reduces the overall wear. You also get consistently good results.
This powerful chainsaw is something that you can wholeheartedly rely on while cutting a big tree. The chain is really strong, and you get full control over the adjustments. If you are looking for almost everything is a product, this one will be it.
Low fuel consumption
Highly powerful motor
Pretty lightweight chainsaw
Amazing longevity for quality air filter
Perfect for big jobs
Chainsaw chain can fall off sometimes
Customer service isn't too good
Things To Consider Before Buying the Best 14 Inch Chainsaw
Now you know which chainsaws to get, but there is still a lot left for you to learn. If you have proper knowledge about these products, then you can pick the best one for yourself and not regret your decision later.
Type
There are various types of options available, and that is the most confusing part. Which one is good for what? If you don't have any prior knowledge, then you will be scratching your head at the mall. Well, don't worry because we're here to guide you through it all.
There are mainly three types available, and they are similar to one another. However, some key differences keep them apart.
Battery-Powered Chainsaw
Cordless life is the best when it comes to machines like these. Not only do you get the freedom from a cord, but you can take it wherever you want. These products do not have a power cord and run on a battery instead.
That is great if you travel a lot and have to work in various places. Finding a power outlet can get rough. Plus, you would have to bring a power source if you have a corded option when cutting down trees in the jungle.
Thankfully you are free from all that stress, but there is still some stuff to keep in mind. Since the product has a battery, you will have to get one that has a huge one. However, keep the weight in mind too.
Plus, some motors can easily burn through the battery if it is not efficient enough. You will have to look for an option with a highly efficient motor and does not eat up the battery quickly.
Some products do not support batteries from other manufacturers, which can be a pain. Try to avoid that if you can because the specific product you will search for might not always be available.
Also, try to check if it charges quickly too. That way, you can finish your work much faster if the battery ever dies. For day to day work, this option is the best.
Corded-Electric Chainsaw
If you don't have too much work outside and have a workshop, this option will be perfect. It is perfect for regular usage and dealing with trimming and cutting firewood and softwood.
The biggest selling point of this type is the price. Since it does not have a battery or use gas, this one's cost is pretty low. Add a cord to a battery-powered one, and you get this.
You can also add various attachments. Since you don't have to deal with battery or gas here, you constantly get power. So, it is much more efficient when you have to deal with a lot of work.
If you don't have a lot of stuff to do or have to work outside a lot, this option will be perfect for you.
Gas-Powered Chainsaw
When it comes to professional usage, getting a gas-powered one will be perfect for rough usage. The motors on these options are extremely powerful, and you can cut down trees without any problems.
If you plan on getting one, try to go for one that has good sealing. The problem with this type is that it can leak gas if you are not careful. Plus, you will have to keep these in check very often.
It is high-maintenance, but the power is something that you will not get anywhere else.
Portability
14-inch chainsaws are one of the most versatile ones out there. Although some of these options can get pretty heavy. It can get straining on your hands to hold them for a long time if the product is very heavy.
Try to look for something lightweight and easy to hold. That way, you will be fine when you use it in places other than your workshop.
Safety
To no one's surprise, using these machines can get dangerous. That's why you should have proper control over it all the time. Always remember that your safety comes before anything.
If you get hurt while working, then what's the point? So, try to look for something that gives you better control and has safety features like auto-off and proper handguards.
Also, make sure that the chainsaw chain has proper guards. That way, the chances of you touching it or the chain falling will not be a lot.
Recommended Reading:
Final Words
The market for the best chainsaws is very diverse. So, to get the best 14-inch chainsaw out there, you can consider our review. All of the products will be perfect for your usage can greatly reduce your workload.
If you take all of what we mentioned to your heart, then you can easily choose the perfect one for yourself. Now, there's no more reason to be confused about what you are going to buy anymore.